PM Johnson's 'New Deal' stresses desire to reduce planning delays
Prime Minister announces review of connectivity between the UK's four nations
30 June 2020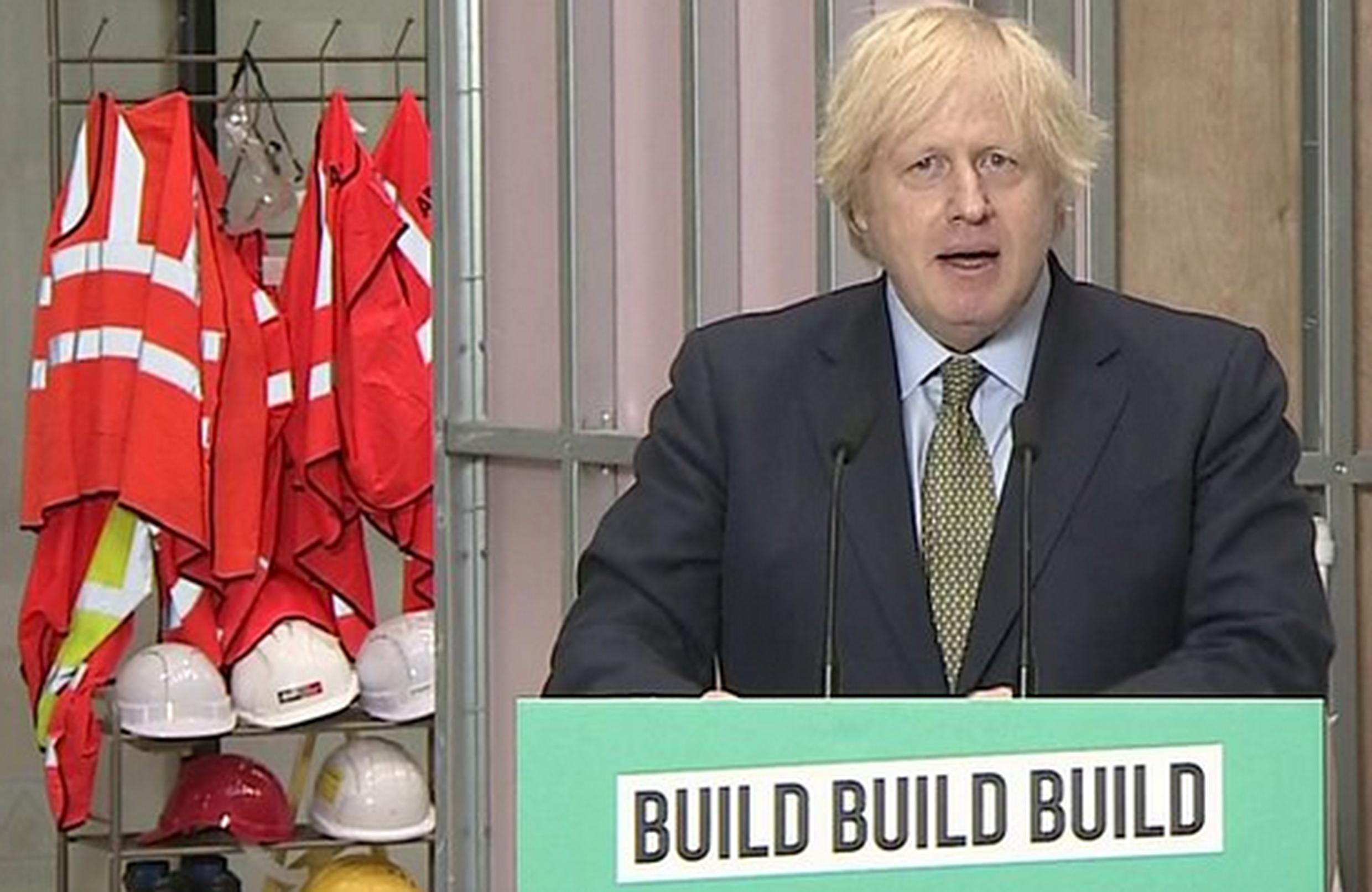 Prime Minister Boris Johnson has promised to reform the planning system, which he blames for delaying major housing and transport infrastructure projects.
Johnson announced new road projects and some rail investment in a speech setting out his plans for a "massive investment" in UK infrastructure. He also announced a review of connectivity between the UK's four nations.
A building-led recovery
Launching his vision of an infrastructure spending-led economic recovery in Dudley on 30 June, Johnson sought to emphasise projects would be both green and high-tech, whilst also being fairly distributed around the UK.
Making a speech in Dudley, the Prime Minister said: "We will build the hospitals, build the schools and the colleges, but we will also build back greener and build a more beautiful Britain. We will protect the landscape with flood defences and plant 30,000 hectares of trees every year, creating a new patchwork of woodlands to enchant and re-energise the soul.
"In those towns that feel left behind we have plans to invest in their centres and with new academy schools, new green buses, new broadband. We want to make them places where people have the confidence to stay, to raise their families and to start businesses and not to feel that the action is all in the cities or the metropolis."
The pandemic has seen the devolved administrations in Scotland, Wales and Northern Ireland set their own agenda on issues such as the extent and easing of lockdown. The used his speech to announce that the UK Government will work with devolved administrations to carry out a 'connectivity review', looking at how to improve road, rail, air and sea links between the UK's four nations.
Johnson said: "I know that some have sometimes played up the legitimate variations in the response between the devolved administrations, but when you look at the whole effort you can see the absolutely vital role of that union and that partnership. We will build and rebuild those vital connections to every part of the UK, because now is the moment to strengthen that incredible partnership between England, Scotland, Wales and Northern Ireland."
Project Speed to cut 'red tape'
The Prime Minister also announced a plan to reduce the impact of planning on infrastructure via a review dubbed "Project Speed", which will be run in partnership with the Treasury. "To galvanise this whole process that this government will shortly bring forward the most radical reforms of our planning system since the end of the Second World War," he said.
Johnson sought to explain the UK's poor productivity and track record on delivering housing and infrastructure schemes on the planning system. "Yes, we will insist on beautiful and low carbon home, but COVID has taught us the cost of delay. Why does UK public procurement take 50% longer than in Germany? Why are UK capital costs typically between 10% and 30% higher than other European projects? Why is HS2 – transformational though it will be – going to cost use the equivalent of the GDP of Sri Lanka? Why are we so slow at building homes by comparison with other European countries? In 2018 we built 2.25 homes per 1,000 people. Germany managed 3.6, the Netherlands 3.8, France 6.8.
"I tell you why, because time is money, and the newt-counting delays in our system are a massive drag on the productivity and the prosperity of this country, and so we will build better and build greener but we will also build faster, and that is why the Chancellor and I have set up Project Speed to scythe through red tape and get things done and with every home we make, every mile of full-fibre broadband that we lay, with every flood-defending culvert that we dig, with every railway station, hospital or school that we build."
Spending on roads
The actual spending commitments made in the speech were comparatively modest. For example, Department for Transport will be spending £100m on a number of road schemes communities, the Prime Minister announced.
Johnson said: "We have learned the wonders of Zoom and MS Teams, the joys of muting or unmuting our colleagues at key moments, but we still need to travel. More than ever, the time has come when we must unite and level up in the most basic way possible, not just with HS2 and NPR but with better roads, better rail, unblocking the central Manchester bottleneck that delays services across the north, and 4,000 brand new zero carbon buses, and a massive new plan for cycleway."
The 29 roads projects range from fixing deteriorating roads, repairing bridges and flood mitigation measures. Road spending commitments include:
£4.9m to repair two bridges in Sandwell to improve safety for key roads in the West Midlands that will be used heavily during the 2022 Commonwealth Games
£5m each for plans to make the route network in Liverpool more resilient, to begin further maintenance on the Swanswell Viaduct in Coventry, and for road maintenance on the Tadcaster Road in York
£4.9m to replace poor-quality footways for pedestrians in Sheffield
£4.5km for improvement works on the A15 in the Humber region.
Following the PM's speech, Transport Secretary Grant Shapps said: "As the country begins the recovery from COVID-19, we need to get on the front foot and invest in infrastructure in every region to reignite the economy, helping better connect people with opportunities in the future. By investing £100m in local roads and reaffirming our commitment to better connecting communities, we are not just talking about levelling up – but making it happen."
Enhancing Manchester's rail capacity
Johnson also announced £10m for the design stages of works focused on Manchester's railway system. Network Rail will use the funds examine options to resolve capacity and reliability problems on the network.
The Transport Secretary also announced that over 50 bids have been received from across the country for a share of the Restoring Your Railways 'Ideas Fund'. This marks the next step for the second round of the fund which will offer support to develop proposals to build or reopen lines and stations closed during the Beeching cuts.