Teenager with cerebral palsy who embraced cycling wins Bikeability Award
21 May 2020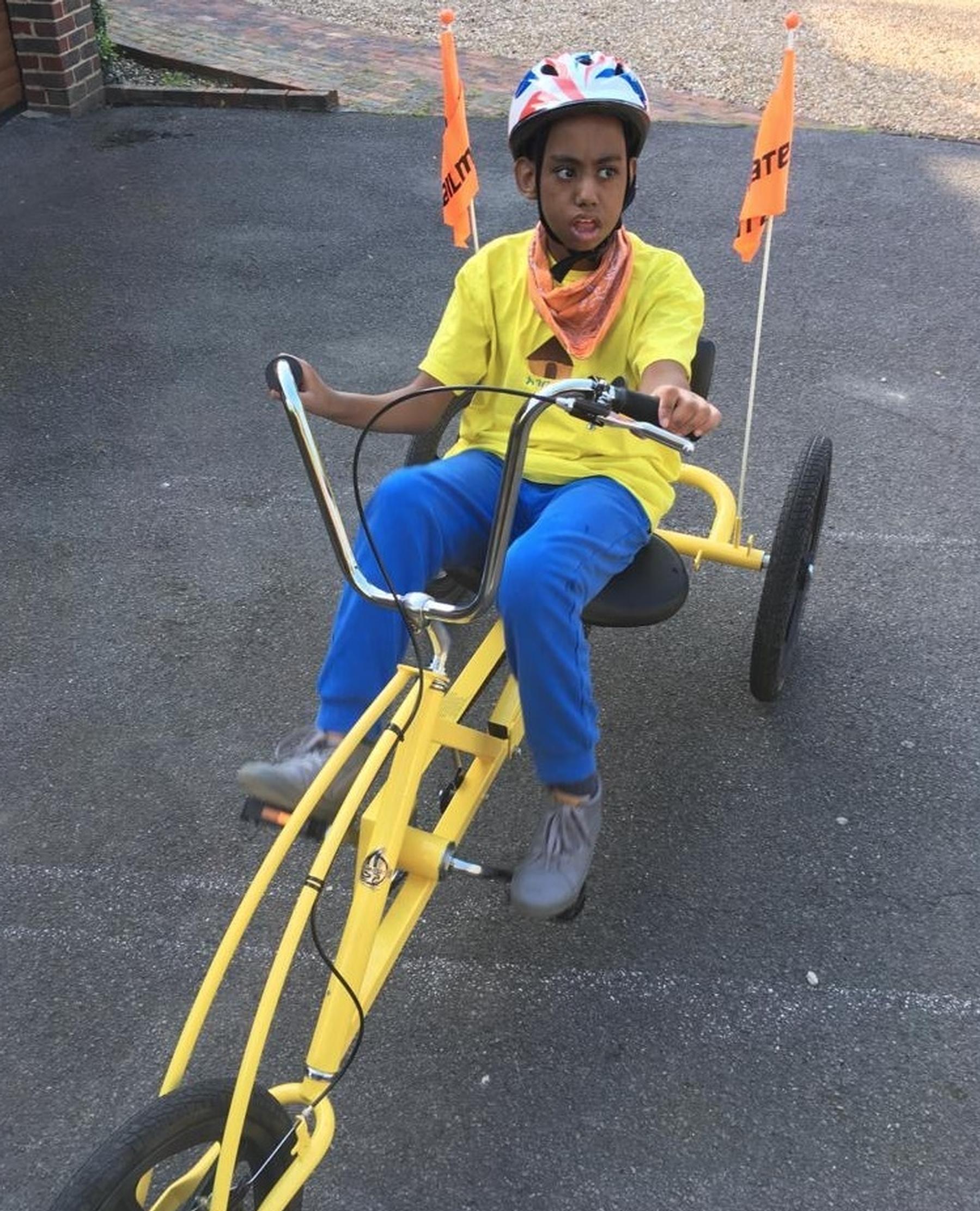 A teenager's determination to find solutions to cycling, rather than focusing on the barriers his cerebral palsy presents, has earned him national recognition.
Alazar Sahele, 14, from Horsham, has won Bikeability's Trainee of the Year award.
Ed Clark, West Sussex County Council's Cyclist Training Development Officer, said: "I'm tremendously proud of Alazar and all he has achieved through our weekly training sessions at the Wheels for All Club in Horsham. "His achievements are a credit to both him and his family for their determination to find solutions to cycling, rather than just seeing barriers. The teenager's enthusiasm for cycling now extends to his family and carers. His parents have been at his side throughout his progression as a rider, and they have had to develop as riders to keep up with him."
Alazar's mother, Hirut Hailu, said: "We are so proud of Alazar. When I told him he had won, he didn't believe it at first but now he's very happy with his certificate and gift vouchers and will receive a trophy, too."
In 2016, Alazar joined the Wheels for All, all abilities cycling club, which is run in by West Sussex County Council in partnership with Horsham District Council.
Clark said: "Initially he would ride our wheelchair bicycle piloted by his family or club instructors. Over time, Alazar wanted to explore using a cycle that he could ride independently. By the end of 2016, he progressed to riding a fixed-gear trike, with a three-point body harness to keep him in position. The fixed-gear mechanism, along with foot straps and harness, helped him learn the basics of cycle control as well as improving muscle memory and development."
The following year, Alazar progressed to a 'rear steering' recumbent trike and challenged himself to begin his Level 1 training by starting and stopping independently, and making the bike go where he wanted. "There was further progress in 2018 when Alazar arrived at the club by walking – this was credited to the muscle development achieved through cycling. 2018 also saw him progress onto a 'low rider' recumbent trike. He began to regularly cycle well in excess of 2km each week at the club, and in May, 2018, rode a one-mile section of a charity ride independently."
Alazar's family purchased their own low rider cycle, which meant Alazar was able to ride an adapted bike away from the club and with his family and he completed his Bikeability Level 1 training in Autumn 2019.
"For Alazar's family, cycling is now not an activity that they just support and assist him with, but rather an activity they can all enjoy and share together. Alazar can also be considered a trailblazer – his friends from school and peers from the club see him as an example of what can be achieved with commitment and determination."
West Sussex County Council is an accredited Bikeability provider. Over the last year, more than 9,000 young people trained on Bikeability courses in the county, offering them the chance to develop their skills and confidence to cycle safely on today's roads. However, due to the coronavirus pandemic, all Bikeability and one-to-one cycle training in West Sussex is currently cancelled.
The Bikeability Trust announced the winners of the 3rd annual national Bikeability Awards programme with a 'virtual' award presentation this year, due to COVID-19 lockdown restrictions.
The primary aim of the Awards Programme is to reward and promote the good work that the Bikeability industry and partners are doing. Secondary aims include collecting case studies that can be used both to showcase Bikeability to external audiences, and to provide examples of best practice for peer-to-peer learning within the industry.
Whilst the UK is still under lockdown, many organisations are producing useful resources for families around cycling and road safety. Bikeability has a dedicated section on its website.
www.bikeability.org.uk/recommended-resources-for-lockdown/