Rail network gears up for growing number of passengers
Coronavirus: Crowd control measures in place at stations as more people expected to return to work
18 May 2020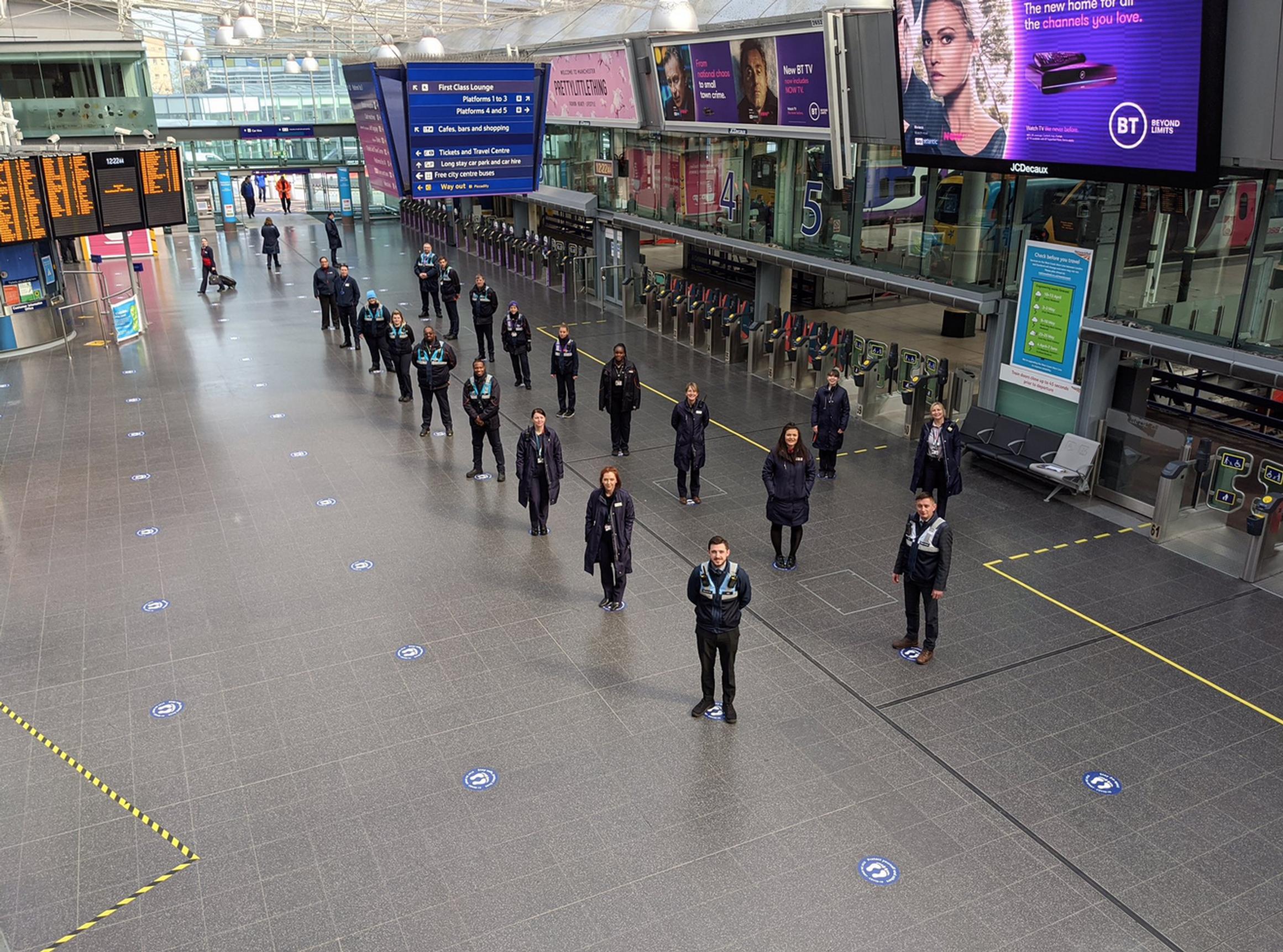 Crowd control measures have been deployed on trains and at stations to accommodate an expected rise in the number of people using public transport as a return to work commences England this week.
Stations have been reorganised to create one-way systems, social distancing signs have been installed and space could be made outside for queuing in case entrances and exits are closed.
At mainline stations British Transport Police officers and security guards are on now duty in case there are crowds.
The UK government is encouraging people to go back to work in England, but to only use public transport for essential journeys when they have no alternative.
Train firms have been operating reduced services due to coronavirus. While more frequent services are now running, these are expected to run at just 15% capacity to maintain social distancing.
Train operators planning to limit numbers boarding specific services. Passengers could be prevented from boarding a train or entering a platform if there are too many people waiting. Ideas such as such as requiring passengers to book time slots for when they can arrive at a station are being for the longer term considered.
Many intercity trains will be reservation only and Avanti West Coast has said it would not allow carriages to be more than a third full. Some train operations will be blocking off seats to make sure that passengers spread out. It is also being suggested that when trains become busy they may not stop at stations further along the route.
Sir Peter Hendy, chairman of Network Rail, was asked by the Government to create a plan for managing the flow of passengers. "We have processes to close stations if they become too full," he told BBC Breakfast. "My railway colleagues have rehearsed those processes on the national railway network if that becomes necessary."
Sir Peter expressed said he expected the public would comply with the new social distancing measures. "We know that passengers are sensible and they will do their best too because nobody wants to get this terrible virus, do they?"
Passengers should also consider whether or not they need to travel, he suggested. Sir Peter has called on employers to think before asking people to travel to work. "You wouldn't set out for work if someone told you not to come," he said.
Passenger numbers last week were slightly up on the previous week. However, footfall through major UK stations was only about 10% of pre-pandemic levels. Train companies are now urging against travel after seeing increase in people planning journeys. The companies are asking those who need to travel to use alternatives or to go at quieter times if they can. The warning followed a 25% increase in people planning journeys this week.
The railway is gradually increasing services from this week and running longer trains in some places to cope with increasing demand during the next phase of the coronavirus response. However, there will still only be space for as few as a tenth of the usual number of people on board as people continue social distancing and operators are preparing for queues at stations.
Train companies are asking passengers to keep the railway clear for those who need it most. People who have no other way to travel and need to take the train are being asked to go at quieter times and to help train companies get them safely where they need to go.
The rail industry is advising people to:
• Plan ahead: check before you travel as train times are changing next week. Buy tickets online, on mobile or on Smartcard and avoid travelling at busy times. If travelling on a long-distance service, you are strongly advised to make a reservation beforehand as capacity will be limited and you may otherwise not be able to travel.
• Consider others: people should wear a face covering to prevent spreading the virus. Respect our staff and be considerate to those less able as we all navigate a different way to travel.
• Stay safe: maintain social distancing where possible and pay contactless where available. Protect yourself by using hand sanitiser and washing your hands frequently.
Train companies say they are doing all they can to keep passengers and staff safe including cleaning stations and trains throughout the day, every day and providing staff with face masks.
They are managing capacity at stations and on trains, including by limiting ticket sales, as well as putting new social distancing signage up across the railway and introducing one-way systems where necessary to help people get around.
Robert Nisbet, Director of Nations and Regions at the Rail Delivery Group, which represents train operators and Network Rail, said: "To keep people safe, there will only be space on trains for as few as a tenth of the usual number of people despite train companies gradually increase services next week. We need people's help to keep trains clear for those who really need them so we are asking people to consider alternatives like cycling or walking and if that's not possible, to travel at quieter times.
"We are doing everything possible to keep passengers and staff safe, including cleaning trains and stations several times a day, managing capacity and increasing signage to help people get around. For those who do need to take the train, we ask that they plan ahead, consider others and stay safe when they use public transport. That means buying tickets online for quieter times of day, maintaining social distancing wherever possible, wearing a face covering and keeping hands sanitised."