Sustrans unveils live map of temporary cycle lanes
Coronavirus: Online tool will help residents share views on emergency walking and cycling infrastructure
07 May 2020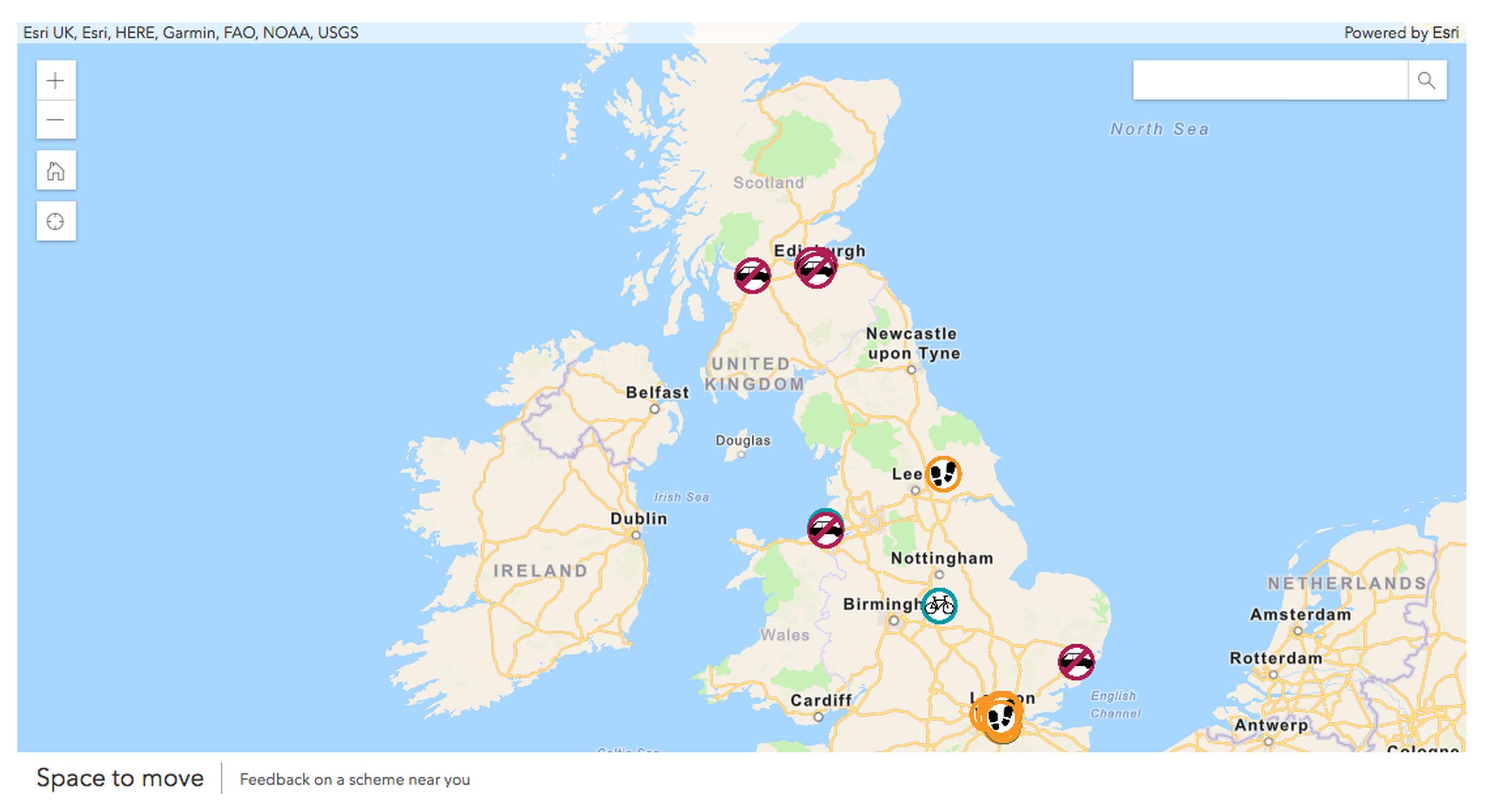 Walking and cycling charity Sustrans has created a live online map for people to share their views on emergency measures that have been put in place to help them walk and cycle safely during lockdown and beyond.
This charity hopes the online map will help councils assess the impact of street changes made to support safe physical distancing.
Residents across the UK can use the portal to share their views on temporary cycle lanes, widened pavements and other measures that have been implemented in their local area to allow for physical distancing, through a live online map.
The map-based tool was created by the Sustrans, in order to help local authorities gather residents' feedback and assess the impact that measures to create additional space for safe walking and cycling have had during the COVID-19 lockdown.
Residents can use the map to search for schemes in their local area, and complete a short form expressing their views on the street changes. Once data is gathered, an automated 'dashboard' report can be sent to the relevant local authority.
In recent weeks, councils across the UK, including Brighton and Hove, Leicester, Lambeth and Glasgow, amongst others, have rolled out a number of specific traffic measures to increase space for walking and cycling. Such changes include:
Streets closed to motor vehicles but open for people walking and cycling
Creation of temporary cycleway separated from cars
Widening of pedestrian footway (by extending it into the road)
Installation of road filters (plant containers, bollards) to prevent through motor traffic
Reduced speed limits for motor vehicles.
Last week, the Scottish Government announced a £10m fund to help councils across Scotland to re-designate road space and create pop-up walking and cycling routes to help people maintain physical distancing as they make essential journeys.
Sustrans, alongside other organisations, has asked the UK Government to support local authorities in England to rollout active travel infrastructure to support social distancing and to enable a greener, more sustainable recovery from Covid-19. Evidence suggests such measures can help prevent a spike in car use and pollution after lockdown is lifted.
Dr Andy Cope, Director of Insight at Sustrans, said "Walking and cycling has proved to be an important part of the UK's resilience against the coronavirus crisis, both in terms of helping keyworkers to travel safely, enabling other essential journeys, and supporting people to maintain their wellbeing through exercise.
"The implementation of temporary measures has been vital in ensuring the creation of safe walking and cycling routes to help people comply with physical distancing during the lockdown period.
"Safe walking and cycling will have a key role to play in getting towns and cities moving safely at different stages of the lockdown, and beyond. We need to understand changes to road layouts that have been made during this time, and how they might work as part of long-term plans to create healthier and pleasant streets for people. This tool will be crucial in helping us to understand what changes to space will be needed in the coming months."
Edinburgh City Council Leader Adam McVey said: "Scotland has led the way with Scottish Government support for the temporary reallocation of road space. This funding can help us implement changes to support physical distancing when people are exercising and taking essential journeys on foot, by bike and on wheels when in Edinburgh. We've already started making changes on the ground and will put in place more measures in the coming weeks to help people walk and cycle safely.
"We'll be sharing plans for further temporary measures soon and are asking residents to share their views on pinch points too. The new Sustrans tool will significantly benefit our efforts, and those in cities across the country."
Brighton and Hove was the first council that closed a major road to cars and opened to pedestrians and people on cycles. Councillor Anne Pissaridou, chair of the city's environment, transport and sustainability committee, said: "Madeira Drive is a long, wide road right by the seafront and closing it to motor traffic has created an extra safe open space for local people in the area to use for their daily walk or bike ride. It provides a traffic-free place for the many residents in that area who do not have access to a garden.
"Practising social distancing is making us all aware of the importance of public spaces and making us rethink how we use them, but I would also ask that cyclists and pedestrians respect each other's space and safety in this shared area."