Leeds to pilot enhanced cycling safety using temporary posts
Coronavirus: Orca Wands to be tested on A65
07 May 2020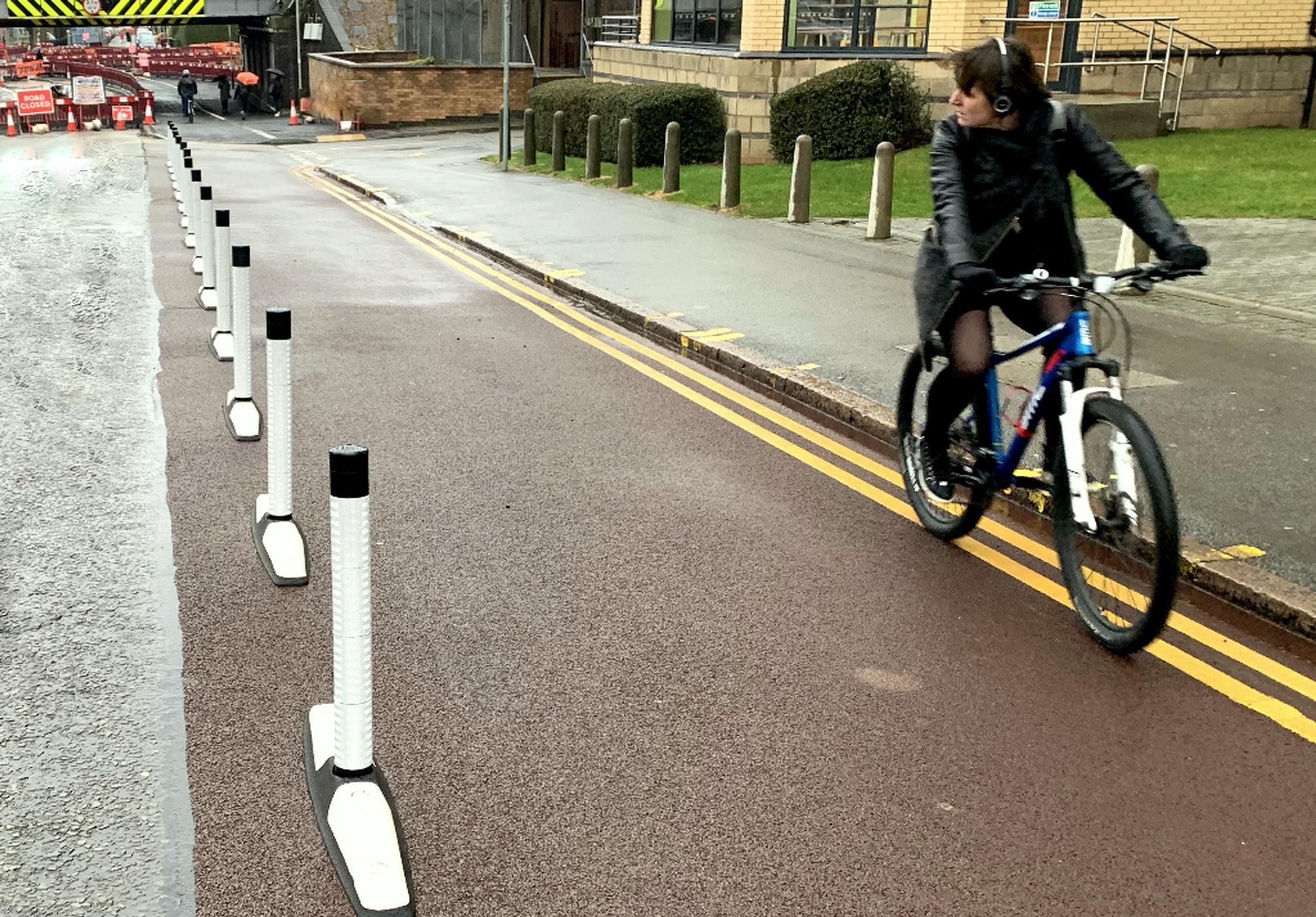 Safety for cyclists on one of the busiest roads in Leeds is to be enhanced with a pilot of temporary demarcation posts by Leeds City Council.
The council has been responding to calls to expand cycling provision in response to the current pandemic to enable social distancing and active travel.
Following an online consultation and discussions with cycling groups and other stakeholders in the city, a section of the cycle lane on the A65 Kirkstall Road from Vesper Walk to the city centre is to given improved protection for cyclists with the introduction of temporary new protective features.
The council hopes to encourage more use of the cycling lane on the A65 as an alternative to the canal towpath, which runs parallel and is used by large numbers of cyclists during peak times. It is hoped by making the road option safer more cyclists will choose to use it to allow capacity to flow freely.
The 3.5km stretch of road has an existing semi-segregated cycle lane in place, but there are some sections where the cycle access is restricted. In order to help make these sections safer and more welcoming for cyclists to use, the council is to install reflective black and white posts that are secured into a durable rubber base – known as Orca Wands.
The wands are a metre high and are made from recycled materials that have been reinforced to rebound the impact of vehicles. Spaced three metres apart, the Orca Wands have been used to protect cycle lanes in other UK cities.
Depending on how successful they proved, and the feedback received on them they can either be kept in place for the longer, replaced with permanent protective measures or removed by the council's highways team.
Cllr Lisa Mulherin, Leeds City Council's executive member for climate change, transport and sustainable development, said: "This is a very exciting step forward in the council's work towards a zero carbon future. During these unprecedented times, staff are working extremely hard to make cycling an accessible and natural everyday choice for exercising and commuting.
"Leeds is seeing significant changes to improve safety provisions for people who cycle, offering convenience and championing health and wellbeing for Leeds residents. Kirkstall Road acts as a "core corridor" for growing cycle routes and extending the cycle provision along it helps more essential staff cycle safely to work.
"This scheme in addition to the 20mph zone being implemented in the city centre, will improve environmental sustainability, improve air quality facilitate active travel for workers on a key corridor."
The consultation included discussions with members of Leeds Cycle Forum, Leeds Access Group, Motorcycle Action Group (MAG) and other stakeholders.