Staying physically distant while moving is challenging, suggests study
24 April 2020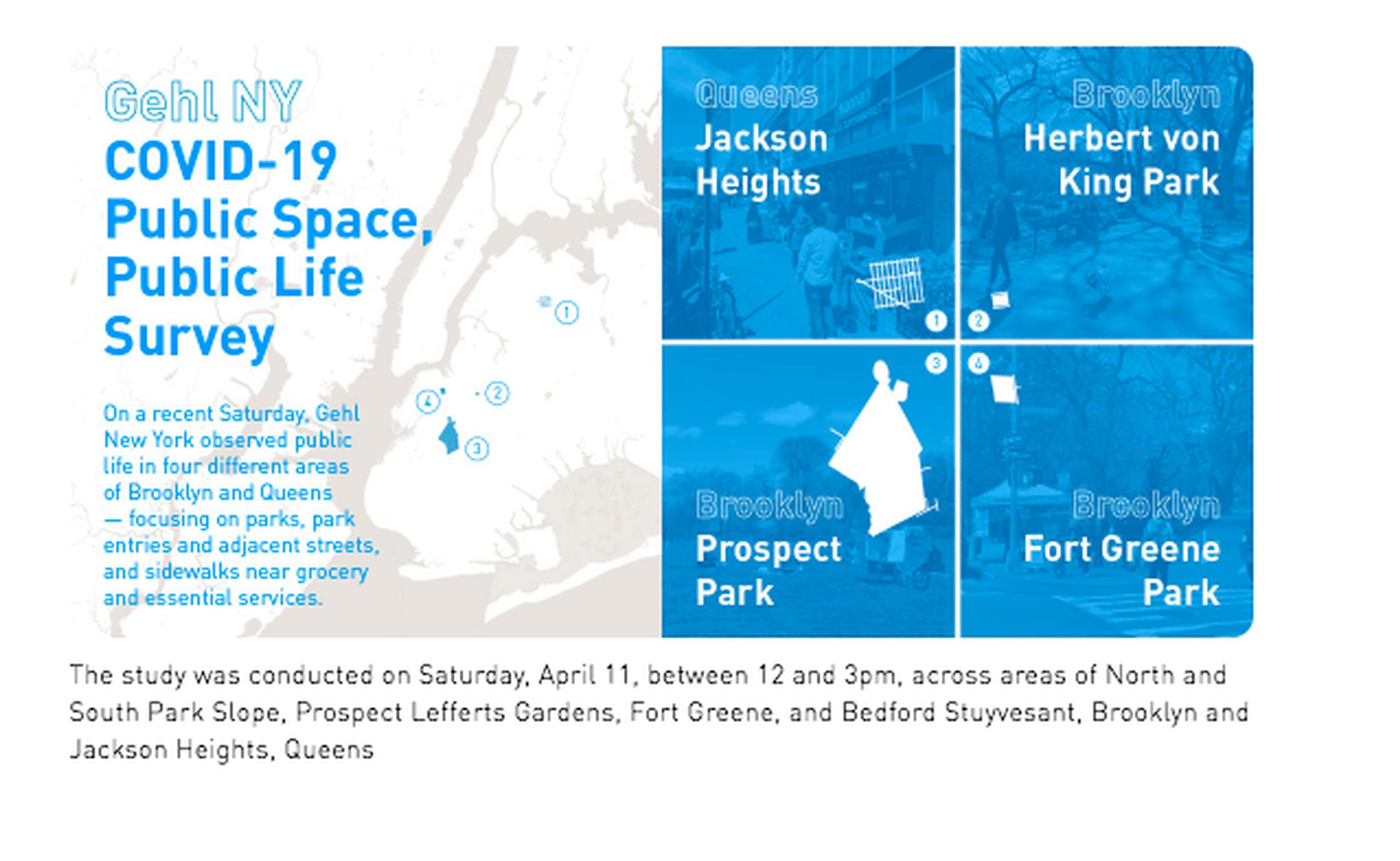 Teams from Gehl's New York office recently conducted a mini Public Space, Public Life survey (PSPL) to understand COVID-19's impact on public spaces, reports Adriana Akers, Project Manager, Gehl. And as all cities are different, Gehl is asking for data from other cities too (see more at the end of the article).
Across five neighbourhoods in Brooklyn and Queens, we observed activities in and around destination and neighbourhood parks, commercial and residential streets, and bus stops, all to identify challenges, opportunities, and possible approaches to managing our cities' public spaces during this crisis. (Simultaneously, our Copenhagen team was conducting observations across Denmark – results forthcoming.)
Results indicated that in general, when given the space to do so, people kept their physical distance in parks. Groups spread out across lawns in small clusters of family, couple, or friend units, and those who socialised with others did so six feet apart. In grocery lines, too, the six-foot rule was maintained.
Staying physically distant while moving, however, proved more challenging.
Across all neighbourhoods, it was more difficult to keep physical distance while moving through the city than when staying and spending time. Whereas in open parks and plazas, it is relatively easy to choose a spot that is six or more feet away from the next person, moving is more challenging: it introduces an element of surprise and the need to react quickly to oncoming traffic, both human and vehicular.
Particular challenges occurred where there wasn't enough space dedicated to people. Narrow park entrances create pinch points; at one entrance at Fort Greene Park, 966 people per hour — or 16 people per minute — moved through an entrance that was just 15 feet wide, noted Gehl's team. In addition, barriers such as fencing alongside some park pathways nudged people to walk along narrow routes instead of taking more physically distant paths through grassy areas.
The PSPL observations support what many are already calling for – an urgent need to dedicate more street space to people, especially on narrow sidewalks, near essential services, and at park entries and adjacent streets. Additionally, we will need more creative ways to manage access to places where people need to go, from transit stations to grocery stores to parks. We will need to think deeply about how to curb social isolation during periods of physical distancing, concludes the study.
The Gehl New York team conducted these initial observations in New York City because we live here. Every city is different, and we are eager to learn from our network of clients, collaborators, and friends around the world. How are people using public space in your communities during COVID-19? Please take this three-minute survey, which will help us formulate strategies that cities can use as they navigate this dynamic new context.