Most Londoners are walking rather than taking public transport, but car use is significant
Coronavirus: Survey gives insight into the experiences of passengers travelling around London during lockdown
20 April 2020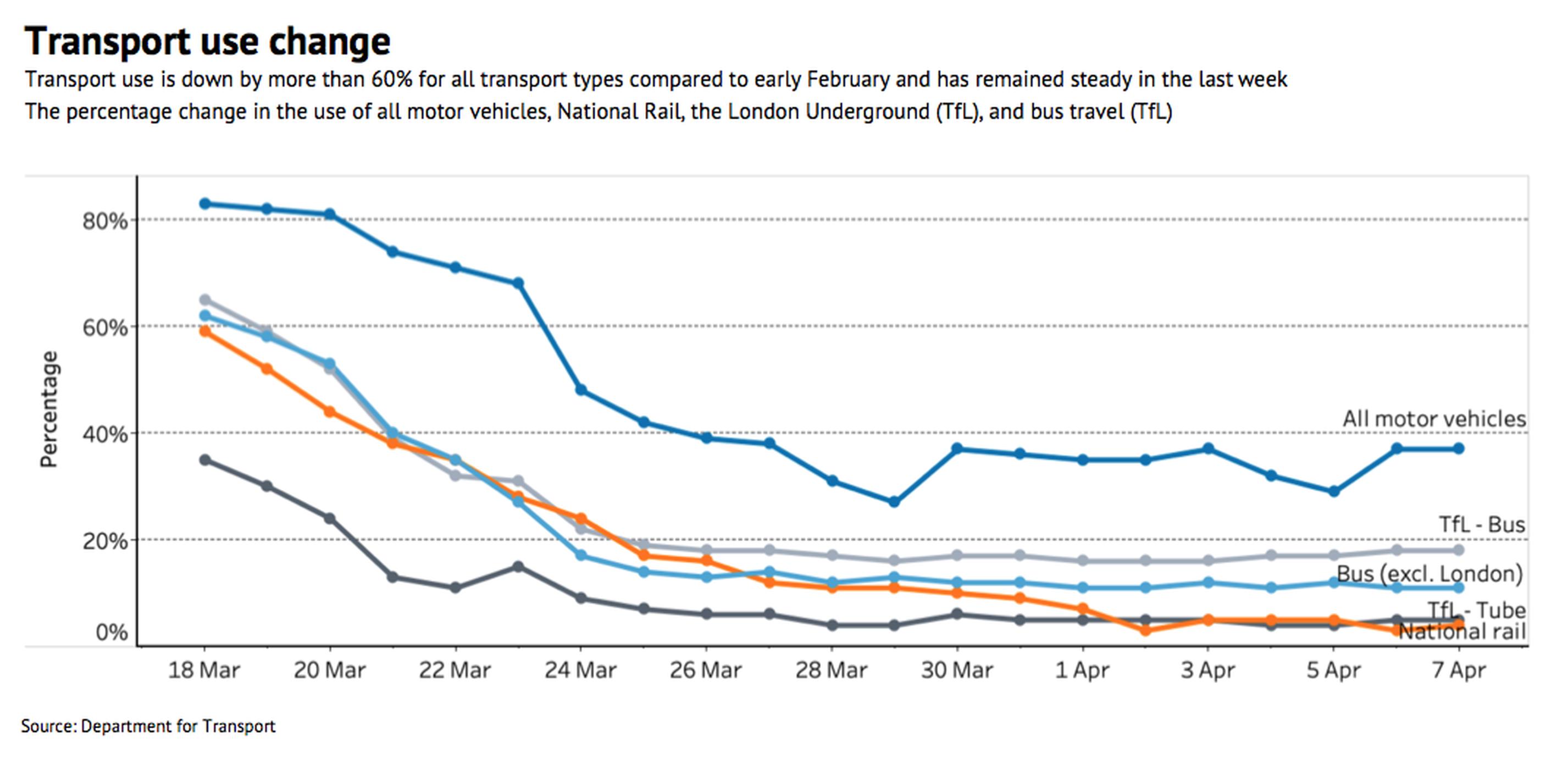 When making journeys, the majority of Londoners are walking rather than taking public transport, but car use remains significant, a report by London TravelWatch reveals.
London TravelWatch has been working with sister organisation Transport Focus to find out a bit more about the experiences of people using or not using public transport during the first week or two after the Government advised that people should stay at home and only travel if absolutely necessary.
Transport Focus sent a survey to over 15,000 members of their transport user panel on 2 April and also asked questions about people's experiences in attempting to claim a refund on season tickets (see below).
London TravelWatch has looked at the results that relate to London. While the sample was not big enough to be statistically significant, the organisation feels it provides a useful snapshot of passenger's experiences early on during the lockdown and gives us an idea of the type of journeys that people have been making and the reasons for them.
Key findings include:
People are working, with high numbers in health (24%), local/central government including education (15%) and transport (13%). But trips for essential shopping account for the largest number of journeys
When they are making journeys, the majority of Londoners are walking rather than taking public transport, although car use is significant
The provision of information about services running is generally good in London. The ease of finding this information before journeys were made is highest for train services (83%) followed by bus (79%) and Underground/DLR (75%).
London TravelWatch found that some people were concerned about crowding on the Tube although on other modes this was not really the case.
These journeys have been frightening, as there are still far too many people traveling - especially on certain lines like the Victoria Line and Piccadilly Line. TfL needs to be stopping people who should not be travelling, so that NHS staff (myself and my colleagues) and food shop workers can get to work safely. Underground and train passenger
Many people revealed that they need to use public transport to do essential shopping and some feel that they are needlessly being made to feel guilty about their trips to the supermarket.
"I needed to shop for milk and bread. So needed to visit the supermarket. Due to my visual impairment I find it easier to travel by bus than try and cross roads. It was distressing that the announcement on the bus said that the only people who should be using the public transport were NHS workers. In fact the only people on the bus were all disabled who obviously needed to use the bus service. We feel bad enough, it does not help making us feel bad" - Bus passenger
Some people revealed that they have decided to change their travel habits, walking or using their cars instead of public transport. It will be interesting to see if these new habits are reversed once we return to normality. But issues of personal security late at night are still at the forefront of people's minds.
"If I have time I walk as much of the route as I can so I don't have to go on public transport - though I'd be uncomfortable doing this after a late shift." - Underground passenger
London TravelWatch found that many Londoners are retaining their season tickets because they are still using the system or want to/think they might have to use them. But almost a quarter of those choosing not to claim a refund were either not sure that they could claim or about how to claim. And of course, those still travelling are sometimes facing longer journeys and or waits for trains but they are still expected to pay the same fares.
"Trains are now running on an off peak service. I have to leave home 20 minutes earlier to get to work at the same time (I'm a nurse). Yet I still have to pay full peak fares despite this service not being provided." - Train passenger
London TravelWatch concludes: "This research raises some interesting questions, in particular the need for more clarity about season ticket refunds. We've made a start on answering the key questions that season ticket holders might have about refunds and we will be adding further information once we have it. We'll also be making the case for other improvements when we speak to operators. In the meantime, we would also like to hear more about the journey experiences of Londoners over the last few weeks, particularly key workers."
The national picture
While Government instructions are to stay at home, around halve of people still have to travel, revealed a survey conducted by Transport Focus and London TravelWatch.
The survey was conducted to better understand the experiences of those who still travel for work or to get access to food and other essential services during the coronavirus outbreak. The survey also asked panellists about their recent experience in attempting to claim a refund on previously purchased season tickets.
On 2 April Transport Focus sent an email to 15,808 people to its Transport User Panel asking them to complete a survey regarding their travel in the previous seven days since 26 March 2020. The survey was closed on Tuesday 7 April, with 5,791 panellists having completed the questionnaire.
Almost half of panellists say that they had not made a journey in the seven days prior to completing the survey. The majority saying that one of the reasons they did not travel was that they were following current government instructions.
Just over half of panellists said that they had travelled in the seven days prior to completing the survey. In the main journeys were made by road and one of the main reasons for travelling was to undertake essential shopping.
Some 80% of those who made journeys by train found it easy to find information on what was running. Those who made journeys by bus found it similarly easy.
Those panellists with a disability are less likely to have made a journey by road and more likely to have made a journey by bus in the days before completing the questionnaire than panellists generally.
A majority of panellists who usually hold a season ticket and who usually work full or part-time, or who are students (i.e. those that are most likely to commute) have not attempted to make a claim for a refund. Panellists indicate several reasons for not attempting to claim a refund. Around 20% generally say that they were not sure that they could, while around 10% are not sure how to go about doing so. In each case these are issues that could be resolved by the transport operator.
Some 40% of panellists who are most likely to be commuters and who have attempted to make a claim for a refund on their rail season ticket say that they have been awarded some level of refund. Just 10% say they have not been awarded compensation, while 50% are awaiting a decision.