Give more space to joggers and cyclists, suggests study
Do 'safe' physical distances depend on the activity and the conditions?
15 April 2020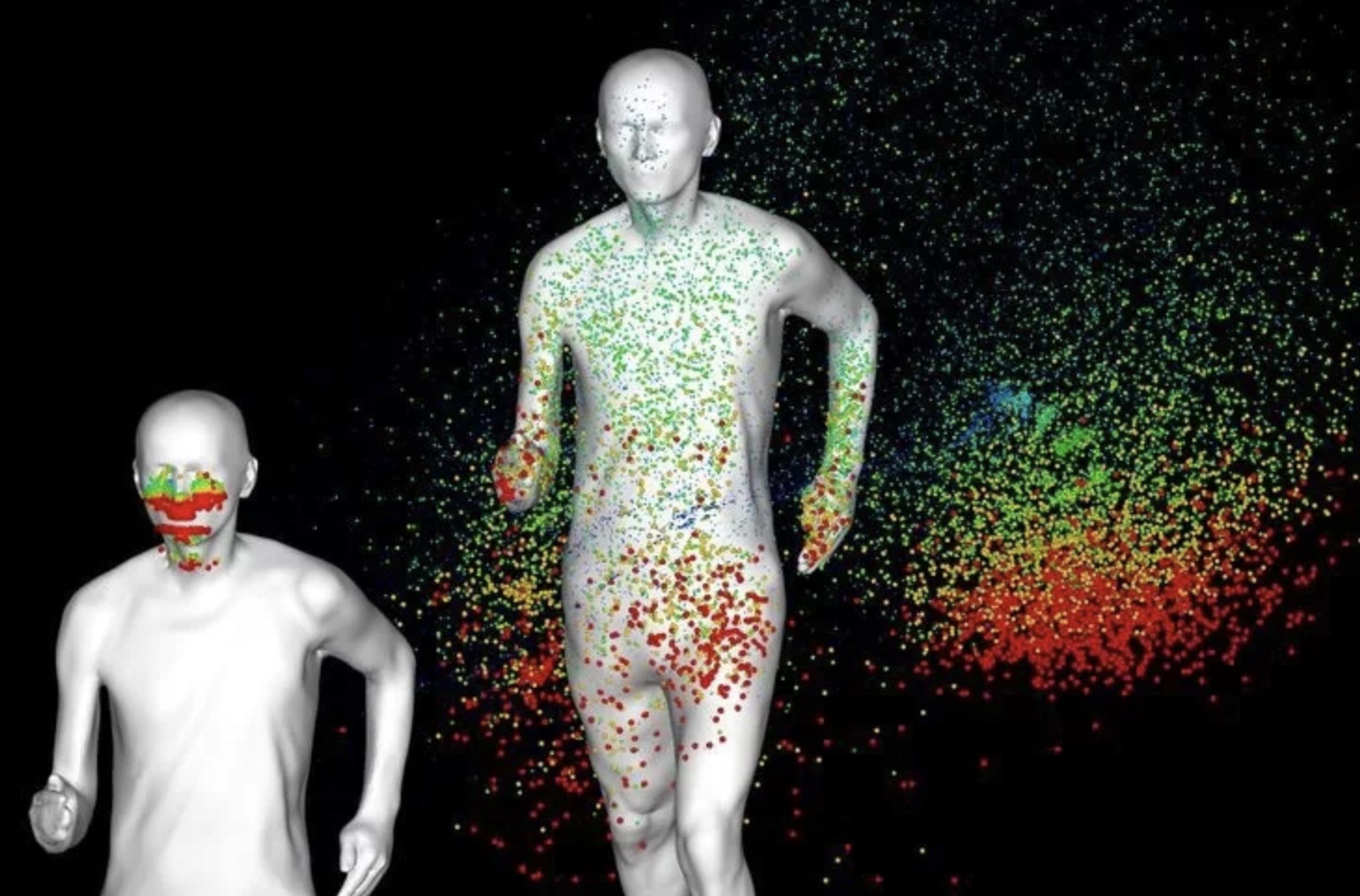 In a lot of countries walking, biking and jogging are welcome activities in the times of COVID-19. However, it is important to note that you need to avoid each other's slipstream when doing these activities, notes a study by researchers at KU Leuven (Belgium) and TU Eindhoven (Netherlands). Lead author Bert Blocken of TU Eindhoven Netherlands said of his study: 'The starting point was the 1.5 m (or in some countries 2.0 m or 6 ft) social distance that is recommended to be kept between two people standing still to avoid respiratory droplets of person A reaching person B.
'It is common sense,' he added on an online Q+A, that when person A exhales droplets and person B moves forwards, person B can move into the droplet cloud exhaled by person A. So people movement can affect droplet exposure. The objective of this study therefore was to find out to which extent the social distance of 1.5 m is enough or not for two people walking, running, cycling in each other's vicinity. And if not, how it should be adjusted to yield a similar (non?)droplet exposure risk as for the case of 1.5 m with two people standing still.
Blocken adds: This study does not draw any conclusions on the infection risk associated with particular social distances or droplet exposure. We are sharing these results with healthcare authorities and remain at their disposal for further information.' The study's main point is that 'safe' physical distances depend on the activity and the conditions.
He also explains: 'First, it was found that the droplets (range 40 mm — 200 mm) exhaled by a moving person are mainly entrained in the slipstream (wake) behind this person. Second, in absence of strong wind, the equivalent social distance for walking/running/cycling can remain 1.5 m (or 2 m or 6 ft) if the two persons are moving side?by?side or in a staggered formation.
'However, if person B is positioned in the slipstream (or wake) of person A, this person can be exposed to the droplets emitted by person A. Then the equivalent social distances are: 5 m for walking fast (4 km/h), 10 m for running fast (14.4 km/h), 20 m for cycling fast (30 km/h). The social distance to be kept when in the slipstream increases with increasing speed of person B.'
Professor Blocken is a civil engineer and an expert in urban physics, wind engineering and sports aerodynamics at Eindhoven.
His study became popular online after another post on the website Medium on April 8 by entrepreneur Jurgen Thoelen, titled "Belgian-Dutch Study: Why in times of Covid-19 you should not walk/run/bike close behind each other", made reference to it. In his post, Mr Thoelen said that he would run on the streets instead of busy parks after reading the study.
This has resulted in backlash from other experts, who say that the study has misled the public, reports Singaporean daily Today. It says: 'He did not consult a virologist, clinical physician or epidemiologist in his research. Since we are all used to only having vetted, peer-reviewed research put out in the public square like this, readers, including Mr Thoelen, took it as scientific fact,' said Dr Jennifer Kasten in a Facebook post on April 11. Dr Kasten is an assistant professor in the department of pathology at the University of Cincinnati in the United States.