Dominance of car must end if UK is to meet 'net zero' emissions target, says DfT
27 March 2020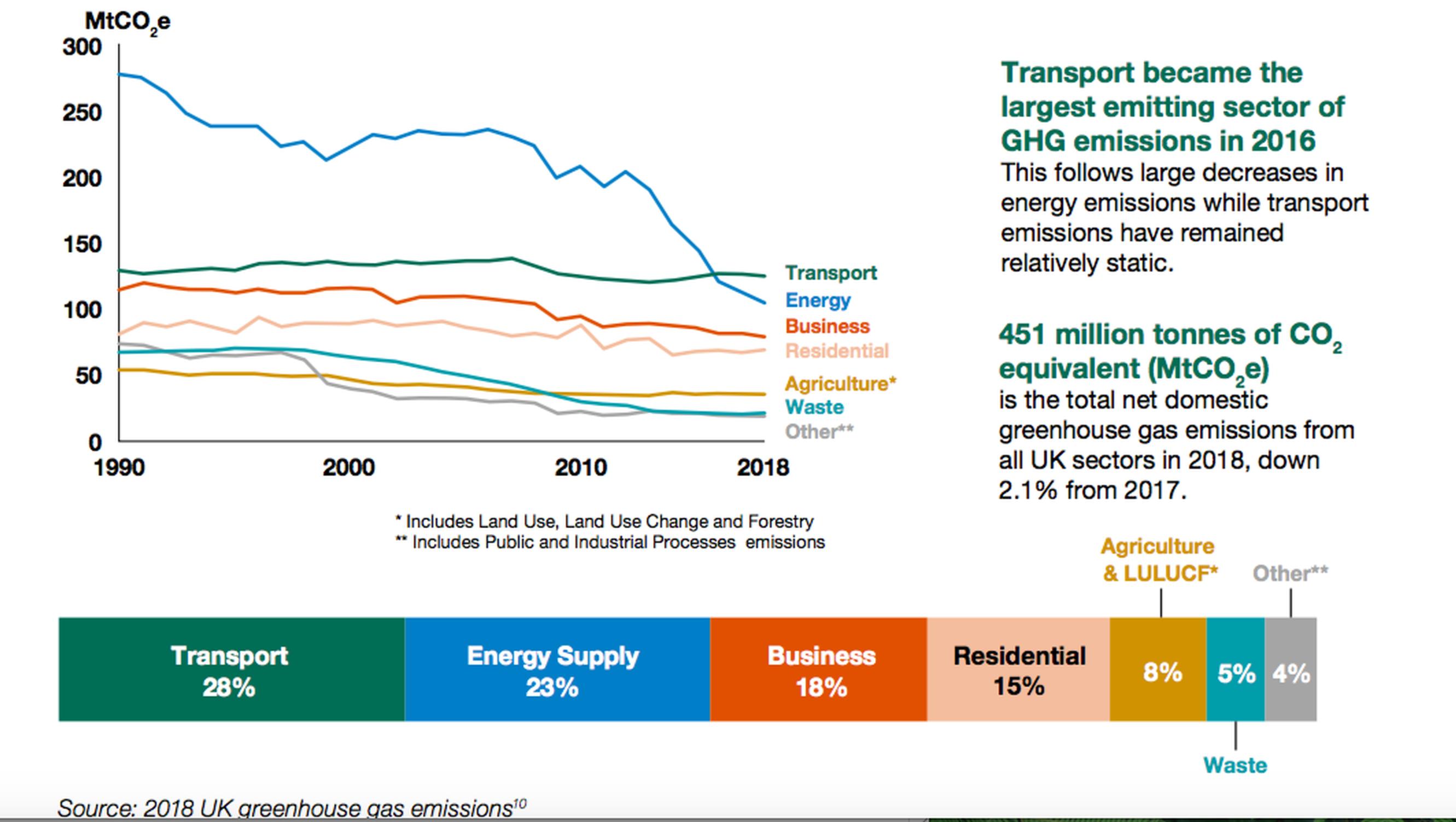 Public transport, cycling and walking must supersede the car as the "first choice for daily activities" if the UK is to meet its target of achieving net zero greenhouse gas (GHG) emissions by 2050, states a new report from the Department for Transport (DfT).
In the report's foreword transport secretary Grant Shapps states: "Public transport and active travel will be the natural first choice for our daily activities. We will use our cars less and be able to rely on a convenient, cost-effective and coherent public transport network."
Cycling and walking must be the easy and obvious choice for short journeys, he said. "Through the Transport Decarbonisation Plan, 2020 will be the year we set out the policies and plans needed to tackle transport emissions," said Shapps. "We want to hear from individuals, businesses, trade associations, local authorities, scientists, researchers, innovators, interest groups and environmental groups as we develop the first comprehensive action plan for decarbonising transport."
Funding cycling and walking projects
More funding will be made available for improving cycling infrastructure, says the report. It points out that the £1.2bn earmarked for the Cycling and Walking Investment Strategy (CWIS) projects between 2016 and 2021 has already been invested. "A further £1.2bn is projected over the next two years for infrastructure and other active travel projects. The result is that £2.4bn is being invested in this area."
This includes projects such as £50m for Bikeability training for school children; £101m for Cycle Ambition Cities for cycling infrastructure as part of a total of £210m for eight cities; £80m for the Local Authority Access Fund to support behaviour change and mode shift to active travel options (for example, for Big Bike Revival and Walk to School initiatives) and £85m from Highways England for cycling and walking schemes crossing motorways and major roads.
"Many of the decisions on the allocation of these funds will be made by the relevant local body, in line with the Government's devolution agenda," says the report. "Therefore, the Government is currently providing £2m to enable local bodies to take a more strategic approach to improving conditions for cycling and walking, by providing a support package that will assist local authorities with the development of their Local Cycling and Walking Infrastructure Plans."
The Government will establish a £350m Cycling Infrastructure Fund as one element of a "wider investment package for active travel which will also include extending Bikeability cycle training to every child and engage parents".
Investment in cycling and walking will be increased "dramatically" through the £100bn of additional infrastructure spending announced in the Conservative Party manifesto for national renewal of roads, rail and other infrastructure that helps to generate growth, suggests the report.
"Final decisions on future funding for cycling and walking over this Parliament (to 2025) will be made as part of the Spending Review, expected later this year."
Further research will be carried out by government to estimate the impact of delivery of CWIS aims for 2025 and 2040 on carbon emissions by achieving "a shift to cycling and walking from private vehicles".
Exploring new innovations
The government is exploring ways in which vehicles can be used differently, such as Mobility as a Service (MaaS) platforms, says the report. "This will require behavioural changes and we will consider how government and others can support this shift through infrastructure and encouraging those forms of travel."
The right market conditions are needed to challenge the dominance of the car. This should include a "supportive regulatory framework" and a "strong consumer base", which would be developed by building trust in new technologies, with adequate vehicle supply and the necessary refuelling and recharging infrastructure. "Investing in innovative technology developments across road transport, and developing sustainable supply chains, must be fully considered to ensure the maximum possible benefits from the transition, in the UK and internationally."
There is a "huge opportunity" to transform last-mile deliveries, to ensure an integrated, clean and sustainable delivery system, particularly in urban areas. "As we consider the future of the transport system, innovative digitally-enabled solutions, data-sharing and collaborative platforms could transform how our goods are moved, potentially also reducing the negative impact of congestion."
It does not make sense to apply the same solution to reducing emissions to every location across the UK, argues the report. "Understanding where, how and why emissions occur in specific locations, be it around a major airport, port, motorway junction, or within a city centre, will enable us to develop a tailored response. We will work with relevant stakeholders to consider how local management of transport systems can best address emissions at a local level, and make an important contribution to national GHG emissions."
The DfT is looking to councils, combined authorities, subnational transport bodies and other interested parties to provide "valuable insights" into considering place-based solutions for emissions reduction.
Support is also sought from innovators to help develop the technologies to "nurture near market quick wins". Transport innovations, such as digitalisation and making data available to empower customer choice, "could tackle congestion, pollution and disconnection whilst improving our environment", says the report.
"We want to harness the UK as a centre of expertise to drive low carbon innovation and travel behaviour that helps enable a global transition to low carbon transport."
The DfT hopes the policies outlined in the report will help forge working partnerships with industry and business groups, academics and researchers, community and interest groups, environmental NGOs, local authorities and the public. After assessing all feedback, the DfT is planning to publish a final plan in the autumn.
The report was welcomed by Xavier Brice, chief executive of Sustrans, the walking and cycling charity. "The ambition set out in 'Decarbonising Transport: Setting the Challenge' is what this country needs to be able to move better and live better," he told TransportXtra.
"The necessary travel restrictions in the current COVID-19 emergency are highlighting that how we move is a fundamental part of how we live. The foreword of this report points to an achievable future where how we move around results in healthier places and happier lives for everyone.
"We will need to work hard to get there. The report pulls no punches on its current assessment of where we are."
Transport is the biggest source of carbon emissions, and private cars are the biggest contributor, said Brice, adding that electric vehicles are not the solution.
"It is fantastic to see the transport secretary say that 'public transport and active travel will be the natural first choice for our daily activities'.
"The Government is now recognising that it is time to stop forcing individuals and communities into car dependent living and undo the social isolation, poor health and inequity it has contributed to. We've a long way to go, as the report's projections of future cycling and walking levels based on current committed funding show.
"The future of Government spending plans is of course now uncertain but our future resilience as a society depends on the investment needed to deliver on this challenge. The need is greater than ever for long-term funding of better infrastructure for walking and cycling to make active travel the easiest choice for everyday short trips, and to deliver a convenient, cleaner public transport network serving all our communities."
Decarbonising Transport: Setting the Challenge

Find out about decarbonisation projects by taking part in the Climate Safe Streets webinar