Cities should invest today for an e-bike future: sales will 'explode', says report
Advancements in technology driving a predicted explosion in the number of e-bike trips
17 March 2020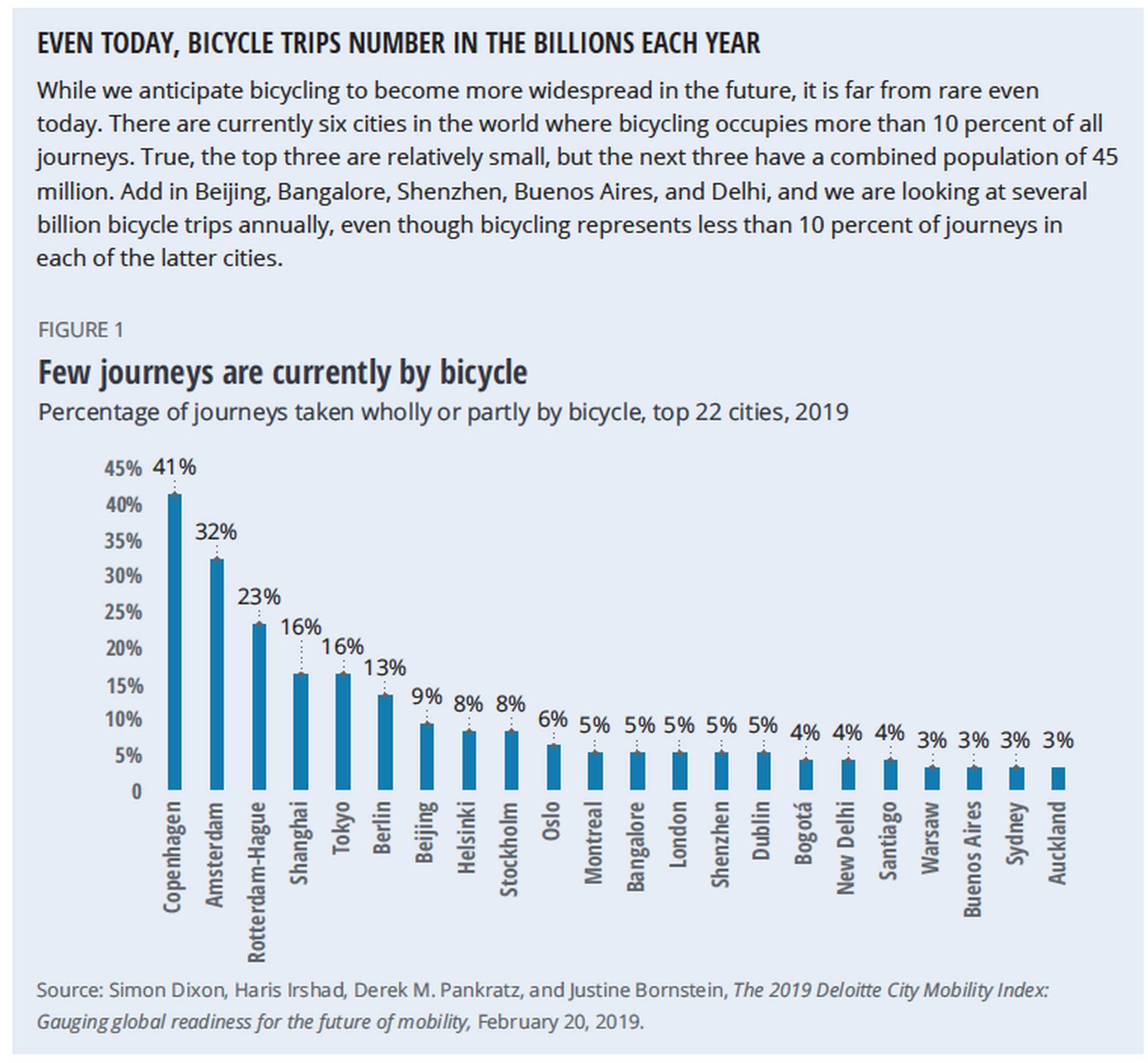 Technological innovations and the spread of bikesharing platforms are making bicycling more attractive to millions of commuters. Bicycling's upswing in popularity could mean cleaner air, less traffic, and healthier people for cities worldwide, says Deloitte Insights.
According to the latest tech report from Deloitte (see page 118), across the globe, tens of billions of additional bicycle trips are expected to take place in the next two years – that will double the number of bicycle trips in many cities across the world. We already know the benefits of more people riding are significant; reductions in congestion; less pressure on public transport; improvements to physical and mental health and better environmental outcomes to name a few.
So what is driving this predicted explosion in the number of bicycle trips? Advancements in technology, for one.
The important insight is that we need to be investing for this growth today, says Deloitte. Major cities that don't will be stuck in a car-centric world, spending countless hours stuck in traffic, whilst the rest of the world progresses economically; physically and environmentally
More and more cyclists are taking to the roads, and they're not going away anytime soon. We predict that tens of billions of additional bicycle trips per year will take place in 2022 over 2019 levels. This increase in bicycling will double the number of regular bicycle users in many major cities around the world where cycling to work is still uncommon. (In the United States and Canada, for instance, only about 1 percent of the workforce commutes by bike today). In total, we predict a 1 percentage point rise in the proportion of people who bike to work during the three years from 2019 to 2022.
Of the slew of the aforementioned bicycle-related technologies, the development and spread of e-bikes, which use batteries to assist pedalling, stands out for its potential to boost cycling's growth.
Now, thanks largely to recent improvements in lithium-ion battery (LIB) technology, pricing, and power, the e-bike market is seeing a surge in interest, particularly for high-end models.
Between 2020 and 2023, more than 130 million e-bikes (using all battery technologies) are expected to be sold, and in 2023, e-bike sales are expected to top 40 million units worldwide, generating about US$20 billion in revenue. To put these numbers into context, only 12 million electric vehicles—that is, automobiles and trucks—are expected to sell in 2025; at the end of 2018, just 5.1 million electric vehicles were in circulation.
Advances in LIBs are a strong sales driver. Although more than 80 percent of the e-bikes sold each year were using heavy lead-acid batteries as recently as 2016, the falling price of much lighter LIBs has shifted the market. Over the entire four-year forecast period between 2020 and 2023, we expect about two-fifths of all e-bikes sold globally to feature LIBs, with the proportion of LIB-powered e-bikes starting out at about 25 percent in 2020 and rising to more than 60 percent in 2023. LIBs are now becoming available in variants for different applications, with models specifically designed for commuting (for fast acceleration at a low pedaling speed), cargo (for heavy loads), and mountain bikes (ideal for fast sprints and steep hills) now available.
The progression from 1 percent to 2 percent may seem unimpressive at first glance—but given the low bases, the difference will be marked. Tens of billions of additional bicycle rides per year means fewer car trips and lower emissions, with spillover benefits for traffic congestion and urban air quality.
While we anticipate bicycling to become more widespread in the future, it is far from rare even today. There are currently six cities in the world where bicycling occupies more than 10 percent of all journeys. True, the top three are relatively small, but the next three have a combined population of 45 million. Add in Beijing, Bangalore, Shenzhen, Buenos Aires, and Delhi, and we are looking at several billion bicycle trips annually, even though bicycling represents less than 10 percent of journeys in each of the latter cities.