Oxford and Oxfordshire publish details of UK's first city centre Zero Emission Zone (ZEZ)
10 January 2020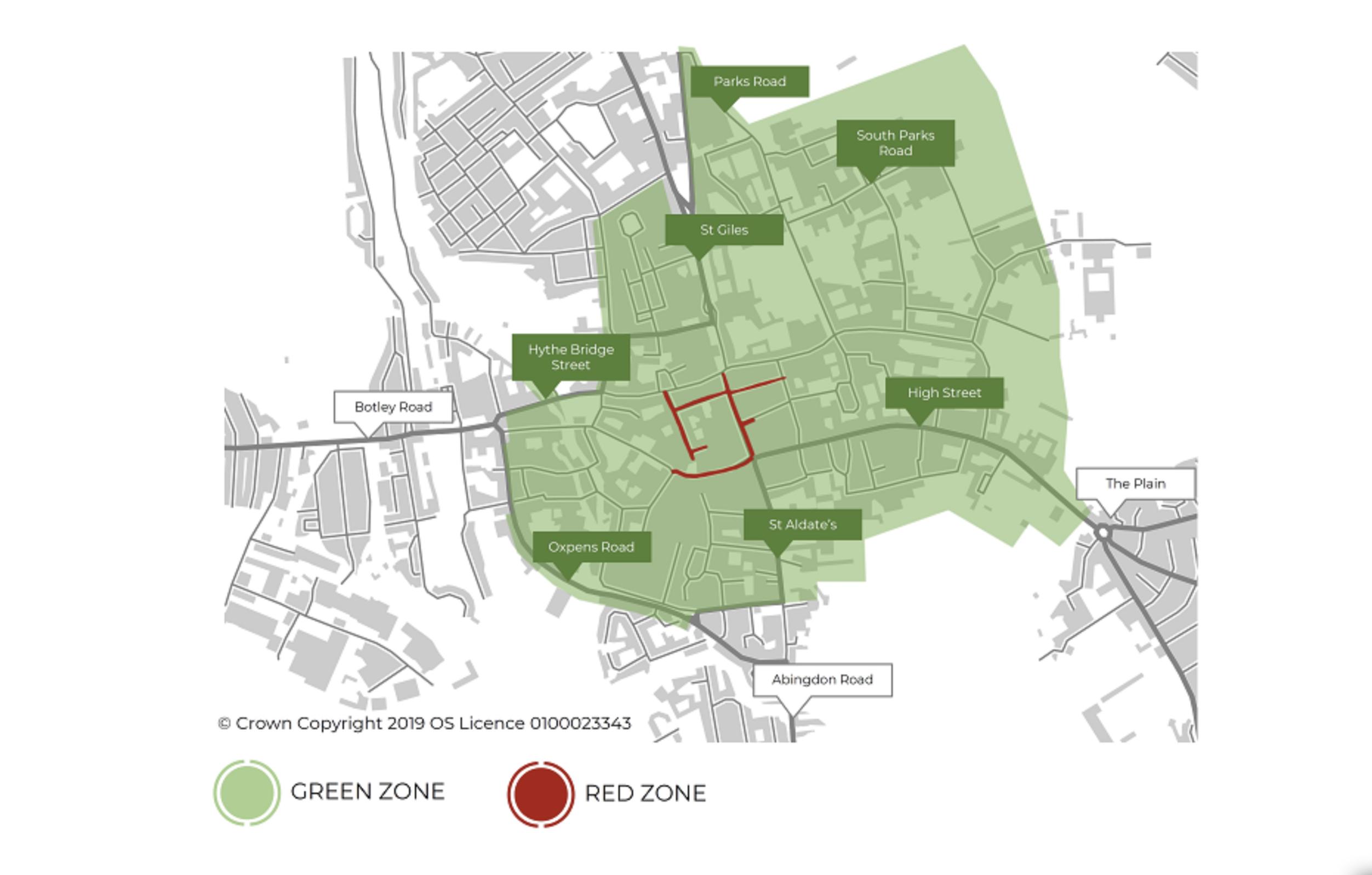 Oxford City Council and Oxfordshire County Council have published final draft proposals for the UK's first city centre Zero Emission Zone (ZEZ), to be introduced later this year.
The proposed Red Zone marks the next step towards cleaner air in Oxford, and a reduction in the health risks for people living and working in the city. It is also expected that the ZEZ will improve air pollution levels in towns and villages across Oxfordshire because the buses and taxis and other vehicles that serve Oxford also serve towns and villages across the county.
In addition, a Green Zone is proposed for introduction in 2021/22, covering the rest of the city centre. Buses and Oxford licensed Hackney Carriages which drive within the planned Zero Emission have already agreed timelines for zero emissions fleets across Oxford, and will not be subject to charges.
The key points of the latest proposals are:
The introduction of a charging scheme in the Red Zone between 7am-7pm, with a £10 charge for non-compliant vehicles entering the zone.

Discounts for all blue badge holders entering the zone until December 2024.

Exemptions for businesses registered in the Red Zone until December 2024, followed by a discount until December 2030.

A 90% discount for residents living in the zone until December 2030.
Not only will this project make a huge difference to the quality of life and health of people living and working in the city centre, we are showing that it is possible as we start to respond seriously to the climate emergency
Councillor Yvonne Constance, Cabinet Member for Environment, Oxfordshire County Council, said: 'I am really pleased that at the start of the New Year we are on track to introduce the Zero Emission Zone in Oxford by the end of 2020. Not only will this project make a huge difference to the quality of life and health of people living and working in the city centre, we are showing that it is possible as we start to respond seriously to the climate emergency. This is a great way to start an important decade of climate action.'
Councillor Tom Hayes, Cabinet Member for Zero Carbon Oxford, Oxford City Council, added: '2020 will be a crunch year for our climate and all our futures. We face a climate emergency that threatens all of our futures. For the sake of everyone in Oxford, and especially our children's lungs, we must clean up the lethal air we're all breathing. Oxford's Zero Emission Zone will come into force this year and help make 2020 the year we make a game-changing difference.
'With our strengthened Zero Emission Zone and the introduction of hundreds of supporting charging points, our medieval city is leading the electric vehicle revolution. Our two councils have taken a fresh look at the big idea of charging commuters to drive polluting vehicles in and out of the city centre. And we're listening to Oxford's Citizens' Assembly on Climate Change by speeding up our journey to a city-wide Zero Emission Zone.'
Both councils have now launched an informal consultation on a draft final scheme for the Red Zone, including the proposed charging and enforcement arrangements, which could begin in December 2020.
This follows a year of increasing focus locally, nationally, and globally about the harmful impact of nitrogen dioxide (NO2) emissions from vehicles, and follows both the City Council and County Council's recognising a climate emergency and making commitments to cut carbon emissions.
The ZEZ aims to reduce Oxford's toxic air pollution levels, tackle the climate emergency, and improve the health of those living, working, and visiting in Oxford and beyond.
The new proposals consider the Red Zone, which covers a small area of the city centre and will start from December 2020 for all vehicles. They also propose the creation of a Green Zone covering the rest of the city centre in 2021/22, which would be accessed for free by zero emission vehicles and with discounted charges for vehicles which comply with the London Ultra Low Emission Zone standards.
The informal consultation on the Red Zone is open until Friday 31 January.
The Red Zone will then go to formal consultation in March, and the draft charging order published, with both councils making a formal decision on implementation in the spring, which could mean the scheme coming into effect in December 2020.
Buses and taxis are already on agreed journeys towards zero emission fleets. From January 2020, all Hackney Carriage Vehicles licensed in Oxford will be moving towards becoming zero emission by 2025, with phased emission standards. The councils are working with bus companies operating in Oxford to move towards zero emission by 2035 at the latest, but are working to achieve this by 2030 if possible.
The Oxford Zero Emission Zone is a similar type of scheme to that used in London to enforce emission requirements. Several other cities in Britain and other countries are looking at ways to improve air quality by restricting vehicle access in similar ways.
Background: Oxford Zero Emission Zone
In 2017, both councils announced joint proposals to introduce a Zero Emission Zone in Oxford, which would see a historic reduction in air pollution levels. More than 750 residents and businesses took part in a six-week public consultation on the proposals in late 2017, with about 70% of respondents backing a phased approach to the ZEZ. In January 2019, after 15 months of listening to residents, businesses, transport operators, and health experts across Oxford, the councils announced updated proposals, which considered phased restrictions on some vehicles and journey types.
Transport accounts for about 75% of nitrogen dioxide pollution in Oxford, and 50 tonnes of CO2 are emitted by road traffic in Oxford every morning rush hour.
In October 2019, Oxford City Council published a new assessment of the greenhouse gas emissions—including carbon dioxide—generated across different sectors of the city which found that road transportation is responsible for 16% of emissions in Oxford (the second largest source of emissions behind buildings).
Over the past decade, air pollution levels in Oxford have decreased by 36.8% due to the City Council and County Council's work to tackle the issue. However, the latest data from the Oxford City Council's 72 air pollution monitoring locations has shown that levels of toxic NO2 fell by an average of 0.23% between 2017 and 2018 –a starkly slower rate in comparison to the 22.7% decrease between 2016 and 2017.
Air pollution has been found to contribute to cancer, asthma, stroke and heart disease, diabetes, obesity, and with changes linked to dementia. Data published by the Committee on the Medical Effects of Air Pollutants (COMEAP) estimated that around 36,000 premature deaths in the UK every year could be linked to long-term exposure to air pollution, with health experts warning that there is no safe level of NO2.
The Oxford Citizens Assembly on Climate Change discussed the theme of transport, alongside buildings, waste, renewable energy, and biodiversity and offsetting. Assembly Members found that foresaw major changes in transport provision in Oxford with cycling, walking, and public transport prioritised over private motor vehicles. Assembly Members opted for the most ambitious scenario for transport which saw the eventual creation of a citywide zero emission zone, 100% of buses and cars operating on electric, car clubs, universal electric vehicle charging infrastructure, and discouraging of private car ownership. 88% of Assembly Members agreed with the proposal that the Government should bring forward the ban on new petrol and diesel vehicles to 2030 from its national legal target of 2040.
The Zero Emission Zone is part of a wider local transport plan which aims to improve connectivity, reduce emissions and support sustainable growth across Oxford and Oxfordshire. Earlier this year, both councils consulted on their Connecting Oxford proposals to tackle congestion and improve public transport connections into and across Oxford. Together the two schemes aim to create zero emission transport system across Oxford and Oxfordshire.
As part of its pledge to become carbon neutral by 2030, Oxfordshire County Council has already started switching to an electric fleet, with the aim of being electric for most of its cars and vans by 2024 and 2028 respectively. New e-bikes have also joined the fleet meaning that staff unused to cycling can get to local meetings more easily under their own steam.
The City Council's wholly-owned direct services company, Oxford Direct Services Ltd (ODS) has committed to electrifying at least 25% of their fleet by 2023. The City Council currently has 50 hybrid and electric vehicles in its fleet. This has contributed to the reduction of the City Council's emissions by 10% in the last year, and by 40% in the last five years.