Waltham Forest's segregated cycleway to be extended
19 December 2019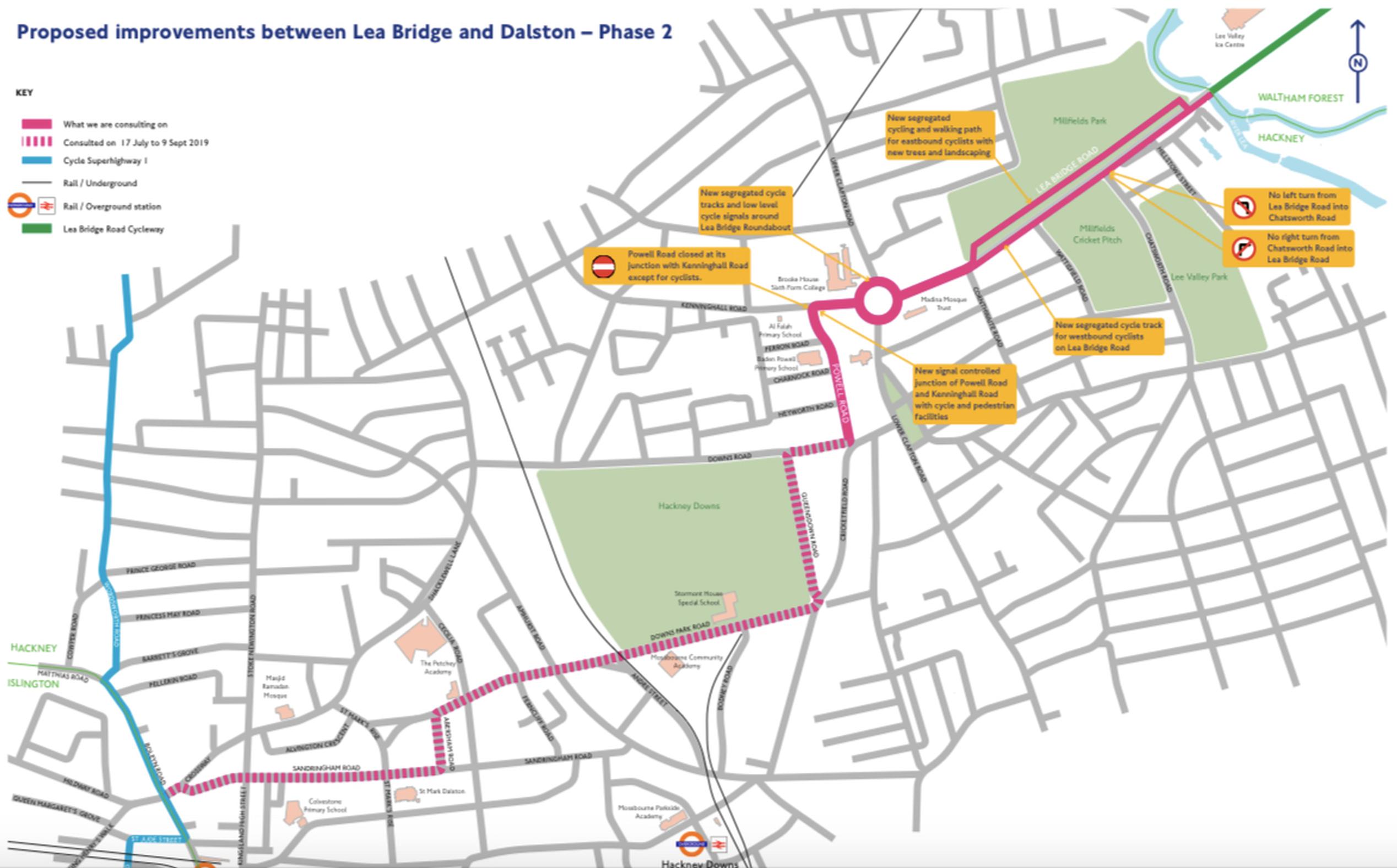 The length of the segregated cycle route on Lea Bridge Road in Waltham Forest is being increased, linking with the neighbouring borroughs of Rebridge and Hackney. Transport for London (TfL) has drawn up plans to extend the 8km segregated route to the western end of Lea Bridge Road at Clapton Roundabout and on to Dalston in Hackney. TfL is due to publish the findings of its phase one consultation next month.
Meanwhile, work is underway to extend the eastern end of the segregated route (known as Cycleway 23) from Whipps Cross Interchange to Water Works Roundabout in Redbridge. The 2km extension is due to be completed early next year.
Cycleway 23 has seen a 118% increase in the number of people cycling between July 2016 and July 2019, says TfL.
The route is one of the flagship projects funded by TfL's Mini-Holland programme, with Waltham Forest being awarded £30m in 2014. Two other outer London boroughs – Enfield and Kingston upon Thames – also received around £30m.
Other changes on Cycleway 23 include more priority for people on foot at 52 crossings with residential side roads, as well as nine new pedestrian and cyclist-controlled crossings, seven new signalised junctions and a new pocket park at Whitney Road. Waltham Forest council has also pledged to plant 194 trees.
Cllr Clyde Loakes, Waltham Forest's deputy leader and cabinet member for the environment, said: "To tackle the climate emergency, the largest issue facing the planet right now, we must all work together to change the way we live. Finding new ways to travel sustainably around the borough and into central London is vital if we are going to make a difference.
"We are already making a real impact in Waltham Forest. Across the borough we have seen an increase in cycling of 103%, and decrease in car use of 7%, since we started improving local infrastructure through our Enjoy Waltham Forest programme, and in turn we have seen a marked improvement in air quality.
"More than 50,000 households are no longer in areas with dangerously high levels of air pollution compared to a decade ago and an independent study found that local children's life expectancy has increased by six weeks."
Simon Munk, infrastructure campaigner at London Cycling Campaign, said: "The completion of the incredible redesign of Lea Bridge Road to really provide for people walking and cycling shows what an outer London borough can do with political will and some funding.
"It also adds significantly to the mileage of protected space for cycling on main roads that the Mayor of London has pledged to triple in his first term."