A stock take on planning for the Garden Communities programme reveals some 'uncertainty'
09 December 2019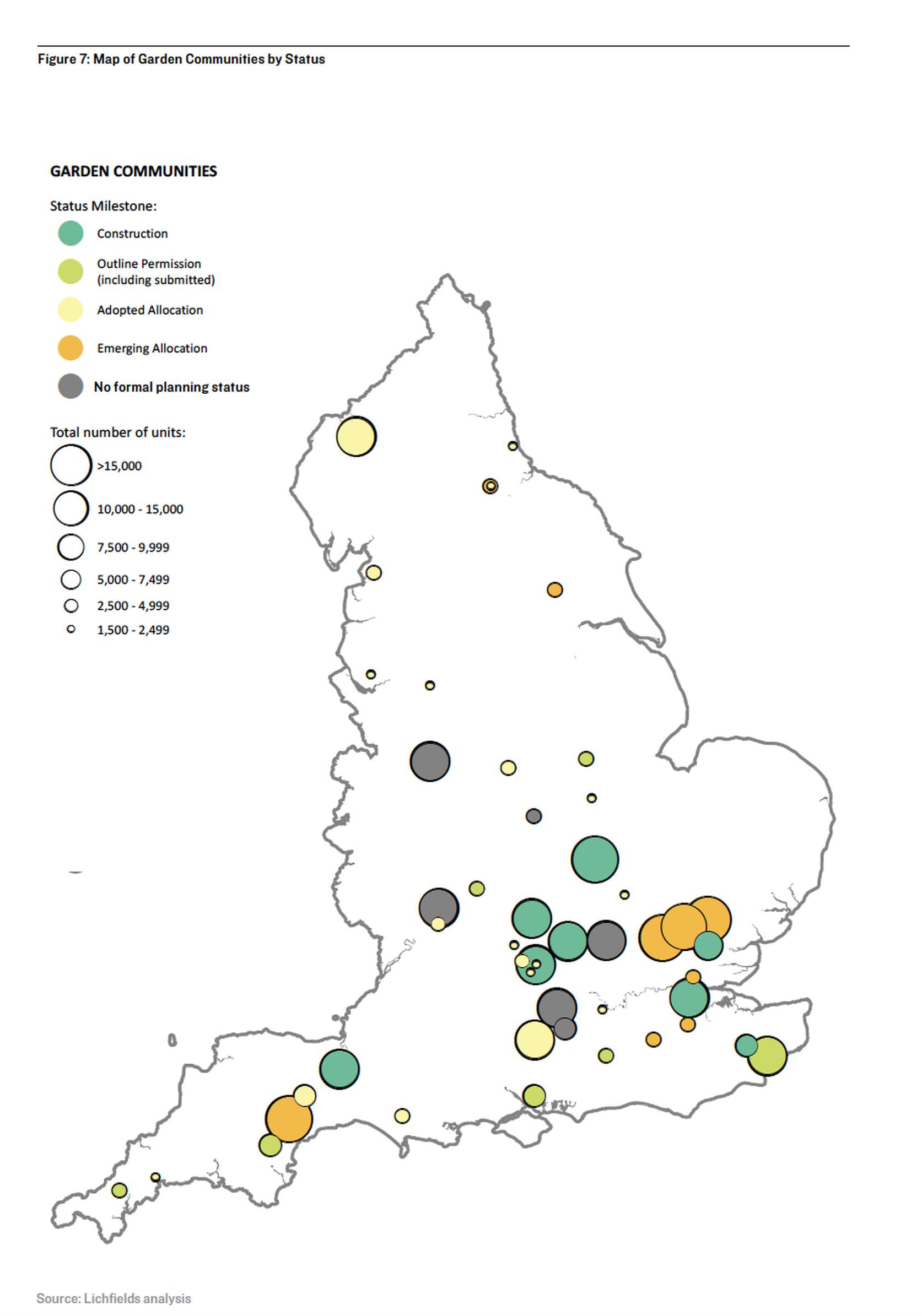 Large-scale new developments have a role in helping to meet housing needs, and have at times received formal Government support. The latest iteration – Garden Communities – was launched in 2014, and the programme now includes 49 projects extending across all regions of England.
Consultancy Lichfields has reviewed all 49 Garden Communities to establish a baseline to understand and assess the programme in the future, and finds that it is 'currently set to provide 403,000 homes, up to 182 new primary schools and 56 secondary schools, and 600 or more hectares of employment land - supporting 1.3m additional jobs to 2050'.
However there is some uncertainty, with 30% of homes yet to achieve formal planning status and two thirds still needing to establish the principle of development. Many Local Plans rely heavily on Garden Communities to sustain their housing requirements, but the programme is unlikely to reach critical mass of delivery until the 2030s.
The Garden Communities programme also plays a dual role: endorsing the promotion of strategic sites and supporting the implementation of extant permissions, but there is no particular template for the developments it supports. The report therefore aims to address the question of what a Garden Community actually is, and sets some key thoughts for promoters and local authorities, who need to be confident they can answer key questions:
Why is the site's inclusion in the spatial strategy for the area justified when assessed against reasonable alternatives?

How will the project be implemented in light of relevant information about land ownership, delivery model, and in7frastructure requirements?

Is the scheme viable when taking into account the necessary infrastructure, affordable housing provision, a realistic delivery trajectory and robust cost and value assumptions?

If external funding is required – e.g. from Government – but not yet secured, how should that uncertainty be factored into its role within the Local Plan housing trajectory?

How does the planning policy identifying the site actually operate? What further planning tools are required to help unlock the scheme and ensure it delivers in a way that meets core policy requirements] governing the quality of design and place?