Towards a low carbon economy
Having declared a Climate Emergency in May 2019, the Liverpool City Region has set ambitious targets for tackling climate change. Key elements include decarbonising vital energy and transport infrastructure. Juliana O'Rourke spoke with Metro Mayor Steve Rotheram and Liam Robinson, portfolio holder for transport and air quality
14 October 2019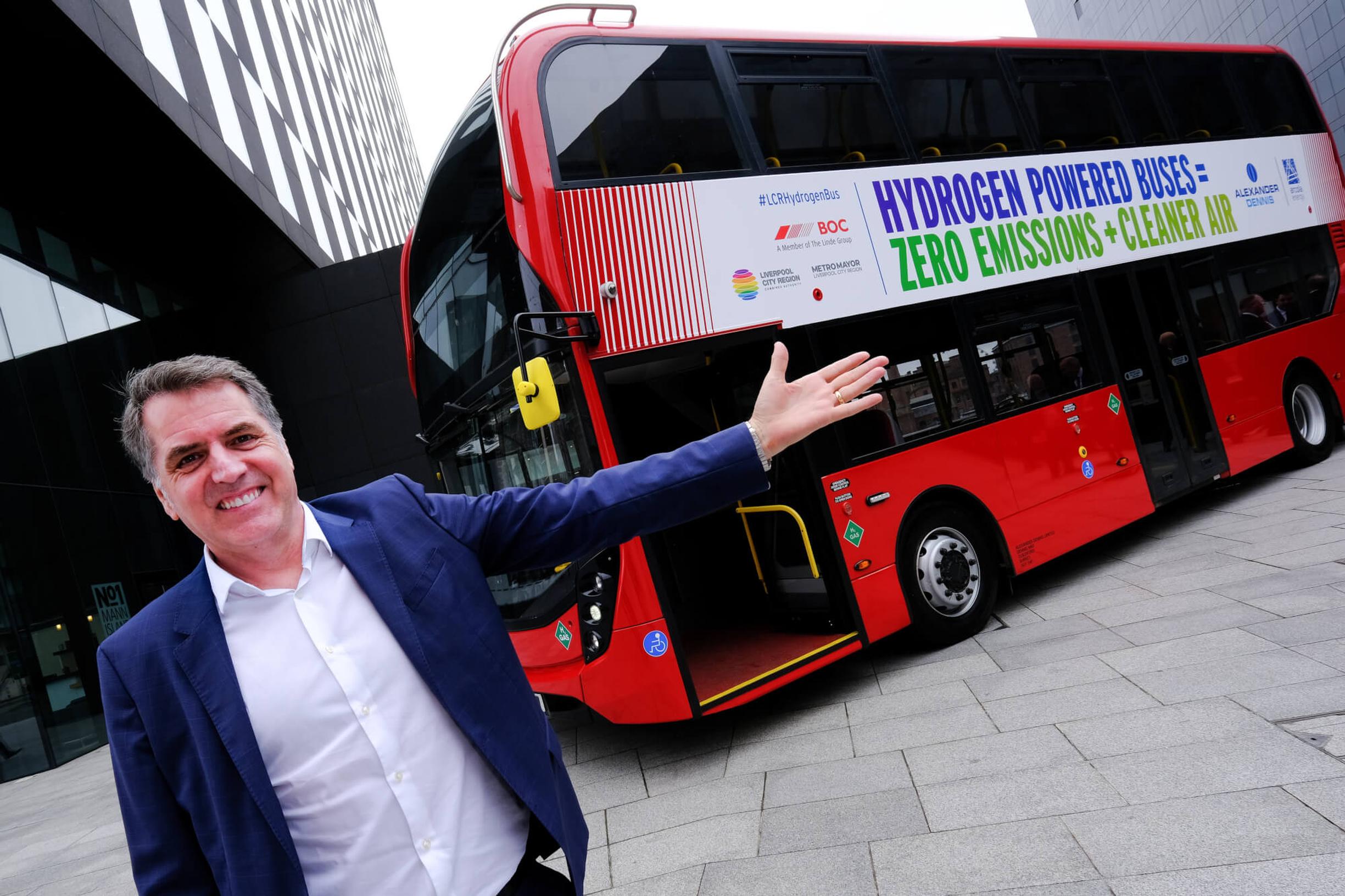 We can, with some confidence, state that we will be net zero carbon by 2040, says Steve Rotheram, Metro Mayor, Liverpool City Region. Having declared a Climate Emergency in May 2019, the Liverpool City Region (LCR) has set out its targets for tackling climate change, and will develop a full Climate Action Plan by December 2019.
Key elements of this plan involve decarbonising transport, including the recent Vision For Bus (more of which later), reducing the transport network's impact on the environment by investing £8m in the first phase of a new 472-mile walking and cycling network, and developing the ambitious Mersey Tidal Power Project. In June 2019, LCR published a Transport Plan, stating that it is 'working to reduce the transport network's impact on people and on the environment in order to support its commitments on the Climate Emergency, air quality and carbon emissions'. LCR has also announced plans to make the Liverpool City Region the most digitally connected in the country, an aspiration that underpins its ambitious projects to improve vital energy, transport and digital communications infrastructure.
With a low-carbon economy worth more than £2 billion a year, we are already in the vanguard of the green energy revolution
I mention that since we spoke in 2018, in the run-up to Smarter Travel LIVE 2018, also held in Liverpool, that Liverpool City Region (LCR) seems to have really opened up the pipelines in terms of projects being announced, funds committed and work starting on the ground. 'It took a while to get up to speed,' says the Mayor. 'We have made so much progress in the past 12 months. And it's not all about technology, he adds, although acknowledging that technology plays a huge part in securing a resilient future. 'Technology and innovation helps us to capitalise on some of our key assets.'
Key assets include the transatlantic internet cables connecting the UK, North America and the rest of the world, which land locally in Sefton, and the Hartree supercomputer in Halton, Cheshire, used by the Data and Analytics Facility for National Infrastructure (DAFNI), which is leading on major national projects exploring infrastructure resilience, using its world-leading computing powers. But it's not all about hardware; one other key asset is skills and expertise, such as that invested in the HyNet North West project. HyNet is exploring hydrogen capture and, looking into the future, the production of hydrogen through hydrolysis with the wider aim of reducing carbon emissions from industry, homes and transport. 'With a low-carbon economy worth more than £2 billion a year, we are already in the vanguard of the green energy revolution,' says the Mayor. 'Introducing commercially-viable hydrogen-powered buses would not only help our city region tackle poor air quality and achieve our ambition of being zero carbon by 2040, but would put us at the forefront of a technology that could be transformative for the rest of the country and beyond.'
LCR is set to be the first place in the North of England to trial hydrogen buses following a successful £6.4 million bid to the government's Office for Low Emission Vehicles. The bid was put forward by a consortium and will be progressed in conjunction with Arriva and Stagecoach, partners in the city region's Bus Alliance. The Hydrogen Bus Project will see the creation of a new hydrogen refuelling station and up to 25 hydrogen–powered buses on the streets, emitting nothing but water from their exhaust pipes. The first trial is expected to take place in 2020, subject to agreement with the Bus Alliance. The new hydrogen refuelling station will initially deliver 500kg of hydrogen every day (1 kg of hydrogen contains 33.33 kWh of usable energy). Crucially, the project aims to demonstrate the commercial viability of a model that installs refuellers for high-use fleets, in order to develop a network for future use by passenger cars and other vehicles.
Key projects across the Liverpool City Region include:
delivering Europe's largest tidal power project by 2030
creating an ultrafast digital network across the whole city region
tripling the volume of energy generated by offshore wind in Liverpool Bay by 2032
replacing all methane with hydrogen from the city region's gas grid by 2035
delivering a network of at least eight zero-carbon refuelling stations (hydrogen and electric charging) across the city region by 2025
meeting the city region's hydrogen demand from transport, industry and heat from clean hydrogen produced within the city region from 2023
On the buses
LCR is also looking closely at the opportunities outlined in the Bus Services Act 2017, which offers the region viable several choices: franchising, Enhanced Partnerships or a continuation of the Bus Alliance, says Liam Robinson, LCR portfolio holder for transport and air quality. 'The region's proposed 'Vision for Bus' is based on themes identified across 1,500 responses to an online survey that formed the first phase of the Liverpool City Region's 'Big Bus Debate', launched by the Mayor in November 2018,' he says. 'Running 24 hour buses on key routes, at least one bus an hour on all routes between 5am and midnight, zero emission fleets, punctuality, reliability, ticketing complexity, the overall cost of travel and service frequencies, coverage and hours of operation were all key themes identified for improvement.'
'We have big ambitions for bus in the Liverpool City Region,' says Robinson. The Bus Alliance has allowed us to make good progress in modernising our bus network but, as the 'Big Bus Debate' has shown, we have to go much further and faster. Eight out of ten public transport journeys are made by bus. The network has to be robust and sustainable, otherwise we're putting economic growth at risk. Doing nothing is not an option.'
'It's a very intensive process, adds the Mayor, involving many users and stakeholders. 'We are in the process of finalising some of these proposals. The legislation is very technical, very detailed, and requires a robust business case. We will be bringing forward recommendations early in the New Year in terms of how will be utilising new powers.'
On the trains
Back in July, a new Trans-Pennine rail route between Manchester and Leeds was promised by the new Prime Minister as he set out his early domestic agenda to 'turbo-charge' regional growth and prosperity. In a speech in Manchester, Boris Johnson affirmed that one of his top domestic priorities will be to 'level out' opportunities. 'I want to be the PM who does with Northern Powerhouse Rail what we did with Crossrail in London...I am going to deliver on my commitment to that vision with a pledge to fund the Leeds to Manchester route,' he said. Reactions to his plans were mixed. Northern Powerhouse Rail was already due to feature in the Government's autumn Spending Review, yet Transport for the North's wider vision, including a new line from Liverpool to Manchester Airport and Crewe, was not mentioned in the PM's speech. Henri Murison, Director of the Northern Powerhouse Partnership, claimed Johnson's announcement was a 'seminal moment' for the North, yet the Mayor argued that the Liverpool to Manchester leg of the scheme was 'by far and away the most readily deliverable section, and the one that can be built fastest'.
However, things change quickly in today's Government, and by September the Mayor was being much more outspoken, lambasting London Assembly members' call for cancellation of HS2 to the North as 'arrogant' and 'blinkered'. London Assembly members called not only for HS2 to the Midlands and the North to be cancelled, but also for the money to instead be spent on London's Crossrail scheme. Any money left over could then, they suggested, be allocated to Northern Powerhouse Rail. Dismissing the proposals, the Mayor responded: 'The sheer arrogance of this is just staggering. We all know that London already receives thousands of pounds more in transport funding per person, every year, than the North. We can't continue in a situation where it's cake for London and crumbs for the North. It's got to stop for the benefit of the whole of the UK. I am absolutely clear – along with leaders from across the North – that delivering both HS2 and Northern Powerhouse Rail is the fundamental cornerstone for re-balancing the UK economy.'
LCR Listens
The quality of life in any city region has a massive effect on the opportunities for growth and prosperity, and this includes attracting skilled workers to the region, and upgrading existing up-skilling opportunities. People matter, and the Mayor is 'acutely aware' of the fact he faces challenges in bringing the region's citizens along with him on his journey to smart resilience. 'I'm upfront about saying that we need to consult more with people, not just about our views, but about citizen needs.' That's why he launched LCR Listens: an exercise in bringing devolution to life, to ensure that local people have the opportunity to influence genuine local decision-making. 'We need to do more listening, and less telling people what we think is in their best interests.'
But, I ask, what if he and his colleagues don't like what they hear? 'We need to know what people's views are so that we can put a coherent argument as to what the alternatives are – if we think we need them,' he says. Take air quality, he adds, and the fact that there too many people in the city region with asthma and respiratory disease; but also people who are used to using their cars. 'If we offer them a viable alternative, then maybe they'd be more interested in a modal shift towards public transport or walking and cycling.' The LCR Listens project is looking holistically at climate change, and at the environmental consequences of what everything we do, he adds. 'This is where we believe that we can start to shift opinions, attitudes and behaviours.'
LCR is working hard on its 'viable alternatives', and has set out a priority list of 18 green transport projects, including new stations, new publicly-owned Merseyrail trains and new Mersey ferries. 'These plans mark one of the Combined Authority's most significant investments yet in making our transport system more sustainable,' said Robinson. 'By increasing our public transport network and making it more attractive, as well as making it easier for people to get around on foot or by bike, we are giving a green boost to our city region's economy, and one that will benefit everyone who lives and works here.' Projects to be supported, through the Transporting Cities Fund, fall across three main themes: improving and expanding the public transport network to meet new areas of demand, improving the appeal of public transport, and improving health and wellbeing.
Health and well-being are central, but far too often overlooked, elements of any smart city strategy. Importantly, this Mayor and his team recognise that social innovation is just as important as technological innovation when considering smart transitions. 'We are a region that pioneered radical social reforms as well as pioneering world-changing technologies,' he says. 'Our future prosperity depends on our ability to renew and modernise our connections. We have an ambition to become a beacon for high-tech innovation, and have set out an agenda that is leading us towards a smarter tomorrow,' he says. 'We need to be at the forefront in embracing emerging technologies to drive economic growth and attract investment.' But not without bringing citizens along with him. 'Our devolution deal establishes specific areas of direct responsibility for the Metro Mayor and Combined Authority focusing primarily on investment, economic growth, planning and transport,' he says. 'But making the most of devolution means using these new forums to explore opportunities to share best practice, pool resources and act together where it is agreed and makes sense.'