Urban land community: shaping technology development for better places
The Urban Land Institute (ULI) UK has launched an Urban Technology Framework to help cities advance into the next generation. Lauren Poon, associate at CallisonRTK, and vice chair, ULI Tech Forum
23 September 2019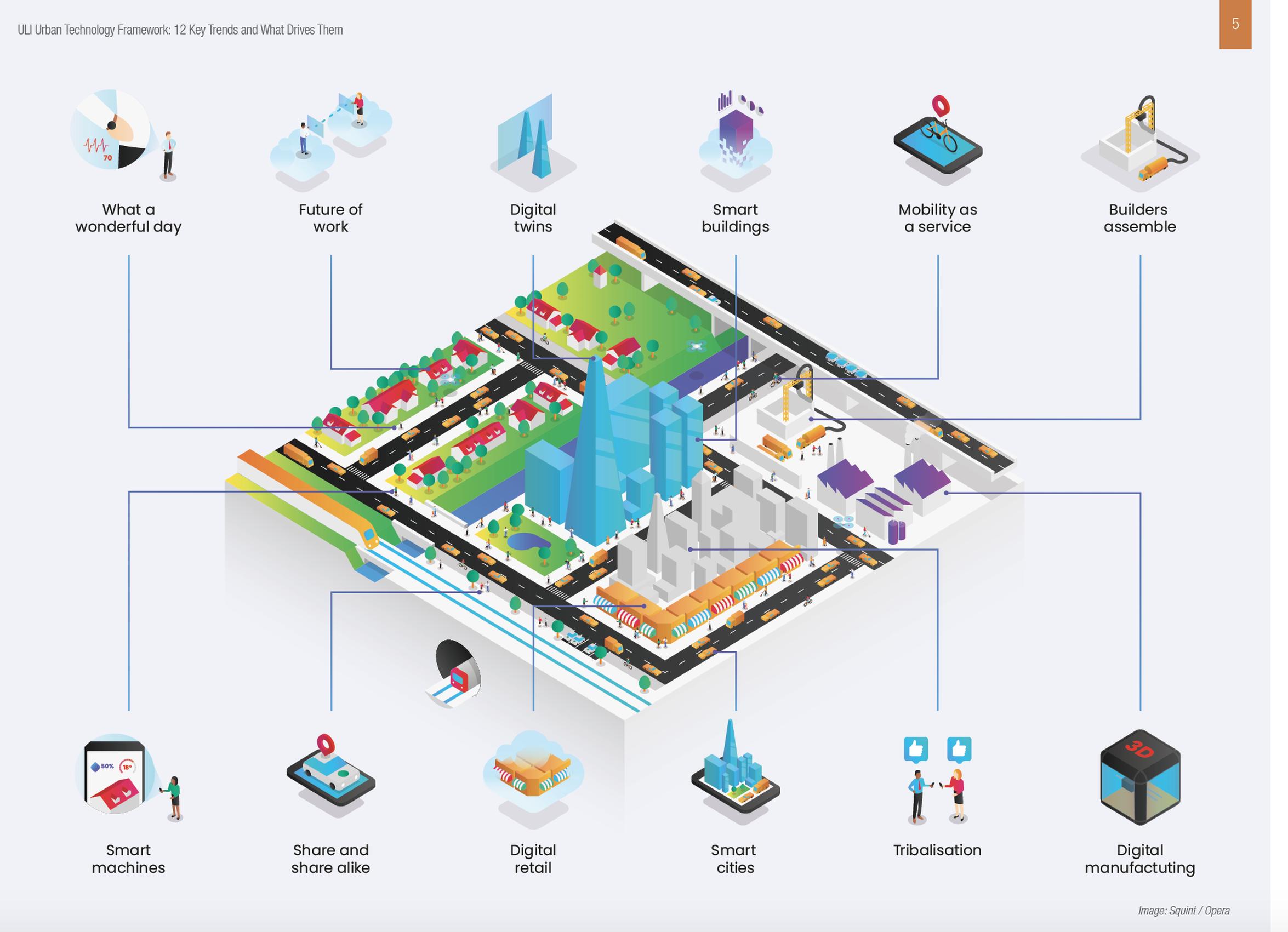 The ULI Tech Forum brings city, real estate, technology and innovation professionals together to share knowledge, best practice and creative thinking to enable truly innovative solutions to be applied to our urban environment.
Lauren Poon, associate at CallisonRTK, is acting as the Forum's vice chair, and will be speaking at Smarter Tomorrow
Ed Parham, Co-Chair of the ULI UK Tech Forum: The current wave of Urban Technologies have the potential to create change across the urban context, bringing both new challenges and opportunities to deliver wider social benefit. To take advantage of these opportunities, the urban land community needs to develop strategies that shape technology development, adoption and working practices. Our Urban Technology Framework aims to inform these discussions and support the sustainable cities of the future.'
The Urban Technology Framework has identified 12 current trends that will shape metropolitan hubs. This in turn, will help developers and architects who are responsible for delivering future cities. The 12 trends in the Urban Technology Framework are Digital Twins, tribalisation, share & share alike, smart cities, builders assemble, smart buildings, digital retail, future of work, digital manufacturing, what a wonderful day, mobility as a service and smart machines.
Digital is becoming a key factor in the success of cities and the quality of life of the people who live and work in them, alongside 'traditional' factors such as geography, climate, transport and utilities infrastructure, health services and skills.
The digital debate is no longer focusing just on technological advancement but is also considering the economic opportunities and future social impacts of digital change. The urban land community will be expected to take a leading position in the process of designing the role of digital in the future city.
Digital technologies are having no less impact on cities, but not as a single 'meteor strike'. Instead, digital innovation is playing out as a cumulative series of changes, each caused by different combinations of factors. The complexity of the context – of the city as an organism – helps explain the sheer variety of individual digital technology-driven changes.
In this context, the ULI UK Tech Forum has developed a framework for considering urban technology. It identifies key trends in the use of digital technologies in cities, and the factors that interact to cause and shape these trends.
The framework has three objectives:
To provide a current, accessible 'primer' for urban technology that supports a deeper understanding in how our urban environment can be enhanced by technology
To establish a 'modular' framework for urban technology that allows for future, more detailed research
To encourage connection, dialogue and translation between all people involved
Digitalisation will transform business models, causing the existing sharing economy to extend even further: with people sharing houses, cars and clothes.
The framework sets out the trends into three themes – digital technologies, urban land factors and business models – that will further transform our cities. These must be considered in every plan for the future, and how they will affect communities, institutions, buildings and the public realm.
Digital technologies will transform the way we interact with and in cities. Current technologies have enabled our communities to no longer be limited to locality, as small and fluid tribes are increasingly defined by digital and physical worlds. Further technologies, from increased connectivity through IoT to smart machines and driverless cars, will likely have as significant an impact.
Urban land factors create the context that digital technologies need to work in. These factors can be people, organisations, scale of development and stage of design. Property developers and architects have the opportunity to integrate technologies in design to respond to changes in the way people work or travel.
Finally, digital organising and business models will use technologies to deliver services in urban centres. Cities of the future will enjoy digital retail, a focus on customer experience, and an expansion of the sharing-economy.
Property developers and architects will have to consider the trends in transformational change facing cities and people's living experience. The Urban Technology Framework can act as a guide in this urban transformation process.
The Urban Technology Framework is an initiative of the ULI UK Tech Forum, co-chaired by Adam Burstow, a Group Digital & IT Director at Grosvenor Group and Ed Parham, an Associate at Space Syntax.
Adam Burstow, Co-Chair of the ULI UK Tech Forum, said: 'The ULI UK Urban Technology Framework illustrates how technology intersects with our urban areas and aims to provide a platform to understand how we shape our cities. From economic opportunities to social benefits, there are ever increasing possibilities for tech advancements and with our framework, urban professionals can better understand how digital technologies could improve our cities and create value for the people that are part of them.'