Mini-Holland is making streets people-friendly, says Clyde Loakes
Waltham Forest's Clyde Loakes talks to Deniz Huseyin about his mission to eradicate short car journeys, make town centres vibrant hubs and create the right infrastructure to enable people to choose active travel
03 July 2019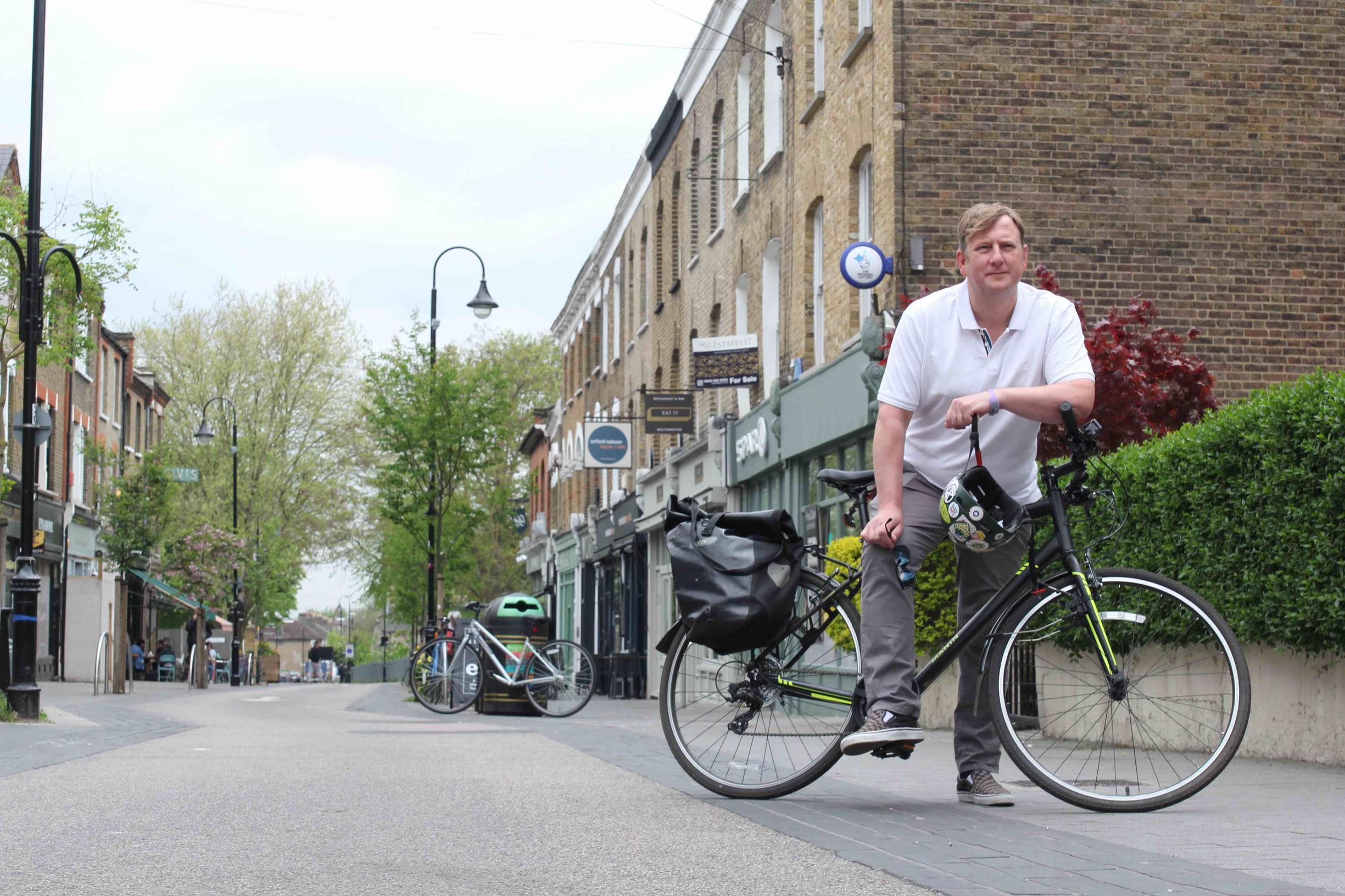 The Mini-Holland programme was the turning point for Waltham Forest, giving the council the means to challenge the dominance of the car, believes Clyde Loakes. The £29.6m grant from TfL changed everything. Up until then, the council had tried to encourage active travel through a range of small-scale measures, says Loakes, the council's Deputy Leader and Cabinet Member for Transport and the Environment.
"Yes, we had the traditional traffic calming engineering solutions, but it was clear that these were largely not delivering modal shift," he explains. "These schemes didn't seem to be making any difference whatsoever to residents' lives. We were going through a huge amount of consultation and the benefits were negligible."
The Mini-Holland programme enabled the sort of far-reaching infrastructure changes that would make streets truly friendly for pedestrians and people cycling. "If you want to secure significant and measurable behaviour change you have to do something big, and do it fast!"
For Loakes one of the central aims of Mini-Holland was to take short car journeys off the road. "It is clear that if we have fewer of these journeys in Waltham Forest it starts to free up road capacity for those who are reliant on their cars such as disabled people, some of our older citizens and maybe people who are reliant on their cars for work," says Loakes, who will be speaking at the Liveable Neighbourhoods conference, Alexandra Palace, on 10 July.
Traffic evaporation
"We are starting to see traffic evaporation," says Loakes. "If people can't make those short journeys by car they start to switch to cycling and walking. But you need to make the necessary infrastructure changes – you have to take out rat-running."
Loakes sees Mini-Holland as fundamental to reducing single occupancy journeys and encouraging more car sharing and membership of car clubs. Car ownership in Waltham Forest is falling, he points out, estimating that by the next Census in 2021 more than 50% of households in Waltham Forest will not own a car.
Waltham Forest has been taking steps to crack down on commuter parking. "We are rolling out CPZs [controlled parking zones] to stop commuters driving in from Essex and parking near Walthamstow, Leytonstone, Blackhorse Road Tube stations and some of the Overground stations. We need to take out all that traffic."
When Waltham Forest's Mini-Holland programme began in 2014 there was too much emphasis on the benefits for people on bikes, Loakes concedes. "We learned very quickly that there are also significant benefits to those who don't ride a bike. There are benefits to young children who want to scooter to school, for instance."
Some critics of Mini-Holland suggested that cyclists posed a threat to pedestrians, but Loakes thinks this was over-stated. "During the early [Mini-Holland] consultations it was argued that people on push bikes were mowing down thousands of pedestrians every year. We needed to challenge that viewpoint and demonstrate what is good for people for cycling is also good for pedestrians.
"These changes are about giving pedestrians and cyclists priority at junctions, giving improved infrastructure capacity with widened pavements and segregated cycle tracks, and removing the threat those groups face from cars rat-running through residential streets. It is about taking back ownership of residential streets."
Behaviour change
This rationale has seen the council's narrative shift from Mini-Holland to Healthy Streets and now to Liveable Neighbourhoods. "There has been a transition in language and definition, which is about encouraging people to take active transport seriously, and to build walking, cycling and scootering into their daily lives."
Waltham Forest is starting to see behaviour change, with more women and people from a range of backgrounds getting in the saddle, according to Loakes. "There have been lots of complementary measures, such as cycling training and community cycling groups targetting residents from certain backgrounds. There has definitely been an increase in the numbers cycling."
The presence of more people on bikes will change driver behaviour, Loakes believes. "There are those road rage situations where a bloke in a car may have a go at a bloke on a pushbike or vice versa. This is less likely when you've got a family riding together. There is a different dynamic which starts to encourage a different way of living."
Politicians supporting Liveable Neighbourhood schemes should expect resistance from some local people, warns Loakes. "Change doesn't happen overnight, you may well face a huge myriad of challenges and your integrity will be called into question. But it is the right change for the right reasons.
"You will be improving peoples' lives and improving their neighbourhoods and setting a decent legacy for future residents who aren't going to have to deal with harmful emissions."
A study by air quality consultants last year revealed that more than 51,000 households in the borough are no longer living in areas with dangerously high levels of air pollution compared with a decade ago.
In a separate study by Kings College London, commissioned by the council, it was found that measures to prioritise pedestrians and cyclists such as segregated cycle lanes, pocket parks and time road closures, have helped to improve the life expectancy of the borough's children. Compared with 2013, changes to road infrastructure will reduce exposure to NO2 by 25% and by 13% for particulate matter by 2020, the study concluded.
The Mini-Hollands programme also represents a proactive response to the obesity crisis, says Loakes. "We need to stress the importance of getting more people to make their journeys through active travel." He accepts that schemes to stop through-traffic have been divisive, with angry protests by some residents and online debates. But follow-up evaluation surveys of the Walthamstow Village scheme revealed a change in attitudes, Loakes reports. "Some of those who didn't want the changes told us, through gritted teeth, that actually they didn't mind walking to school and their kids loved walking to school."
Backing local business
Local businesses stand to benefit from Mini-Holland, Loakes says. "Yes, there is this perception among some businesses that they will fail unless there is loads of parking. But we know from London based and international research that businesses are more successful if they are in areas where pedestrians are prioritised. If these are nice places for people to spend time in they are more likely to mooch around, and spend more in shops."
Local high streets are struggling in the face of online shopping and shopping centres such as Westfield in Stratford. "Businesses need to address these challenges if they are to be successful. The demands of residents in 2009 are different to what residents want in 2019."
Businesses have flourished on Orford Road in Walthamstow Village and Francis Road in Leyton since through-traffic bans were introduced, says Loakes. "Cars can't drive up Francis Road between 10am and 8pm, so you're getting kids on bikes, people sitting outside chilling and talking. It's a different place now, it's somewhere for socialising and leisure, not just shopping. The level of business occupancy on Orford Road and Francis Road has never been so high, which is all the more impressive against the backdrop of announcements that traditional high streets are failing."
The silent majority
In 2015 campaign group E17Streets4All took Waltham Forest to High Court objecting to Mini-Holland on six grounds including flawed traffic orders and inadequate consultation. The judge, Mr Justice Holgate, ruled that there was "no merit whatsoever" in any of the points raised and ordered the group to pay £10,000 plus VAT towards legal costs incurred by Waltham Forest.
It appears that anti Mini-Holland campaigns failed to make an impact at last year's local elections. In fact, the ruling Labour administration won 46 out of the 60 seats available in the borough, two more than at the previous election in 2014.
"There has been no other issue in Waltham Forest that has been as high profile as the Mini-Holland programme over the past five years," says Loakes. "Last May's election was an opportunity for people to tell us how they felt about the programme. All of the parties standing against us were against Mini-Holland in one way or another, but people voted for us and we gained even more seats."
He believes there is a "silent majority" in Waltham Forest that backs the aims of Mini-Holland to address serious issues such as air pollution and obesity.
Loakes dismisses accusations that the infrastructure changes, especially modal filtering, mostly benefit gentrified areas of the borough. "Waltham Forest is a diverse borough and when it comes to having quiet residential streets it isn't about gentrification. Cutting traffic on residential streets is good for everyone, not just a certain social economic group.
"The pushbike is one of the cheapest ways to get to work. So, why wouldn't you put in the infrastructure to give cyclists that extra degree of safety and priority? They are not in that classic gentrification social economic group. Saying it is all about gentrification is just a cheap attempt to undermine something that is bringing huge health benefits to our borough."
Waltham Forest ensured that all Mini-Holland consultations were thorough, Loakes insists. "It's a six to nine month process [for each scheme] and every one of our schemes has been tweaked and slightly amended as a direct result of the engagement and consultation we have done on all our schemes."
As the benefits of Mini-Holland become apparent, measures such as modal filters will be introduced across London, Loakes predicts.
"We will continue to change our places for the better, enabling people to walk and ride safely, leading to this snowball effect with more people on bikes. I think we are setting a decent legacy for our future residents, improving our neighbourhoods and peoples' lives."
This interview appears in the 64-page Liveable Neighbourhoods Guide out now. It also features comment from politicians, officers, consultants and contractors involved in the Mini-Holland programmes in Enfield and Kingston upon Thames.