All 'Go' in Kingston as Mini-Holland takes shape
A change of political control in Kingston upon Thames may have slowed down the roll-out of Mini-Holland, but Cllr Hilary Gander tells Deniz Huseyin that she now plans to "pull out all the stops" to deliver the programme
12 June 2019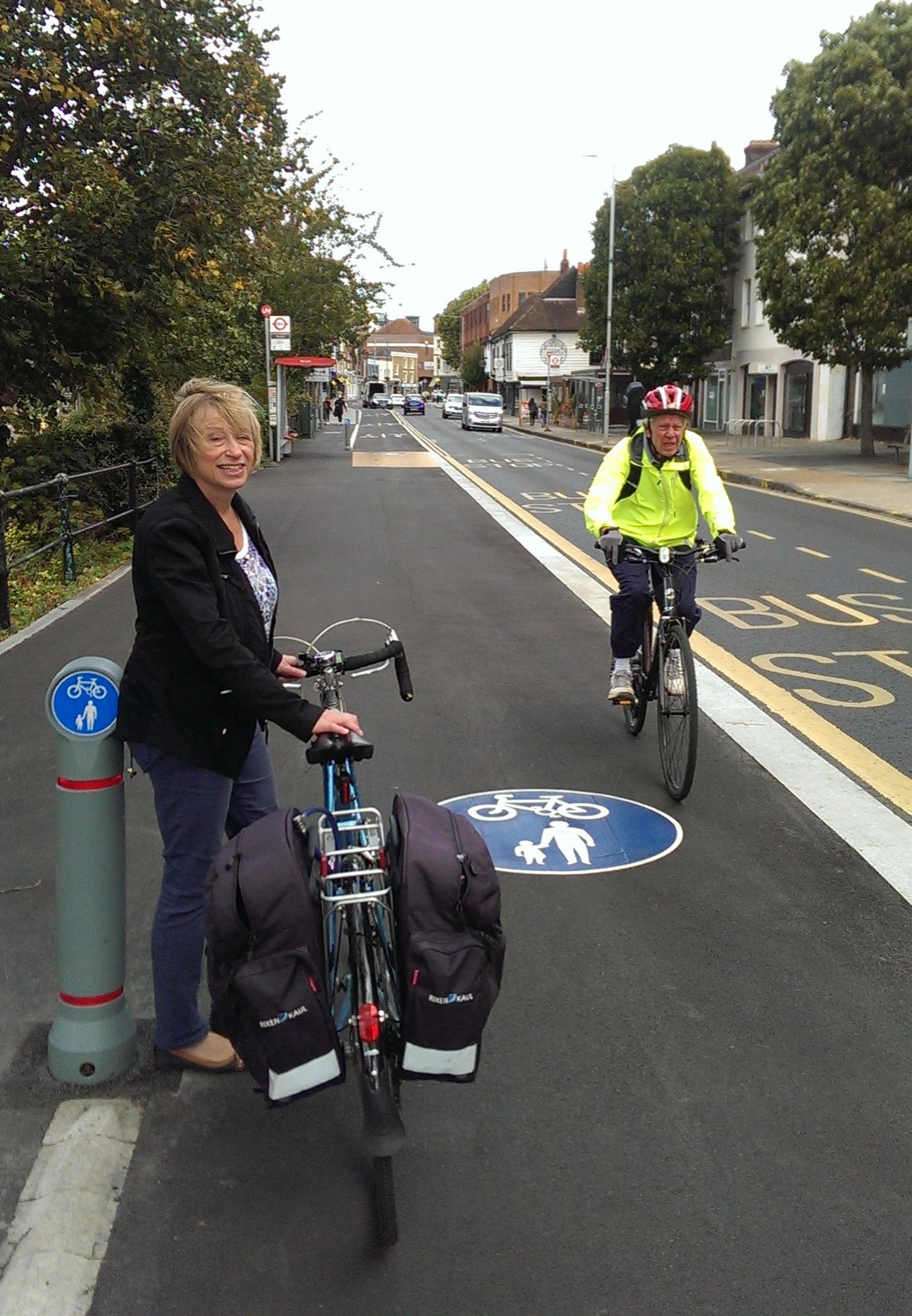 Hilary Gander has witnessed a few political twists and turns since the Royal Borough of Kingston upon Thames secured Mini-Holland funding five years ago. The LibDem council won the £32.7m grant in 2014, but the following year control of the council switched to the Conservatives.
Then, at last year's local elections, the LibDems returned to power. Which means that Gander, as Portfolio Holder for Environment & Sustainable Transport, has been handed the opportunity of shaping the remaining Mini-Holland schemes.
Cross-party support
Despite the changes in cabinet control, Mini-Holland has continued thanks to cross-party support, Gander says. "I am a keen advocate for cycling and in opposition was part of the cross-party working group. And, clearly, cross-party support helps as you don't want to be fighting among yourselves."
The shift from a LibDem to a Tory administration immediately after the funding was won undeniably slowed down Mini-Holland, says Gander. "Being generous, I'd say it's only natural that when your administration begins there is a lot you have to deal with. So, yes, we did lose some time at the beginning of the programme but it did pick up pace later.
"At one time I was frustrated and worried we would run out of time. But TfL has given us more time to finish the programme, which is a great relief."
Now she's at the helm, Gander says she is determined to "accelerate the programme". She states: "I want to pull out all the stops and deliver as many schemes as we can over the next few years."
Kingston's Go Cycle programme seeks to create a network of schemes running into the town centre from key locations across the borough. "In our case it was about having protected space on main roads, with a cycle track separate from motorised traffic."
Gander advises politicians to forge close working relationships with their officers. "As the responsible portfolio holder, you need to get as close as possible to the project without treading on officers' toes.
"Officers are the experts but it makes sense to pay attention to the detail. You should know enough so that, if you come up against a resident or opposition councillor who is against a scheme, you have all the answers."
Knowledge is strength, says Gander. "By having the right information at your disposal you can challenge rumours. It is important to develop good lines of communication with the public. It would be a tragedy to win funding and then see it go to waste because of misinformation and unfounded fears. So, you need to be as transparent as possible, not only with the public but with everyone within the council on all sides."
A key strategy for challenging a scheme's opponents is to highlight the adverse impact of motorised traffic on air quality, says Gander. "We need to make clear the harm emissions are doing to our children. It is a crazy situation to have parents sitting in cars outside a school with their engines running while children are walking past."
Gander says that Kingston is keen to introduce 'School Streets' to limit motor vehicles at times when children are arriving and leaving and is planning some trial schemes.
Later in the year, the administration is committed to running an Air Quality Citizens' Assembly to get a cross-section of Kingston residents involved in making decisions about what actions to take to reduce and mitigate air pollution.
Inclusive schemes
Gander says that Kingston must acknowledge genuine concerns about the programme. For example, the council has actively engaged with people with visual impairments who have raised issues about bus stop boarders and bypasses in Kingston town centre.
"We have worked out some adaptations to improve safety for those who are visually impaired. We're investigating raised bumps in the ground so that visually impaired people with white sticks can find their way across Kingston station forecourt."
Engaging with stakeholders ensures that changes can be made to a scheme even after it is installed, says Gander. One example invovled providing cyclists with an additional dropped kerb in Kingston town centre. "You need to be able to take into account the feedback you get and make tweaks where necessary."
Cycle parking
Keeping up with requests for more cycle parking has been a challenge, Gander admits. "There aren't enough cycle racks. We can't keep up with demand. As soon as we put in more cycle racks they get filled. I'm not complaining; it's brilliant. But we need to find space and work out where to install more racks."
She adds: "Building close links with local cycling advocates, in our case Kingston Cycling Campaign who are part of the London Cycling Campaign network, is a good way to get the gaps identified. What we've found is we've been able to place a handful of racks on district shopping parades to transform how welcoming they are for cyclists and benefit local businesses."
The take-up in cycling has been most notable in Kingston where segregated cycle routes have been installed. Monitoring by the council has revealed big rises in the numbers cycling on Portsmouth Road, says Gander.
"We are encouraging people to take up cycling by offering free training and free Dr Bike sessions so they can have bikes maintained and fixed. We are also offering people the chance to try out a bike or a cargo bike free of charge." The council has also undertaken consultation to roll out a 20mph limit in the borough.
Safety first
The provision of safe, segregated cycle tracks is encouraging parents to cycle with their children, Gander observes. "Cycle lanes in Kingston used to be disjointed. You'd have a little bit of paint here and there on the road. But now on Portsmouth Road, for example, there is a mile and half of segregated track. It's alongside the Thames, so there are just a couple of crossing points."
Gander describes herself as a "passionate cyclist". "I have cycled since I was six, typically it has been for fun – at weekends and during holidays. But in recent years I have been cycling around Kingston because it makes sense. It is quite a compact borough; you can ride along routes with beautiful views. It's a good way to get around."
Ideally, the roads would be welcoming and safe for all users, says Gander. "That would be my ultimate preference. I'd like to think we could share the roads and be courteous to one another. But, sadly, that is pie in the sky because of the number of cars of the road and peoples' impatience caused by congestion.
"I'm a confident cyclist but if I am going to get other people to share my enjoyment then we are going to need more segregated cycle lanes."
The Mini-Hollands programme will be discussed at the Liveable Neighbourhoods conference at Alexandra Palace on 10 July. The 64-page Liveable Neighbourhoods Guide, produced by Landor LINKS in partnership with TfL, will be launched at the event. LTT subscribers will receive a hard copy of the guide. To register for a digital copy email: daniel@landor.co.uk
Kingston upon Thames Mini-Holland
The Royal Borough of Kingston upon Thames was allocated £32.7m from the Mayor of London's Mini-Hollands programme in 2014. The council has so far completed three projects: Portsmouth Road, Kingston High Street, and Surbiton to Kingston.
Portsmouth Road, the first project to be completed, features a 1.5km fully segregated two-way cycle lane.
Changes have also been made to Queens Promenade, which runs along the Thames, with landscaping, new planted trees, seating and natural stone paving.
The number of cycle trips on Portsmouth Road is rising, according to the council's monitoring data. The numbers cycling in the weekday morning peak hour have increased by up to 107% since the scheme was completed.
The Kingston High Street scheme, completed in August 2018, extends the Portsmouth Road segregated cycle lane north along High Street towards Kingston town centre. Features include a raised zebra crossing, an additional footway and the removal of a right turn pocket.
The Surbiton to Kingston scheme included various interventions in a number of streets, including filtered permeability, Quietways and fully segregated cycle lanes.
A further five projects are under construction: Wheatfield Way, which will be finished this summer; as will a new 1.2km traffic-free walking and cycling path between New Malden and Raynes Park; Penrhyn Road, due to be ready in early 2020; Kingston Station; and Kingston to Kingston Vale, which are due to be completed in summer 2020.
The Kingston Station scheme has created a new public plaza with an extended pedestrian area, and will provide a new 'green link' towards the River Thames and a new Cycle hub. The council approved a ninth scheme – on Ewell Road between Surbiton and Tolworth – in November 2018, and construction work could begin later this year.
Many of the schemes include fully segregated cycle tracks, and any shared used areas incorporated into the schemes are being developed in collaboration with disability and cycling groups.
More cycle racks are being provided in town centres to meet growing demand and, so far, over 50 bike hangars have been installed on housing estates across the borough.