Bradford's new £3.1m Canal Road Cycleway has opened
27 May 2019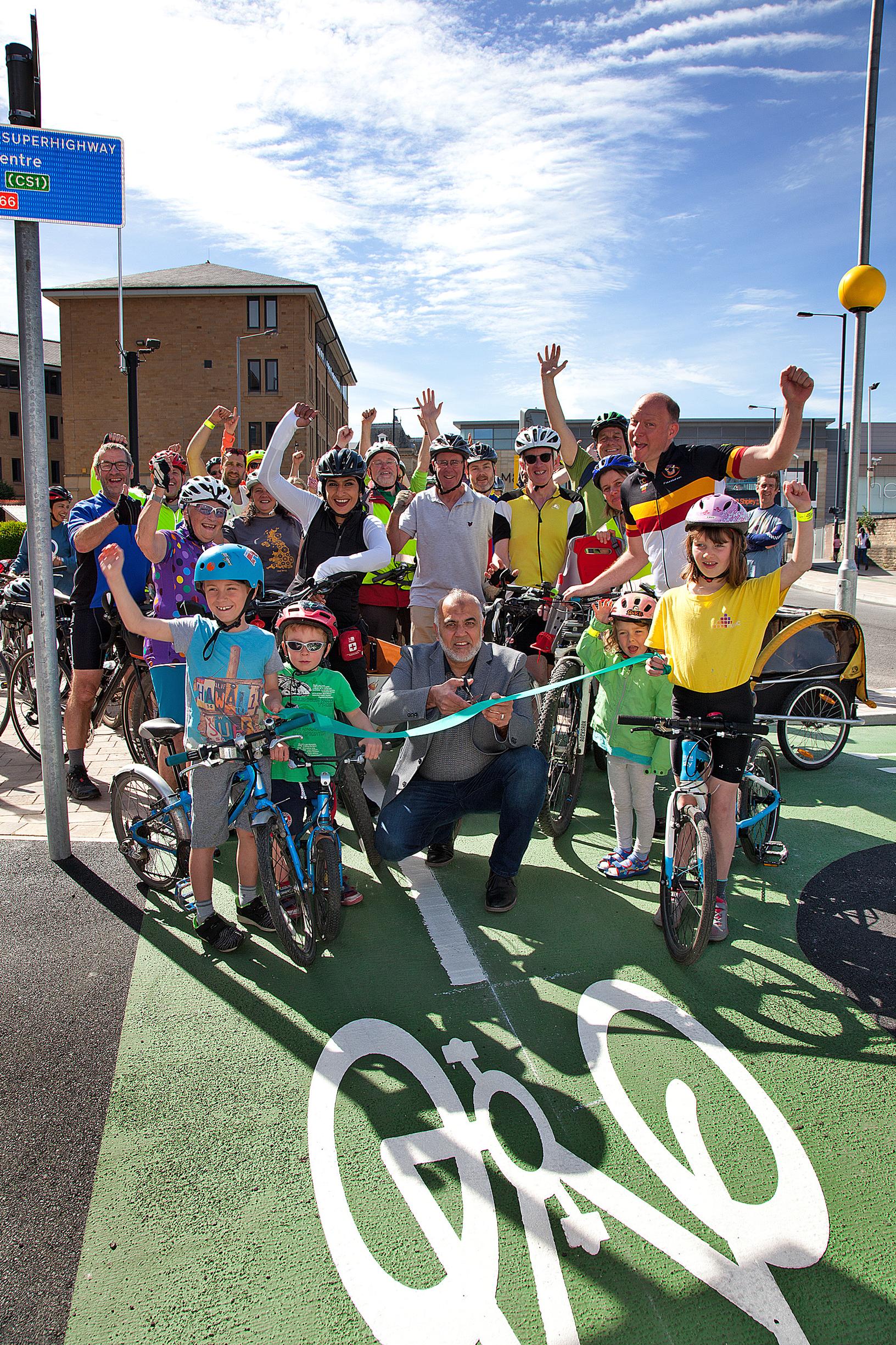 Bradford's new £3.1m Canal Road Cycleway has opened. Providing a missing link in cycling infrastructure between Shipley and Bradford, the cycleway is part of the West Yorkshire Combined Authority's £60m CityConnect programme aimed at encouraging more people to travel by bike or on foot.
The 2.3km route runs along Hillam Road, Bolton Lane and Valley Road, ending at Lower Kirkgate, near Bradford Forster Square. To the north the cycleway links to the existing Canal Road Greenway, which is also part of Sustrans's National Cycle Network (66), and continues on to Shipley. The route south ends close to the start of the award-winning Bradford Leeds Cycle Superhighway, which heads out of the city centre, enabling people to travel by bike on a series of routes segregated from traffic.
Cllr Kim Groves, Chair of the West Yorkshire Combined Authority's Transport Committee, said: "I'm delighted this important scheme has been completed in partnership with Bradford Council.
"The new Canal Road Cycleway provides an important missing link in Bradford's cycle network, connecting people travelling by bike between Shipley and the city centre with employment, training and leisure opportunities.
"We know encouraging more of us to travel by bike or on foot not only boosts people's health and saves individual's money, it also brings wider environmental and economic benefits, which is why we want to make cycling and walking a natural choice for short, everyday journeys."
Representatives from Bradford's community cycling groups and clubs were joined by Cllr Taj Salam, Cycling Champion at Bradford Council, for the official opening. Councillor Taj Salam, Bradford council's cycling champion cut the ribbon to open the new route and, according to road.cc, said: "We are delighted with the route. It provides a safe environment for cyclists as well as making the route safer for other road users as they are not having to negotiate them on the road so it is sad to hear people are choosing to ignore it. I am disappointed to think there are irresponsible riders out there who want to ignore the new route and carry on cycling in the road."
Says road.cc, his comments reflect something we regularly highlight here on road.cc – the misconception that people on bikes are obliged to use specific cycling infrastructure where it exists, and that it is "irresponsible" when they choose not to. The Highway Code makes clear that use of on-road cycle lanes and off-road cycle tracks is not compulsory, and that it is not illegal for people to ride two abreast on the main carriageway.
Cllr Alex Ross-Shaw, Portfolio Holder for Regeneration, Planning and Transport at Bradford Council, said: "We are thrilled to open another high quality cycleway which builds on the hugely successful CityConnect 1 scheme connecting Leeds and Bradford.
"The new cycle path expands our existing network which provides excellent sustainable and affordable transport options, improved air quality, better health and fitness, and great recreational choices for all ages."
Bradford resident Fozia Naseem is co-founder of Hop on Yorkshire, an organisation aimed at encouraging more women and girls from different cultures and backgrounds to cycle.
She said: "The opening of the cycleway is great news for Hop On as it opens up a whole new area for the people we ride with, allowing different communities to integrate which is one of our core aims.
"There is so much beauty to see in Bradford, which is easy to miss in our busy lives. Having this new route will make it easier for all of us to enjoy cycling even more and to see Bradford in all its glory. It will also open up opportunities for longer rides for people to let go of mental stress and be free to just cycle."