Big Pedal event trials road closures at 40 schools
29 March 2019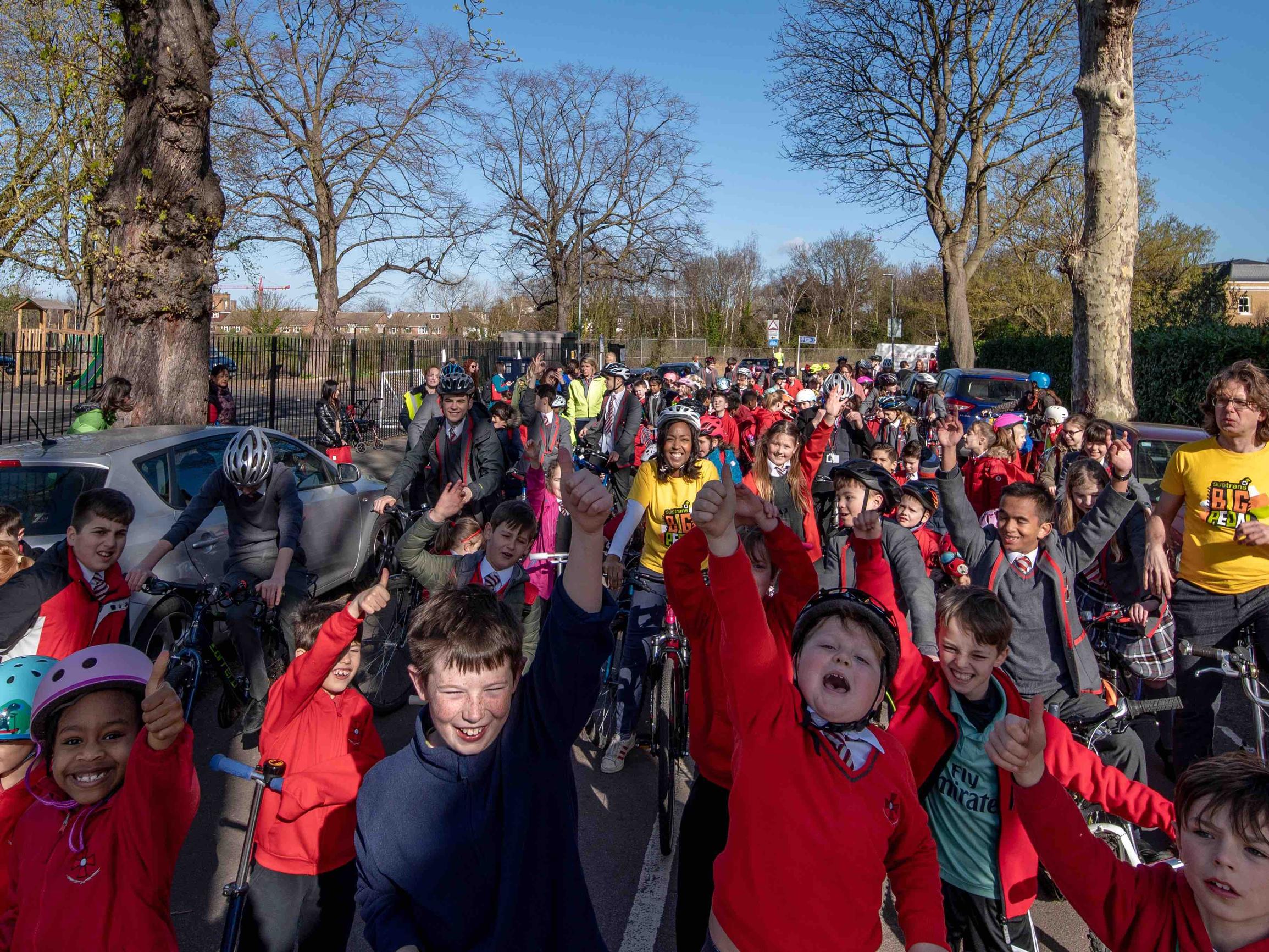 Roads have been closed to traffic outside 40 schools across England, Scotland and Wales for a two-week trial period as part of the Big Pedal event. This is the Big Pedal's tenth year, but it is the first time schools have closed streets, working in partnership with walking and cycling charity Sustrans, the campaign group Playing Out and local authorities.
More than 2,200 schools are taking part in this year's event, which runs until 5 April.
Sustrans is helping schools and local authorities to manage road closures, develop networks of volunteers and publicise events.
A Sustrans spokeswoman told Parking Review: "Schools can demonstrate to local authorities that they are proactively doing all they can to tackle school gate congestion by continuing to promote the benefits of active travel to children in assemblies and curriculum activities, and to parents and teachers through events like the Big Pedal.
"We will use the events during the Big Pedal to listen to teachers, parents, residents and children to understand what the impact has been – and we will feed back the results to the schools and our local authority partners."
Highway authorities can place temporary, experimental or permanent restrictions on traffic within their areas by way of a Traffic Regulation Order (TRO). "We'd recommend that local authorities trial school streets first over six months or a year before they close a school street to cars permanently, and combine it with a wider engagement programme with pupils, parents and residents."
This year's Big Pedal was launched as Sustrans published the findings of a survey, which revealed that 63% of teachers would support a ban on motor vehicles outside the school gates during drop off and pick up times.
A YouGov poll, carried out for Sustrans, surveyed 840 teachers across the UK about their attitudes towards air pollution and the actions they think should be taken to improve air quality outside the school gates.
Some 59% of respondents want the government to take urgent action to improve air quality near schools. When asked what would help bring down the levels of air pollution outside schools, 34% thought encouraging more people to walk, scoot and cycle would help reduce toxic fumes, as well as educating the school community about the cause and effects of air pollution (28%) and school road closures (26%).
The survey found that 59% cited a lack of other routes for motor traffic as one of the main barriers to closing the road outside the school while 48% found that driving is a more convenient option for families and is one of the biggest obstacles to more people walking, scooting or cycling the school run.
Some 36% of teachers said they need support from parents to enact change on the school run while 27% called for backing from local authorities.
The survey found that 30% are worried about air pollution, with 43% worried about idling car engines outside the school gates while 63% voiced concerns about their school being on or near a busy main road.
Xavier Brice, Sustrans' chief executive, said: "We need to radically change the way we travel. Idling car engines and snarled up roads poison the air and our children's bodies across the UK.
"For too long now, dangerous levels of air pollution near schools have been ignored. Finally this is starting to change. Our survey makes it clear that teachers want urgent action to clean up toxic fumes. They see closing the roads outside their school as an effective solution but need support from local authorities to enact change.
"Across the UK, councillors that care about their young constituents are leading the way by implementing school street closures during the school run, to reduce air pollution and create a safer environment for families to walk and cycle. We want to see more. Our 40 closures for the Big Pedal show it's possible."
The Big Pedal was launched on Monday by radio and television presenter Angellica Bell at St Richard Reynolds Catholic College in Twickenham. She said: "I know first-hand the joys and benefits of riding a bike and how important it is for children to be active from an early age and that's why I support the call for creating a safer and calmer environment around schools for children to cycle and walk.
"Events like the Big Pedal are fantastic because they demonstrate to children, parents and teachers just how beneficial it can be to travel actively to and from school for a few more journeys a week."
Sophie Gallois, Unicef UK's director of advocacy and communications, said: "Every day, one in three children in the UK is breathing in harmful levels of air pollution that could damage their health and impact their future. Worryingly, children are most exposed to toxic air on the school run and while at school, so a ban on motor vehicles outside the schools gates has potential to make a real difference. Reducing children's exposure to air pollution is not just about the school street itself, but also taking quieter routes to school, away from busy main roads.
"The government must take urgent action to tackle this growing health crisis by putting children's health at the heart of its work on air pollution. That includes focusing interventions on places where children are most exposed to toxic air, like schools, and promoting behavioural changes that will create real impact for children now and in the future."