Belfast university first to get EU cycle friendly employer status
20 November 2018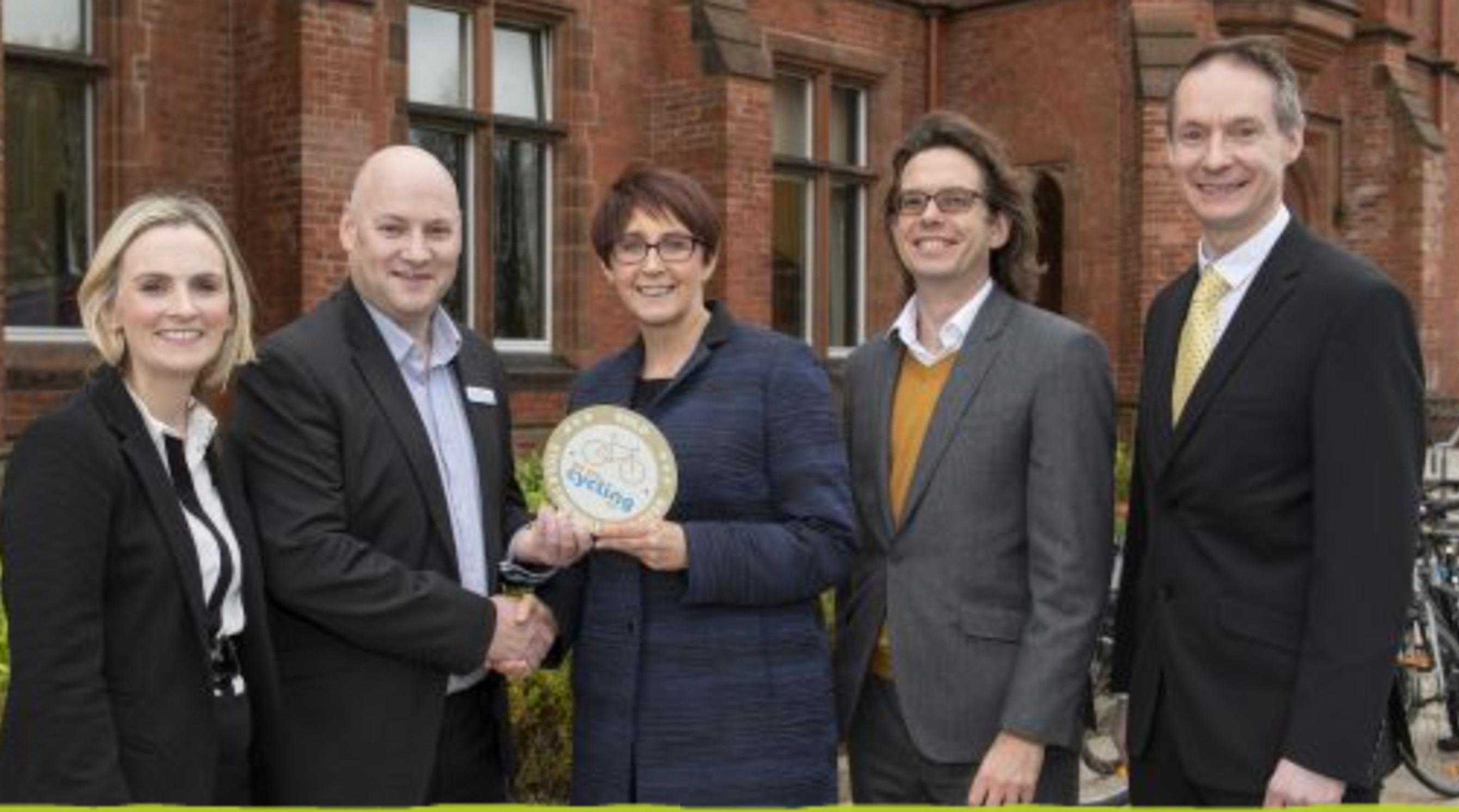 Belfast's Queen's University has become the first organisation to achieve a Gold Standard in a new international Cycle Friendly Employer accreditation (CFE-UK).
The scheme has been launched by EU project 'Bike2Work', with the charity Cycling UK the recognised provider for the UK.
CFE-UK is the only international standard for workplace cycling, working in partnership with countries across Europe. Site auditing and advisory work is also provided by charity Sustrans for organisations in Northern Ireland.
Sustrans is promoting the scheme as part of a €4.4m (£3.9m) EU-funded project, working with European partners, to reduce car traffic and promote sustainable transport, such as cycling in east Belfast.
The university demonstrated an active commitment to improving conditions for cycling, across all sites.
To achieve accreditation, organisations must meet a range of measures, including communications, training and incentives for staff as well as physical facilities such as secure cycle parking, shower provision and changing rooms.
Wendy Galbraith, interim registrar and chief operating officer of Queen's University said: "I am very pleased that Queen's University Belfast is the first organisation to be awarded a gold standard in Cycling UK's Cycle Friendly Employer accreditation.
"The university has put significant efforts into creating a more cycle-friendly environment for our staff and students over the past number of years and we are delighted to have been recognised in this way."
Matt Mallinder, director of influence and engagement for Cycling UK, said: "We are delighted to officially accredit Queen's University as a Gold standard Cycle Friendly Employer. We've been very impressed with the university's facilities and the cycle-friendly culture that has been created, as well as their ongoing commitment to improve their surroundings, increase sustainable travel throughout the organisation and make the university cycle-friendly for all staff and students."
Gordon Clarke, Sustrans Northern Ireland director said: "Northern Ireland has piloted this Cycle Friendly Employer scheme which we hope will become a much sought-after accolade for all workplaces throughout the UK. It is appropriate that a prestigious seat of learning like Queen's University Belfast should be the first recipient and has set the bar high for other employers to aspire to."