Better cycling & walking infrastructure boosts business, TfL study finds
16 November 2018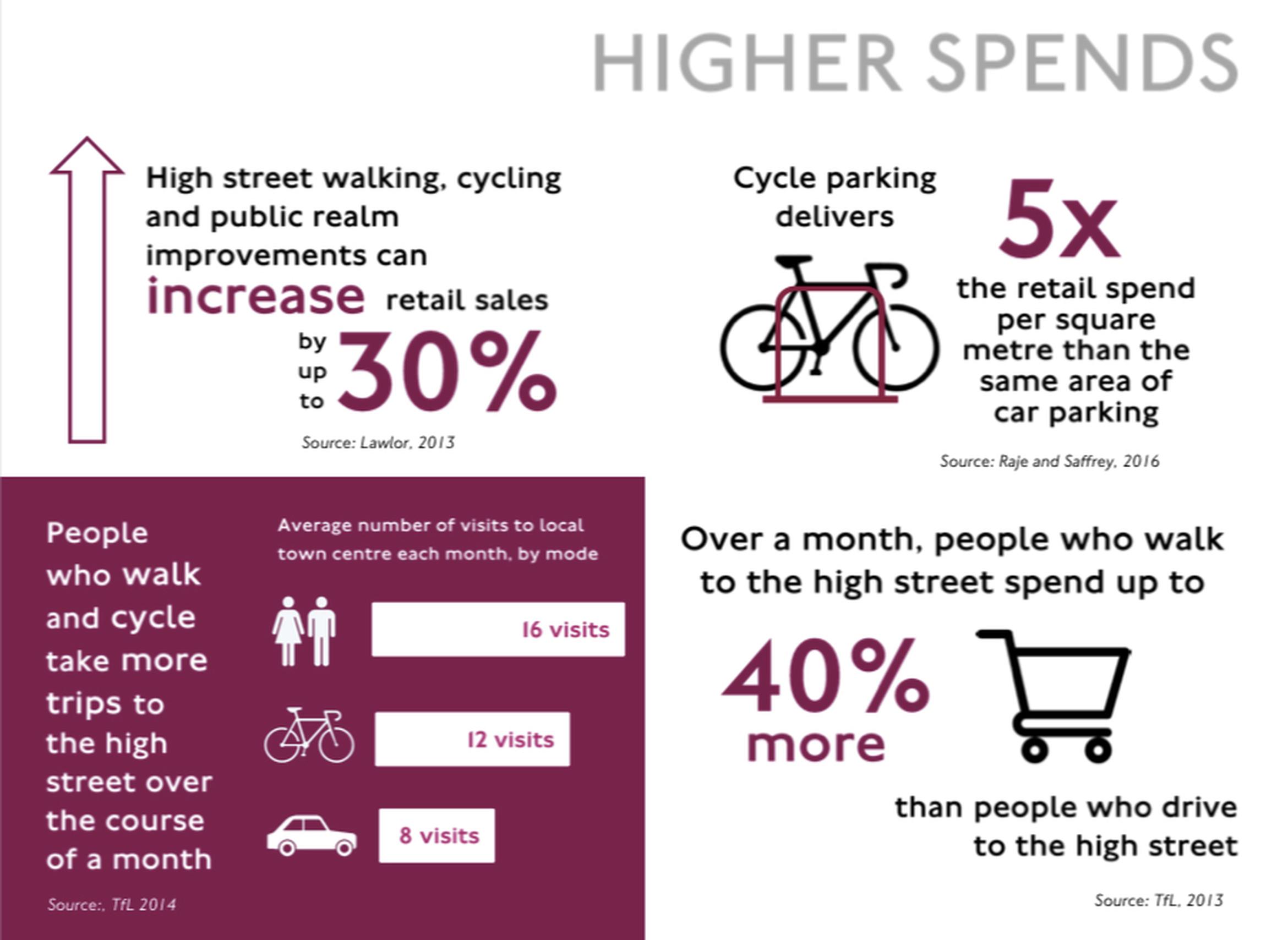 Improving cycling and walking infrastructure can increase spending in shops by up to 30%, according to a report published today by Transport for London (TfL). The research found that people walking, cycling and using public transport spend 40% more each month than car drivers.
Some 45% of high street visits are for "social and community reasons" while improving streets for cycling and walking led to a 216% increase in "people stopping, sitting and socialising", said the study, commissioned by TfL and conducted by Matthew Carmona from University College London's Bartlett School of Planning.
Will Norman, London's Walking and Cycling Commissioner, said: "With businesses across London really struggling to survive, we have to do everything we can to support them. The evidence is clear - adapting our streets to enable more people to walk and cycle makes them cleaner, healthier and more welcoming, which encourages more people to shop locally.
"The benefits of designing streets around pedestrians and cyclists and reducing car use can be enjoyed by everyone and will help ensure the future of our high streets."
Hear more from Will Norman on the walking and cycling economy at Cycling and Walking Innovations, Dec, 5, London Oval
The number of vacant retail outlets was 17% lower after high street and town centre improvements while retail rental values rose by 7.5%, the study found.
Business Improvement Districts (BIDs) in the capital appear to largely support the changes to infrastructure, with 90% stating that cycling and walking creates vibrant areas and 83% reporting it attracts more customers.
The study calculates a benefit cost ratio of 13:1 for walking and cycling projects.
New cycle lanes in the capital can prevent billions of pounds of environmental and health damage, the study states. Encouraging active travel has clear benefits for employee wellbeing and retention, it argues. Employees who are physically active take 27% fewer sick days than their colleagues.
Again, London's BIDs welcome the benefits, with 73% saying that walking and cycling are important for attracting and retaining staff. Some 85% of BIDs agree that cycling is important for their business performance while 95% think walking is important.
Using cycle freight is also good for business, the report notes, enabling savings of between 39% and 64% on delivery costs.
The study assessed the impact of infrastructure projects at locations across the capital including Bromley North Village, Hornchurch Town Centre, Clapham, Woolwich Town Centre and Walworth Road. The projects involved changes such as widened footpaths, increased space for outdoor seating, new public squares and pedestrian crossings.
The research has been published as part of a new online hub demonstrating the economic benefits of TfL's Healthy Streets Approach, which aims to create high streets that are designed for people, inclusive and easy to access by foot or bike.
The online hub, the Economic Benefits of Walking and Cycling, will be kept up to date with research and statistics, says TfL. Information on the hub includes a survey of BIDs demonstrating the economic importance of walking and cycling to businesses across London, and research suggesting segregated cycle routes in London make streets more efficient.
Walking and Cycling : the Economic Benefits