DfT aims to boost 'last mile' deliveries by electric vans and bikes
30 July 2018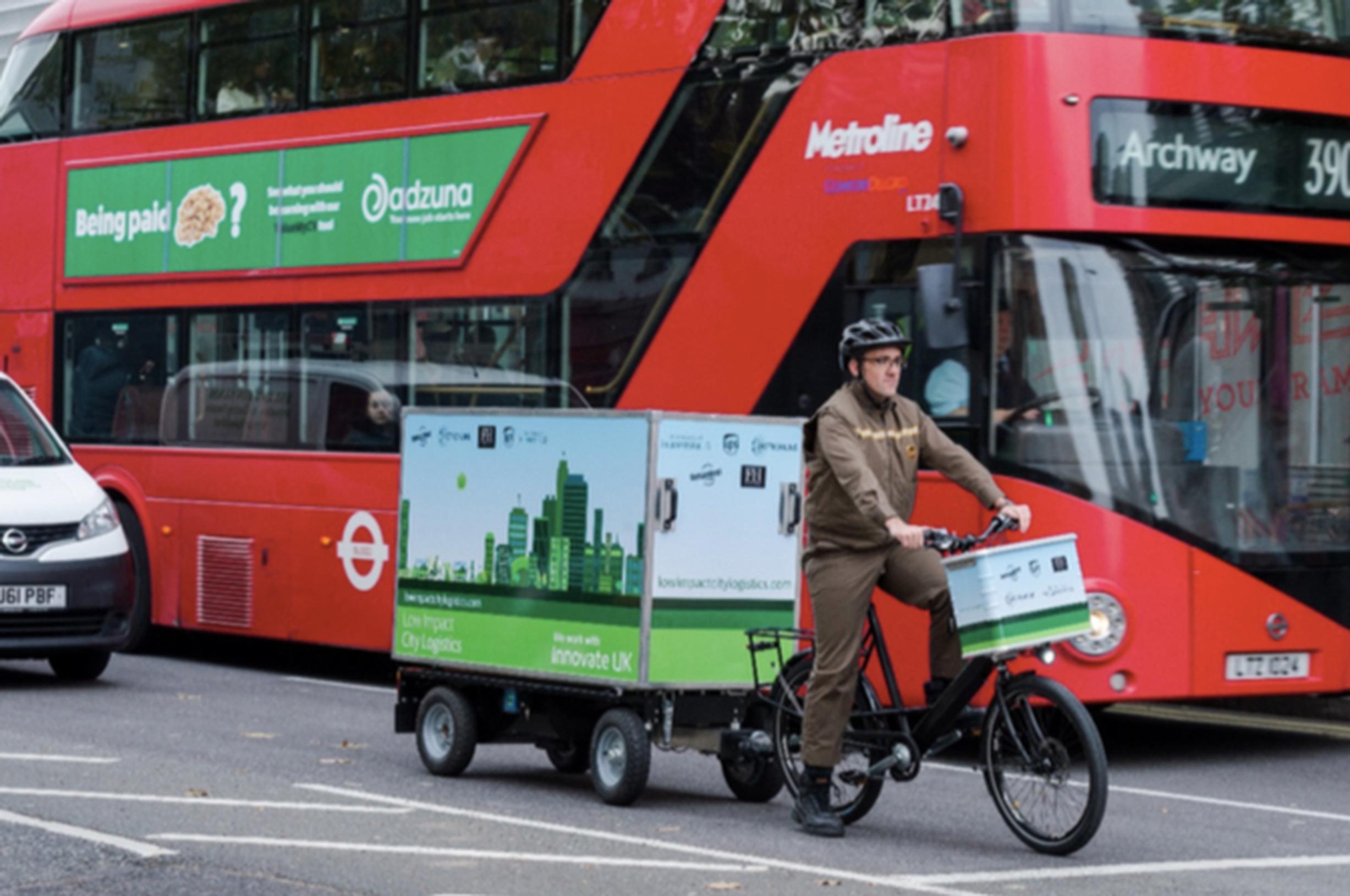 The Department for Transport is seeking ideas on how to increase the number of 'last mile' deliveries made by electric cargo bikes and vans. The Last Mile and Future of Mobility call to evidence, both published today, will explore how technology could make transport safer, more accessible and greener.
The results of the call for evidence will form part of the government's Future of Mobility Grand Challenge, which will explore all the regulatory barriers to technological and service innovation. "Work will also take place to understand how data can be better used to improve transport," says the DfT.
It says feedback from the Last Mile Call to Evidence will build a picture of how electrically powered e-vans, micro vehicles and e-cargo bikes will pave the way for more efficient, lower impact and greener cargo transport compared with light commercial vehicles.
The DfT wants to develop an understanding of the scale of potential environmental and other benefits, and how barriers to sustainable last mile delivery can be removed.
According to the DfT, current barriers include:
Commercial viability: The "potential trade-off" between cheaper vehicles (the purchase cost of an e-cargo bike is the fraction of that for a delivery van) and higher labour costs (because more e-cargo bike delivery cyclists would be required than van drivers).
Vehicle/bike limitations: Electric forms of delivery are not suitable for delivery of some types of specialised loads, and e-cargo bikes have a load capacity of around 100kg - 125kg.
Insurance & licensing: There is "some complexity" over insurance and licensing requirements for different e-bikes, micro vehicles and e-vans.
Training & operations: More sustainable forms of last mile delivery require investment in rider/driver training and different operational procedures and equipment (such as the establishment of local partnerships for delivery hubs).
Current infrastructure: Urban infrastructure would require major changes to the way goods are currently distributed, "which is typically from large, out-of-town warehouses". There are opportunities to improve the logistical efficiency of urban road freight and last mile deliveries through urban consolidation centres, "which could lead to financial savings for operators, congestion benefits and emission reductions".
E-cargo bikes may be particularly well suited in high-density urban areas and narrow streets in historical city centres, says the DfT. "A network of national e-cargo bike hubs has the potential to support a wide range of clients and consumers. Hubs could assist national and local government in meeting carbon emissions reduction and pollution targets."
Although e-cargo bikes have less capacity than more conventional forms of delivery, they can make many deliveries in one day if supported by a local hub or micro-hub, suggests the DfT. "This means that e-cargo bikes can provide economic benefits through the delivery of smaller but higher value freight in cities, such as electrical components and medical supplies. E-cargo bikes can also carry refrigerated goods in specifically designed courier boxes."
Transport minister Jesse Norman says: "The purpose of this review is for us to learn from as wide a range of stakeholders as possible as to the scale of the opportunity. We want the UK to explore all modes of e-cargo and emerging transport technologies for last mile deliveries, so we can help create beautiful, liveable, green and connected towns and cities."
The consultation period for the call to evidence will run between 30 July and 10 September 2018. Responses can be made via the online form or by sending an email to: lastmilecfe@dft.gov.uk
A summary of responses, including the next steps, will be published within three months of the close of the consultation, says the DfT. Paper copies will be available on request.