Shared space projects suspended by government
Inclusive Transport Strategy address issue such as street design and parking
30 July 2018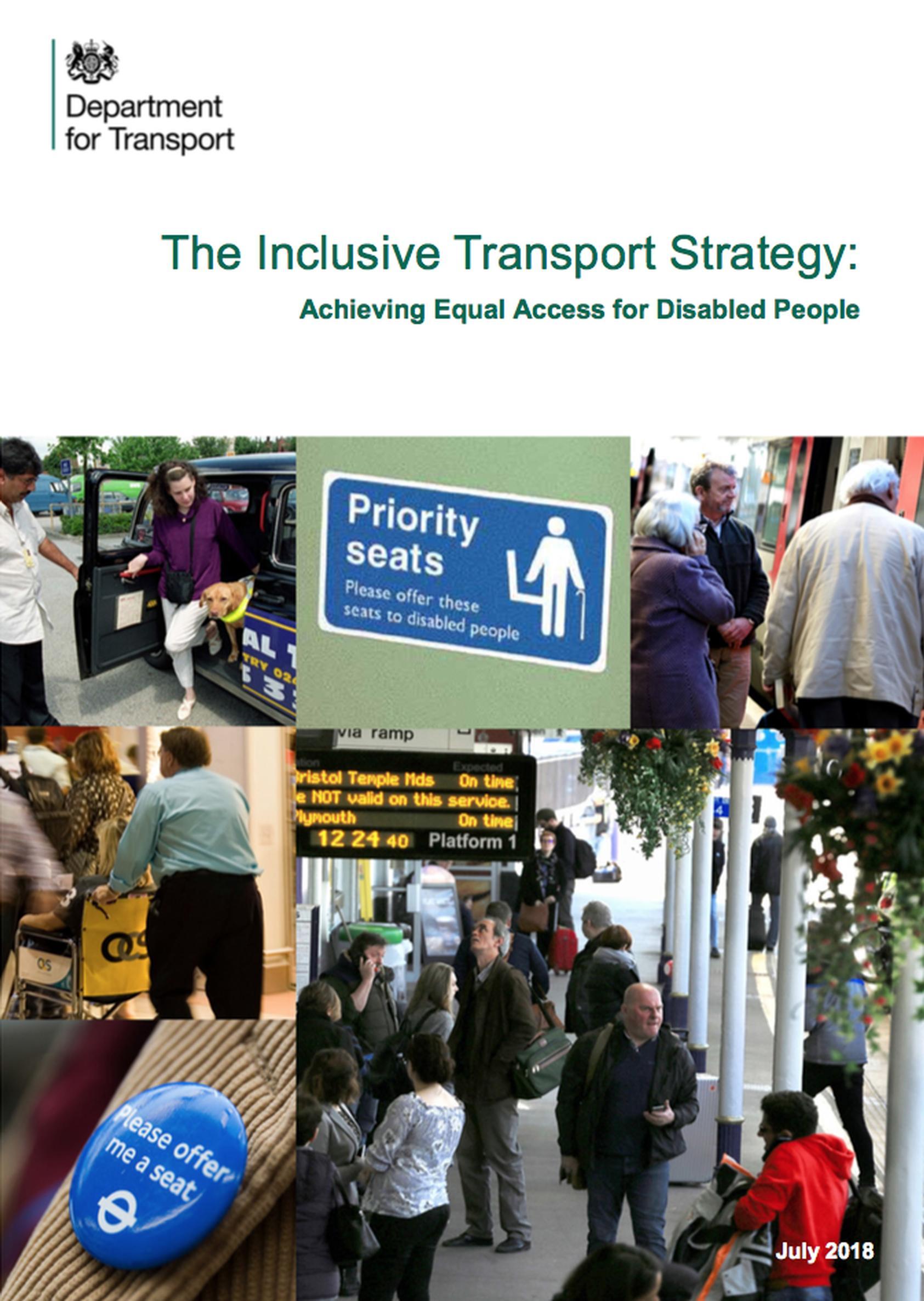 The government has imposed a moratorium on the creation of any new 'shared space' schemes in response to concerns raised during the consultation on its new Inclusive Transport Strategy.
The strategy was developed following the Accessibility Action Plan (AAP) consultation, which received over 1,000 responses.
Shared space schemes involve the removal of features such as kerbs, road surface markings, designated crossing places and traffic signs are removed. In the strategy document, the Department for Transport said a "pause" will allow it to carry out research and produce updated guidance.
"There are mixed views, however, on their impacts, and many respondents to the draft AAP consultation raised significant concerns about them," the DfT states. "Groups representing visually impaired people expressed concern that 'shared space' schemes were dangerous and difficult to navigate.
"We recognise that the issues around shared space are important to disabled people and note that many of those responding to the draft AAP consultation called for a 'moratorium' on shared space schemes, and for the withdrawal of the Department's Local Transport Note 1/11: Shared Space. The Women and Equalities Select Committee report into Disability and the Built Environment, published on 25 April 2017, made similar recommendations."
The Chartered Institution of Highways and Transportation (CIHT) review of shared space, published in January 2018, made a range of recommendations, which the DfT considering. The Disabled Persons Transport Advisory Committee (DPTAC) has also provided an assessment of the CIHT review.
The DfT states: "While we consider CIHT and DPTAC's recommendations and how to take them forward, we are requesting that local authorities pause any shared space schemes incorporating a level surface they are considering, and which are at the design stage. We are also temporarily suspending Local Transport Note 1/11. This pause will allow us to carry out research and produce updated guidance."
Creating accessible transport
The strategy includes investment in rail accessibility infrastructure, commitments to produce league tables that highlight operators that are delivering the best service for disabled people, and funding for Changing Places accessible toilets at motorway service stations.
The DfT said it will support the Rail Delivery Group (RDG) to improve and simplify Passenger Assist – the system disabled passengers use to book assistance on the rail network. Train operators will be held to account for delivering on this service, ensuring they compensate passengers if the booked assistance is not provided. It also includes ideas for raising awareness and enforcement of passengers' rights, staff training and improvements to accessible information.
A number of other street-design, kerbside management and parking issues feature in the strategy:
Street-scene design skills
The CIHT review concluded that there is a lack of skills in the engineering sector in relation to designing accessible environments, and a lack of understanding of the requirements of the Equality Act 2010.
It recommended: "Education and continuing professional development of those developing works in the public realm should specifically include the requirements around creating inclusive environments and accessibility. Professional institutions across the sector should take a lead in developing this approach."
The DfT's guidance on street design includes advice on accessibility, but we recognise there is a need to go further to ensure guidance is up-to-date and relevant, and that practitioners have the skills to use it effectively. Local authorities are responsible for the design of the streets in their care, and for ensuring that any scheme they put forward, shared space or otherwise, is designed in a way that is accessible and meets the Public Sector Equality Duty.
"We want transport professionals to deliver inclusive infrastructure which meets the Public Sector Equality Duty and involves active engagement with groups representing the interests of older and disabled people. We will work with the institutions representing engineering and design professionals to achieve this, including running workshops aimed at transport professionals to educate them on their obligations under the Public Sector Equality Duty."
The Inclusive Transport Strategy seeks to improve accessibility across all types of travel for those with both visible and less visible disabilities. The Department for Transport said the new strategy will help ensure disabled people can travel confidently and easily.
Blue Badges
The government has decided to extend the Blue Badge scheme to people with 'invisible' disabilities. The strategy document reveals that the draft AAP consultation received a number of responses on the issue of parking, including a call for the Blue Badge eligibility criteria to be reviewed and extended to include people with mental and cognitive conditions that affect their mobility.
Disabled people also raised concerns through the draft AAP consultation about the provision of Blue Badges and some called for an expansion of those eligible to apply for a Blue Badge to include those with less visible disabilities. The DfT consulted on this issue earlier in 2018, and will announce a way forward later this year.
The strategy document states: "Having access to sufficient numbers of parking spaces can make all the difference in being able to access employment, education, shopping and leisure opportunities as well as visiting friends and family."
Pavement parking
Several respondents wanted more should done to reduce pavement parking. There has been a ban on pavement parking in London for more than 40 years and some respondents wanted to see a national policy extending the ban to the rest of the country. Outside London, councils can restrict pavement parking where there is a problem, which allows for localised policies to target areas or streets with narrow pavements.
"Irresponsible parking on the pavement can have a negative effect, particularly when inconsiderate, obstructive or dangerous parking takes place," states the strategy document. "It can cause problems for those in wheelchairs, guide dog owners or those who are partially sighted or blind, and who may be forced into the road to get around cars parked on pavements.
"We are committed to ensuring that disabled people can park their cars when they want to. We will carry out a wider review of pavement parking laws and potential options beyond implementing changes to Traffic Regulation Order (TRO) procedures. We also note that the Scottish Government has consulted on new measures to address pavement parking in Scotland, and we will look to learn from the work it has carried out."
Private off-street parking
The strategy recognises that the provision of accessible private off-street parking is important to disabled people. The DfT states: "We are supportive of the Private Member's Bill introduced in January 2018 by Sir Greg Knight MP, Parking (Code of Practice) Bill 2017-19, which seeks to create an independent code of practice for private parking companies, and will provide an opportunity for Government to consider the obligations on private parking companies, including the provisions in place to make travel accessible for all. The Bill has now been passed to the Public Bill Committee."
Electric vehicles
Concerns were raised by disabled people about the location and access to charging points for electric vehicles (EVs), "We want chargepoints to be easy to locate and access for all transport users. Existing legislation means that the provision of chargepoints is covered by the Equality Act 2010. This includes a reasonable adjustments duty that applies to, amongst others, a person or organisation providing services, goods or facilities to the public.
Another issue raised difference in noise levels between EVs and gasoline combustion engines. The strategy notes that the United Nations Economic Commission for Europe (UNECE) has adopted a technical requirement for electric vehicles to have a noise generator fitted, ensuring pedestrian safety. "Standards will be directly applicable to vehicles entering the UK market from 1 July 2019 and ensure electric vehicles are safe for road users while still reducing noise pollution," said the DfT.