Walking Action Plan maps out a big step-change for London
26 July 2018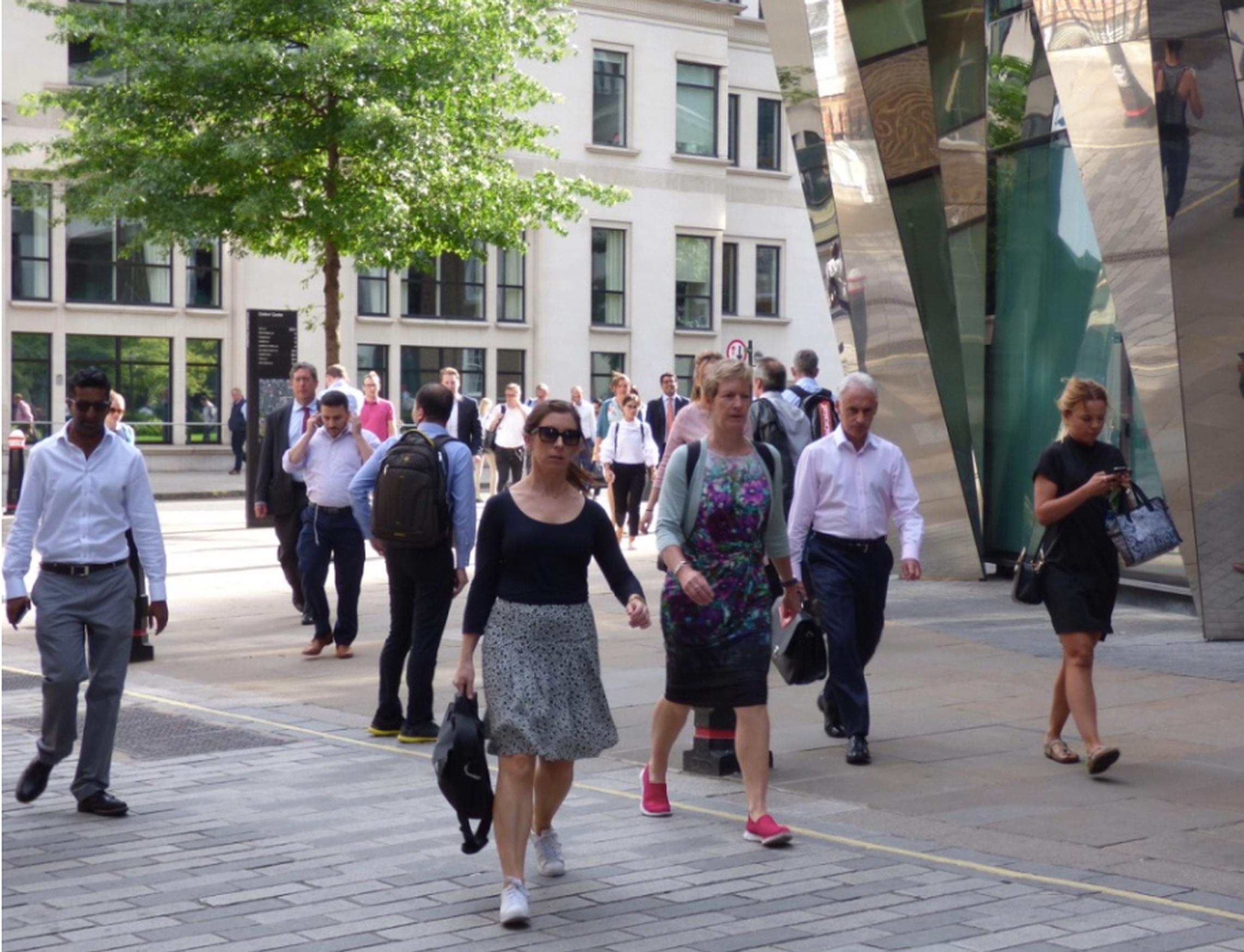 Proposals to make London the world's most walkable city have been unveiled by Will Norman, London's walking and cycling commissioner. The capital's first Walking Action Plan, which is supported by Public Health England (PHE), maps out a vision to make London the most walkable city in the world, with a million extra walking trips each day by 2024.
London's Mayor Sadiq Kahn wants to increase the proportion of people walking, cycling and taking public transport from the current 63% to 80% of journeys by 2041. The Mayor said the £2.2bn he is investing in streets across London to make them better for walking, cycling and to improve air quality.
The Walking Action Plan sets out the following aims:
Designing, building and managing streets for people walking, by delivering better public spaces, more walking routes and more numerous and wider pedestrian crossings
Ensuring that walking is prioritised in every new infrastructure scheme, through a pedestrian design guidance and a range of other tools and analysis to support boroughs to deliver local schemes
Enabling thousands more children to walk to school by doubling the number of Gold accredited STARS schools which champion healthy routes to school, and by supporting timed road closures, car free days and 20mph speed limits around schools
Rolling out new traffic signal technology that makes it safer and easier for pedestrians to cross roads, while minimising congestion
Creating 'Active Travel Hubs' at London Underground stations, making it easier to walk as part of an onward journey.
London's Walking Action Plan complements Sadiq Khan's measures to improve air quality. This includes the Ultra Low Emission Zone (ULEZ), which sets minimum emission standards for vehicles, spending more than £300m on London's bus fleet, and measures to no longer license new diesel taxi types from this year.
The mayor has introduced an emissions surcharge – or 'T-charge' – meaning vehicles must meet minimum exhaust emission standards, or drivers have to pay a daily £10 charge in addition to the Congestion Charge.
TfL said it will improve signposting and maps such as Legible London to make journeys more accessible for all. It is also publishing London's first design guidance for walking in 2019, which will help ensure walking is at the heart of the design process for London's streets. TfL will also bring London's boroughs and campaign groups together for a new Walking Forum this year.
Alongside TfL's existing Operation Clearway, which takes action against businesses who persistently clutter pavements, TfL said it will lobby the government to make it easier to remove street clutter.
Improving streets for walking not only improves air quality and the health of Londoners but creates conditions for businesses to thrive, said TfL. A recent study commissioned for TfL compared five London high streets that had recently been improved for walking with equivalent locations. The improved high streets saw 7.5% higher rental values and 17% lower vacancy rates than their counterparts, according to the study. People walking spend 40% more money in local shops over the course of a month compared with people who drive cars, said TfL.
Will Norman, the walking and cycling commissioner, said: "Walking is a fantastic way to get around and explore London, and getting more Londoners to walk regularly is essential for the health and future prosperity of our city.
"Whether you're popping to the shops or heading for the local train station, we're investing record amounts to make walking the safest, easiest and most enjoyable way of getting around. By making it easier for Londoners to leave their cars at home and walk instead, it will tackle the air pollution crisis and reduce congestion as London's population continues to grow. It will have a truly transformational impact on our city."
Director of transport strategy at Transport for London (TfL), Lilli Matson, said: "Walking is good for us and a great way to discover all that London has to offer. London's first Walking Action Plan along with our commitment to deliver Healthy Streets will encourage even more Londoners of all ages and backgrounds to make walking their first choice for short trips."
Joe Irvin, chief executive, Living Streets said: "To make London the most walkable city in world, the focus has to be on reducing motor vehicle use.
"An astonishing one in four cars on our roads during peak times are on the school run. So having an ambition for the majority of primary school children to walk to school and a million extra end-to-end walking trips a day is an important spur to action.
"Creating safe and welcoming walking routes which enable more people to choose to walk will help improve our health, whilst cutting congestion and air pollution. Walking really is the healthier option."
Find out more about parklets at Healthy Streets