Vision Zero unveils measures to end all deaths on London's roads
24 July 2018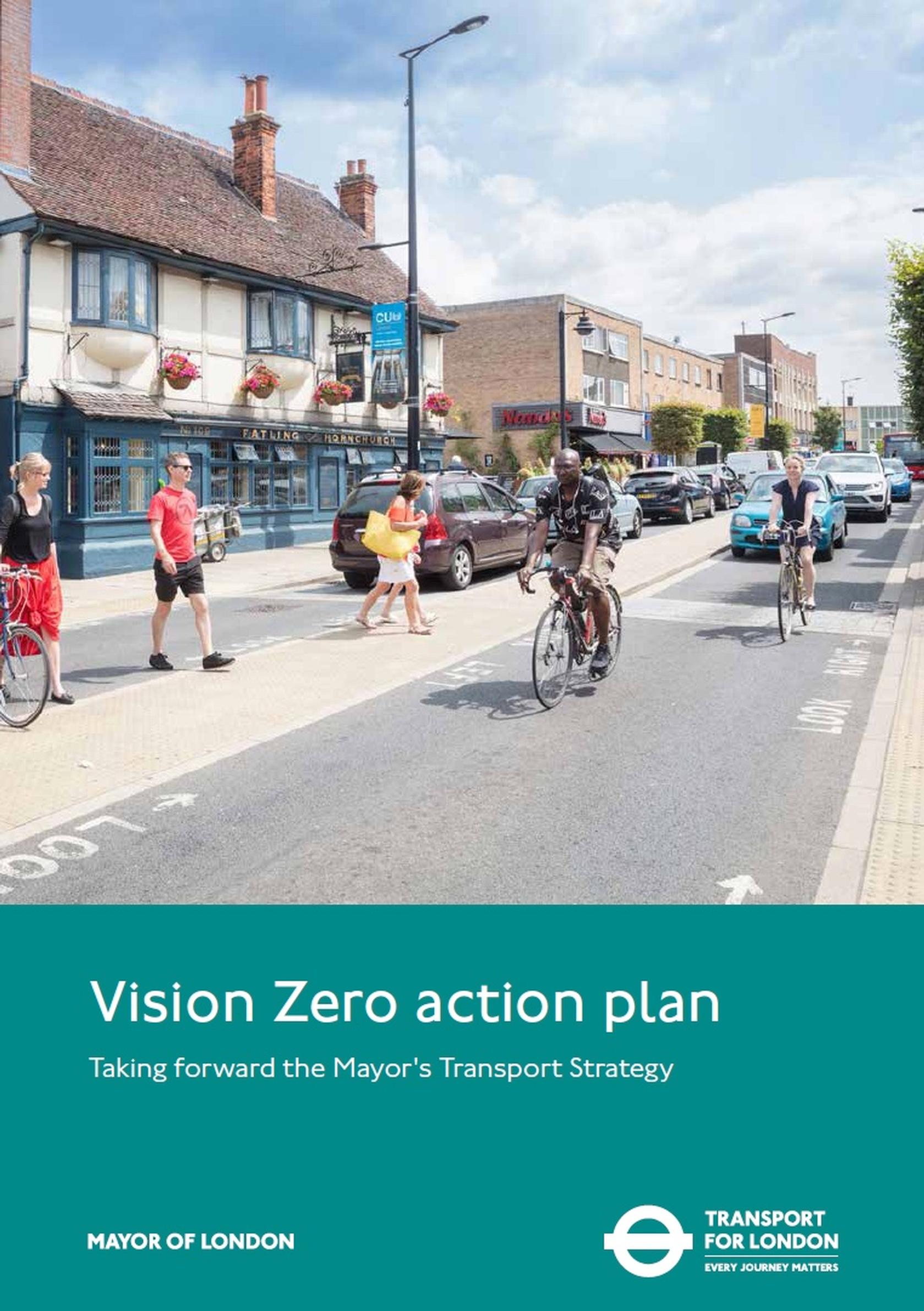 Speed limits on all red routes in London's congestion charging zone will drop to 20mph by May 2020, as part of plans to eliminate deaths and serious injuries on the capital's road network by 2041.
The Vision Zero action plan – published today by the Mayor of London, Transport for London (TfL) and the Metropolitan Police Service (MPS) – also states that by 2024 speed limits will be cut in most of London's town centres and other high risk locations.
Overall, TfL is seeking to introduce lower speed limits on 150km of its road network.
The central aim of Vision Zero is to reduce the number of people killed in or by a London bus by 2030, and for all deaths and serious road collisions to be eliminated by 2041.
TfL, the boroughs and the police will redesign streets to encourage lower speeds as part of their Healthy Streets programmes, states Vision Zero. Later this year, TfL is due to publish a toolkit of best practice design measures to reduce speeds to lower limits or 20mph.
The MPS has outlined plans to make greater use of fixed speed cameras and mobile speed enforcement technology in high-risk areas. The Met says it will carry out more large-scale operations where hundreds of officers are deployed across London to crackdown on dangerous behaviour such as mobile phone use.
The police will use highly visible, "seemingly randomised deployments" in key areas across London, states the document. "This will maximise the coverage and visibility of roadside policing and enforcement activity. This approach will increase the actual
and perceived likelihood of getting caught for road traffic offences, helping to amplify the deterrent effect."
Vision Zero also includes details of the Safer Junctions programme to "reduce both collisions and the fear of collision at London's most intimidating junctions". Schemes to improve at least 20 locations will be completed by May 2020, says the document.
'Keep clear' markings will be extended on red routes to enable "earlier visibility between drivers turning into or out of side streets and people approaching on motorcycles and bicycles".
New safety standards will be introduced for heavy goods vehicles and buses. A Bus Safety Standard for the city's entire bus fleet will be incorporated into all new London buses and bus operator contracts from the end of 2018.
Meanwhile, a Direct Vision Standard and permit scheme will be launched for HGVs, with permits issued from 2019 and enforcement starting from 2020.
The document sets out measures to raise vehicle safety and operating standards for taxis, private hire vehicles and other vehicles used for work in London. Vehicle safety and performance standards will be introduced for new taxi and private hire vehicles.
Another pledge focuses on improved training and education on how to avoid danger when walking, cycling and motorcycling. London mayor Sadiq Khan is calling on the government to include road safety education in the national curriculum. Alongside this, people in London will be offered better quality motorcycling training and education, he says. This will involve improving supporting the Motorcycle Industry Accreditation Centre's scheme for accrediting companies and instructors.
With cycling, Vision Zero pledges to double the number of adults completing cycle skills training and increase the number of children trained by 50% by 2024.
Each year more than 2,000 people are killed or seriously injured on London's streets, the document states. London Sadiq Khan says: "Our bold and far-reaching plans being announced today are some of most ambitious in the world, and start from the basis that no death or serious injury on London's roads should be treated as acceptable or inevitable. At the heart of our plans is reducing the dangers of speeding vehicles across London, which is why we're proposing a new general speed limit of 20mph on TfL roads within the congestion charging zone - protecting cyclists, pedestrians and all road users in the busiest part of the capital.
"The design of vehicles on London's road is also crucial. That's why we're using the latest safety technologies to transform London's buses and bringing in a world-leading safety standard for lorries, alongside investing record amounts in building new infrastructure to make walking and cycling a safe option in every part of the capital."
Chief Superintendent Colin Wingrove, from the Met's Road and Transport Policing Command, said: "We will contribute towards Vision Zero by intensifying our focus on the most dangerous drivers through the enforcement of road traffic legislation; the use of intelligence-led activity in problem locations; and we will conduct highly visible roadside operations and police patrols throughout London to amplify the deterrent effect."
Joe Irvin, Living Streets, said: "In 2016, a quarter of all trips in London were made by people on foot or by bicycle but they accounted for over half of those killed or seriously injured on our roads (53%). So it's encouraging to see the Mayor adopt an ambitious Vision Zero, safe system approach.
"Cars on the school run are a huge part of traffic in the morning peak. By creating safer school walking routes and investing in proven behaviour change initiatives, we can help reduce the number of cars on our roads, improving safety for everyone.
"Involving the Metropolitan Police in the action plan is vital to ensuring safety measures like 20 mph speed limits are enforced."
Find out more about Vision Zero at Healthy Streets