Infrastructure must keep pace with changing mobility, says NIC report
13 July 2018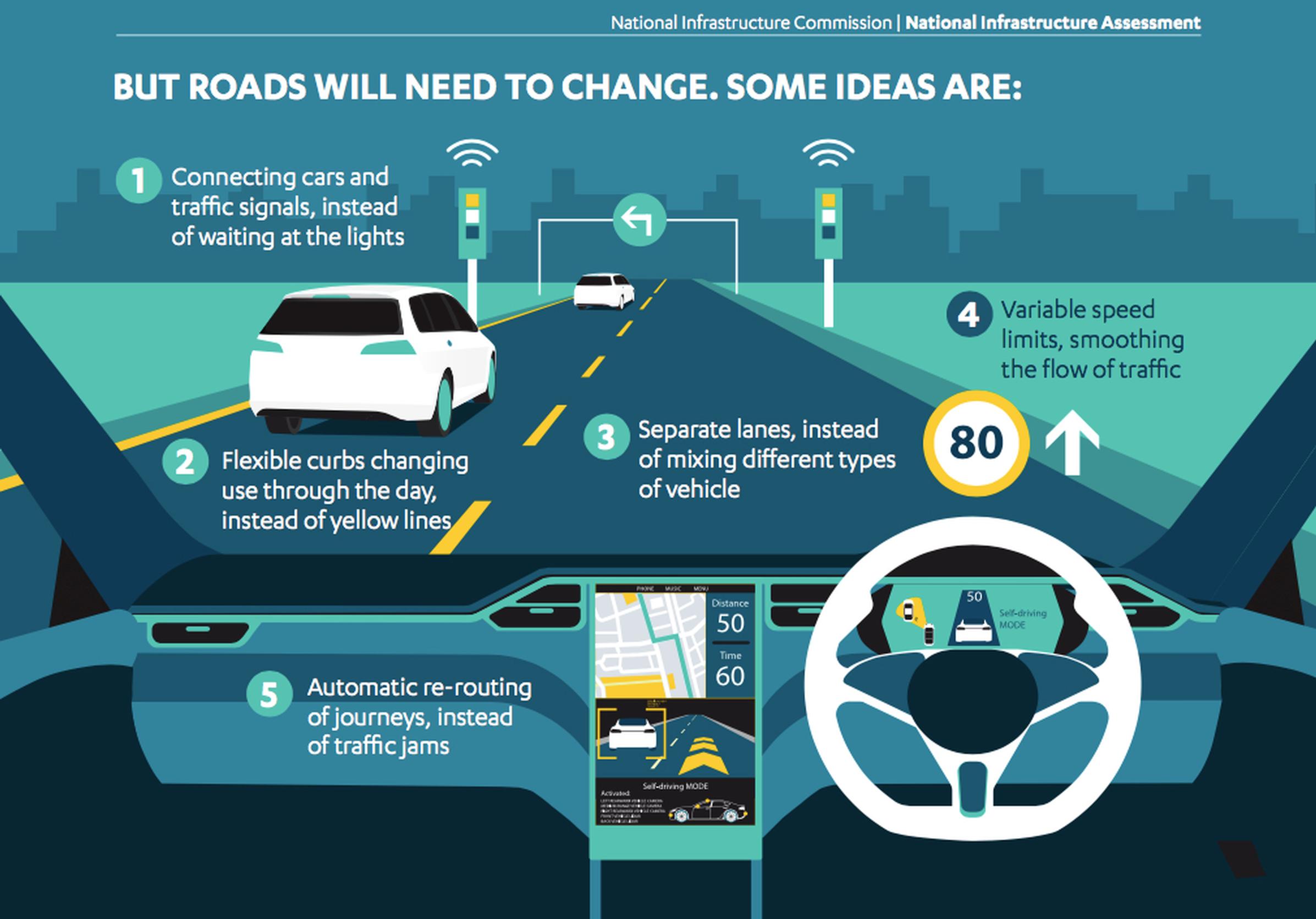 The government must start to lay the foundations now for the altered streetscape of 2050 when all cars and vans will be electric as well as mostly autonomous, argues the National Infrastructure Commission (NIC) in a new report.
The first National Infrastructure Assessment, published this week, sets out a long-term strategy for the UK's economic infrastructure from 2020 to 2050.
Electric vehicles will soon have the same range and be cheaper to buy and maintain than fossil fuel vehicles, the NIC predicts. "Once this happens, their take-up could increase rapidly.
Given their benefits for the environment, this is something the government should encourage. A key way to do this is by ensuring that charging an electric vehicle is as easy as refilling a conventional vehicle, or even easier."
The right charging network
Consumers need to feel confident that they can charge their electric vehicles en route across the country, states the report. "The energy system will also need to be prepared for an increase in demand for electricity as the transition to electric vehicles gains traction."
The NIC says the government, local authorities, along with Ofgem working with charge point providers, should enable the roll out of charging infrastructure to allow consumer demand to reach close to 100% electric new car and van sales by 2030.
"The Commission recommends that Ofgem should commission electricity network operators to work with charge point providers to identify potential anticipatory investments required to accommodate public charging infrastructure. Opportunities for investment within the current price control period should be identified by Summer 2019."
A core network of fast or rapid chargers should be installed in visible locations across the UK. The NIC urges the government to subsidise charger installation in places where the private sector will not build them, starting in locations least likely to be delivered commercially.
However, the majority of chargers should be built by the private sector, it says. Government should enable commercial investors to build charge points throughout the country, with councils required to free up 5% of their parking spaces for electric vehicle charge points by 2020, and 25% by 2025.
On-street charge points will be most important in dense urban areas where access to home off-street parking is limited, the NIC explains. "These are the same areas where parking spaces in general will be at a premium. Local authorities will need to work with private sector providers and electricity network owners to identify where demand for charge points is likely to be highest, and ensure that there are sufficient parking spaces available for charge point installation as demand materialises."
While fast and rapid chargers will be needed to tackle "range anxiety", most charging should be "slow and smart", the NIC states. "Done in the right way, using smart charging, electric vehicles can lower electricity system costs: the system will be able to operate closer to full capacity over the course of the day, as electric vehicles can charge primarily at night, increasing network efficiency. And with electric vehicles providing a source of flexible demand, the need for other kinds of flexibility such as battery storage or fossil fuels will be reduced."
Re-allocating road space
By 2050 vehicles will increasingly be fully automated and connected, which will encourage ride sharing and reduce car ownership, says the NIC. Traffic lights and stop signs will no longer be necessary, speed limits could be higher while the use of road space could be "automatically and constantly changing according to need", the report states. "But with road and rail projects lasting for decades, the government needs to start taking the potential future impacts into account now as it makes investment plans."
More investment in public transport, alongside the promotion of safe cycling and walking, is the only way that cities can increase their infrastructure capacity to support growth, says the report.
"For all their benefits, neither electric nor connected and autonomous vehicles will solve the problems of urban transport; rather they are likely to increase the number of drivers on the roads. Government and cities need to act now to ensure that space in cities is used effectively, with room allocated for fast, frequent public transport systems, well-connected and affordable housing, and pleasant public spaces. This will require a new approach to governance, strategy and funding."
There is a growing interest in new forms of public transport including dockless cycle or electric scooter hire and autonomous buses, says the NIC. "City leaders need to consider how to manage the impacts of changing travel patterns in their transport planning. But the basic challenge of urban transport is still the same: there is simply not enough space in cities for everyone to travel by car."
The NIC says a less car focused approach to urban transport would have a range of benefits, including:
the opportunity to build well designed city centres focused on people's needs
reallocating space from roads and parking to pedestrianised areas, leisure amenities and green space
better, safer provision for cycling and walking
improved transport networks that are more accessible for older and disabled people
infrastructure aligned with schemes to bring brownfield land back into use, which can help regenerate inner cities.
City leaders should implement long term plans for their region reflecting their own economic and social priorities, "based on their own local knowledge and accountability". These strategies should integrate transport, housing and employment.
"Recent government policy on devolution has meant cities increasingly have the right powers and governance to tackle these issues, particularly in cities with mayors," states the report. "However, integration of strategies for transport and housing requires integration of decision making. Currently, leaders in large cities need unanimous approval from individual districts to all aspects of any integrated development plan, limiting the level of ambition. This needs to be addressed to maximise the value from new urban transport infrastructure."
There is a lack of long term funding outside of London and Manchester, which means that few cities have developed integrated strategies, "since there has been no realistic prospect of being able to implement them", the report says. "In some cities, this has also led to a lack of strategic capacity."
Working across sectors
The recommendations set out in the Assessment are not simply made up of a list of projects for the government to build, the NIC insists. "Good infrastructure requires long term planning, stable funding structures and good design. The Commission has also been able to consider interdependencies between sectors: urban infrastructure planning needs to be integrated with housing; the energy system needs to be prepared for an increase in electric vehicle ownership; and digital connectivity on the roads could be necessary for connected and autonomous vehicles."
The NIC calculates that the UK needs £43bn of additional investment in urban transport by 2040. The government has given the Commission a long term funding guideline for public capital expenditure, known as the "fiscal remit". This requires the NIC to demonstrate that its recommendations for economic infrastructure are in line with gross public investment in economic infrastructure of between 1% and 1.2% of GDP in each year between 2020 and 2050.
Many of the projects will need a combination of public and private financing, says the NIC. "Financing itself is not in short supply. However, state financing institutions can help to encourage private investment and catalyse activity in new markets. The European Investment Bank does some of this, but there is a risk that access may be lost following the UK's exit from the EU. A UK infrastructure finance institution, focussed on specific objectives, should be established if access to the European Investment Bank ceases after the UK exits the EU."
The NIC is required to carry out an overall assessment of the UK's infrastructure requirements once every five years. The Assessment covers all the key sectors of economic infrastructure, setting out recommendations for transport, energy, water and waste water, flood resilience, digital connectivity, and solid waste, until 2050.
The government has committed to respond to the Assessment in six months, setting out which recommendations it has agreed to, any further work required to take forward the recommendations, and alternative proposals to recommendations it does not agree with.
The NIC says it will publish Annual Monitoring Reports, highlighting what progress has been made. The second Assessment is due to be published in 2023.
The Assessment's core proposals
£43bn of stable long term transport funding for regional cities
preparing for 100% electric vehicle sales by 2030
nationwide full fibre broadband by 2033
half of the UK's power provided by renewables by 2030
three-quarters of plastic packaging recycled by 2030
ensuring resilience to extreme drought through additional supply and demand reduction
a national standard of flood resilience for all communities by 2050.