People-friendly Aldgate Square opens in City of London
12 July 2018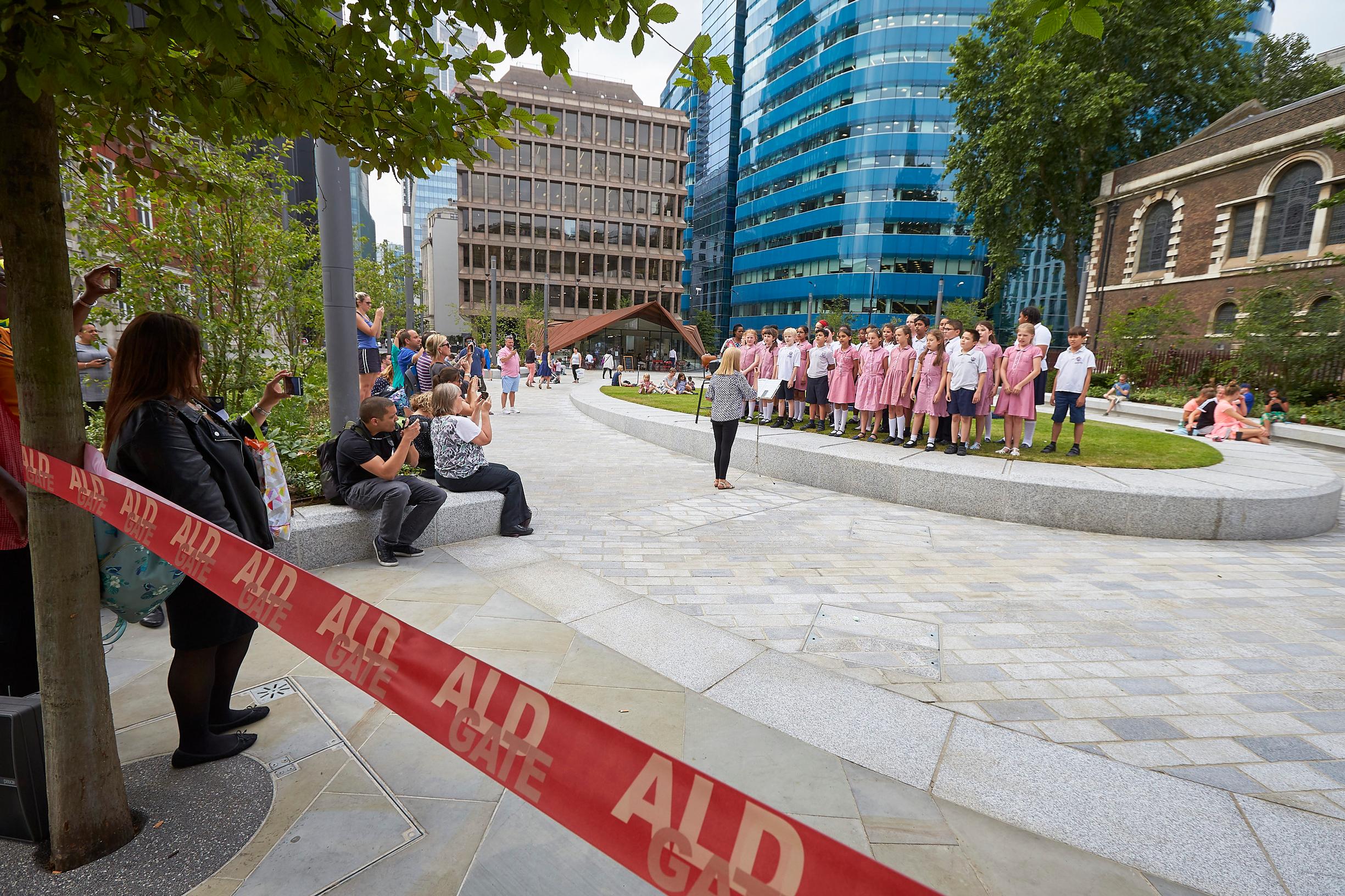 A once notorious gyratory road system has been transformed into Aldgate Square, one of the largest public spaces in the City of London, featuring safer routes for cyclists and pedestrians.
The six-year, £23m project is now complete, with the square being opened by Charles Bowman, the Lord Mayor of the City of London.
The square, which is near Aldgate Underground station, has undergone a host of changes. The one-way gyratory system has been replaced with two-way traffic. Also, new cycling facilities have been installed on Aldgate High Street, Middlesex Street and St Botolph Street, including a fully segregated north-south cycle route along the western side of Aldgate Square, with three pedestrian crossing points on the route.
Other changes include two new public spaces, a café, the planting of 71 trees, two new water features including parabolic jets and a shallow pool, and the revamping of Aldgate Church gardens.
The project, which received funding and support from the Mayor of London and Transport for London (TfL), also features a new pavilion designed by Make Architects.
Aldgate Square is the first public space for the area's multicultural residents and was designed as part of efforts to remove barriers between the different communities, said a City of London Corporation spokesperson. "Nearby Middlesex Street Estate and Mansell Street social housing estates will benefit from improved walking routes to and from the nearby school, underground station, Artisan Street Library and the arrival of Kahaila, a new social enterprise café, selected by the City Corporation and local communities, set in the Portsoken Pavilion."
Air pollution at Sir John Cass Foundation Primary School at Aldgate Square has fallen below the legal annual limit for the first time since monitoring began in 2003 as a direct result of the improvements, according to the City of London Corporation.
As part of the redevelopment of the area, a second new public space is located at the junction of Middlesex Street and St Botolph Street.
The City Corporation's road danger reduction team delivered a day of safety activities for 260 pupils from Sir John Cass's Foundation Primary School, which included a guided walk around the Aldgate changes and hazard and fire safety awareness.
Chris Hayward, Chairman of the City of London Corporation's Planning and Transportation Committee, said: "It's been an absolute pleasure to see a gyratory which reflected 1960s traffic planning, brought into the 21st century. With the imminent arrival of the Elizabeth line, it is the number-one priority that our infrastructure is fit for purpose.
"More than ever we are seeing businesses focusing on local amenities and making location decisions based on the quality of public realm that they can offer their employees. The completion of the square marks a step change to the area, demonstrating to investors that they should continue to commit to the City's world class public realm.
"These were ambitious plans but it is only right that we deliver a healthy, inclusive environment for the diverse residents, school children, visitors and workers in Europe's leading business district."
Find out more about Aldgate Square at Healthy Streets 2018 which is being hosted by the City of London Corporation