'Beelines' project to roll out bike and walking routes across Greater Manchester
04 July 2018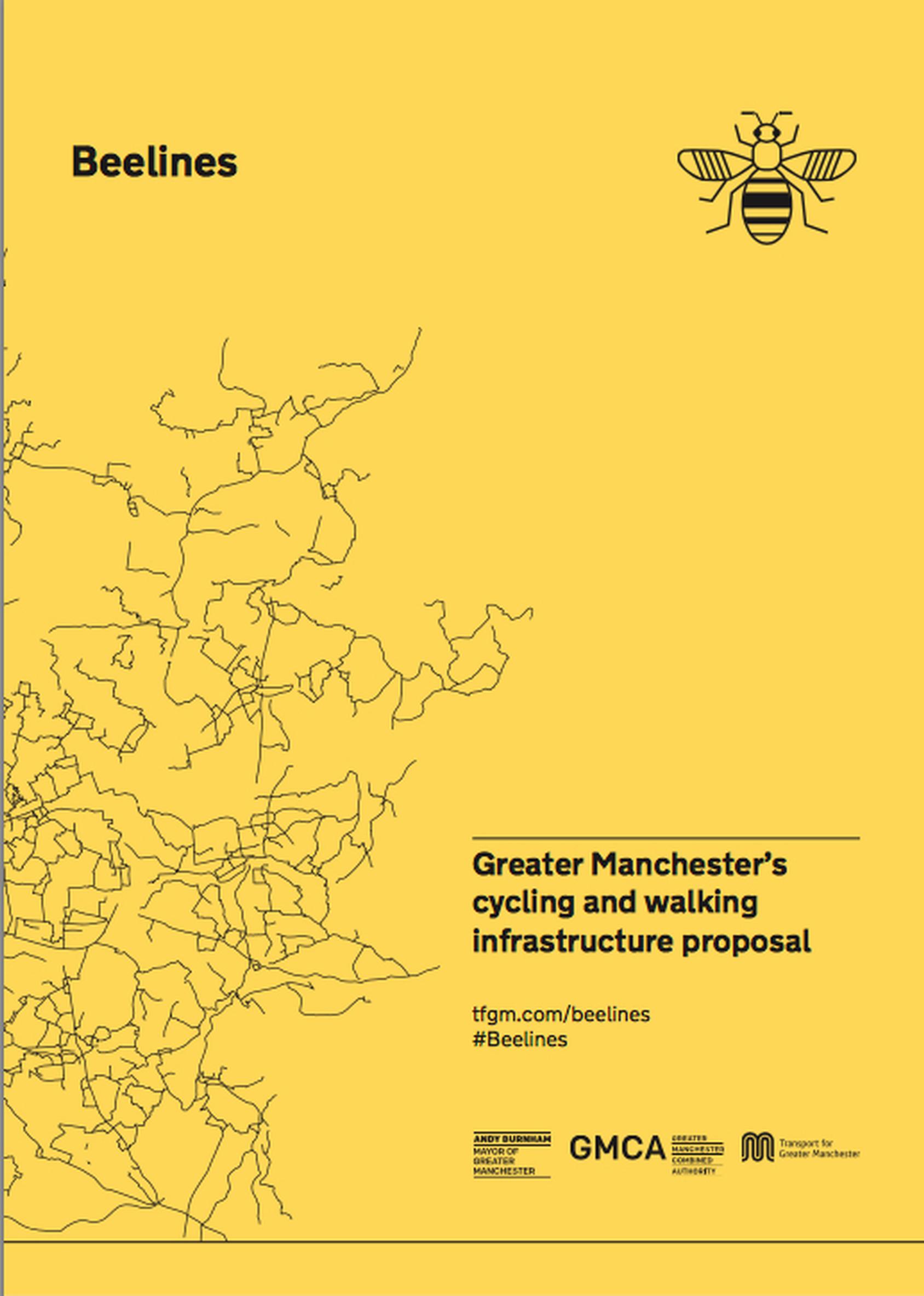 Plans for a cycling and walking network across Greater Manchester, made up of more than 1,000 miles of routes, was unveiled at Cycle City Active City last week. The 'Beelines' network will include 75 miles of segregated bike lanes as well as 1,400 safer road crossings on most routes and 25 'filtered neighbourhoods' where priority will be given to people over motorised traffic.
Beelines was launched at Cycle City Active City by Chris Boardman, Greater Manchester's cycling and walking commissioner. He said: "The proposed network is not for people who already cycle or walk for the majority of their journeys. Its focus is on two-thirds of people who currently use their car as their main mode of transport."
The project has a combined budget of around £500m. This includes £160m from the government's Transforming Cities Fund, which the Mayor of Greater Manchester Andy Burnham has allocated to the project. The mayor's decision to allocate £160m means that Greater Manchester's spend on cycling and walking is now £15 per head, "almost putting us on a par with the great liveable cities like Amsterdam and Copenhagen," said Boardman.
At Cycle City Active City, held in Manchester, Andy Burnham told delegates: "I couldn't think of any other way of spending £160m on transport and getting a return on that investment in terms of tackling congestion, improving air quality, improving physical and mental health and improving the public realm. On top that, it will benefit the economy. Quality of life will become crucial in attracting the best talent coming out of universities. Unless you provide modern 21st living that has cycling and walking at its heart you will not attract most people to live here."
He added: "I can't think of a better way of benefitting every man, woman and child in Greater Manchester in a reasonably short space of time. Investing money in walking and cycling will have a much bigger impact on a much bigger scale than if that money had gone on building roads or buying trains and trams."
The project is designed to be largely reliant on wayfinding signage and paint on the ground, so that it will be "cost effective and fast to implement" says the Beelines report. It estimates that the entire network could be completed by 2023.
Some routes on quieter streets will require traffic management and design interventions, said the Beelines report. "However, most will initially require very little intervention. Funding will be focused on side road interventions."
Busier roads, meanwhile, will require major interventions, says the report. "In most cases, standard junction design approaches will not meet quality thresholds. Ensuring these approaches are of a high standard is critical if we are to create trust in the network. Innovative approaches to junction design will be required that meet the level of service needed to enable significant modal shift."
New crossing points will be introduced in town centres, including parallel signalised crossings, parallel zebra crossings, toucan crossings and priority crossings. More cycle parking will be installed on the network, says the report.
The Beelines will connect quiet streets in Greater Manchester, offering the most direct way to new crossing points "to get people across busier roads", said Chris Boardman. "People using these routes will see new, distinctive signage which will be a marker of quality and will encourage them to make more journeys by bike or on foot."
Maps showing the proposed plans for each local council area in Greater Manchester have been published on the cycling and walking commissioner's page on the TfGM website. The proposed routes and crossing points have also been published on open data website mappinggm.org.uk
An updated version of the Beelines map will be published later in the year.