Cyclist and pedestrian-friendly route to be built at Swiss Cottage
08 May 2018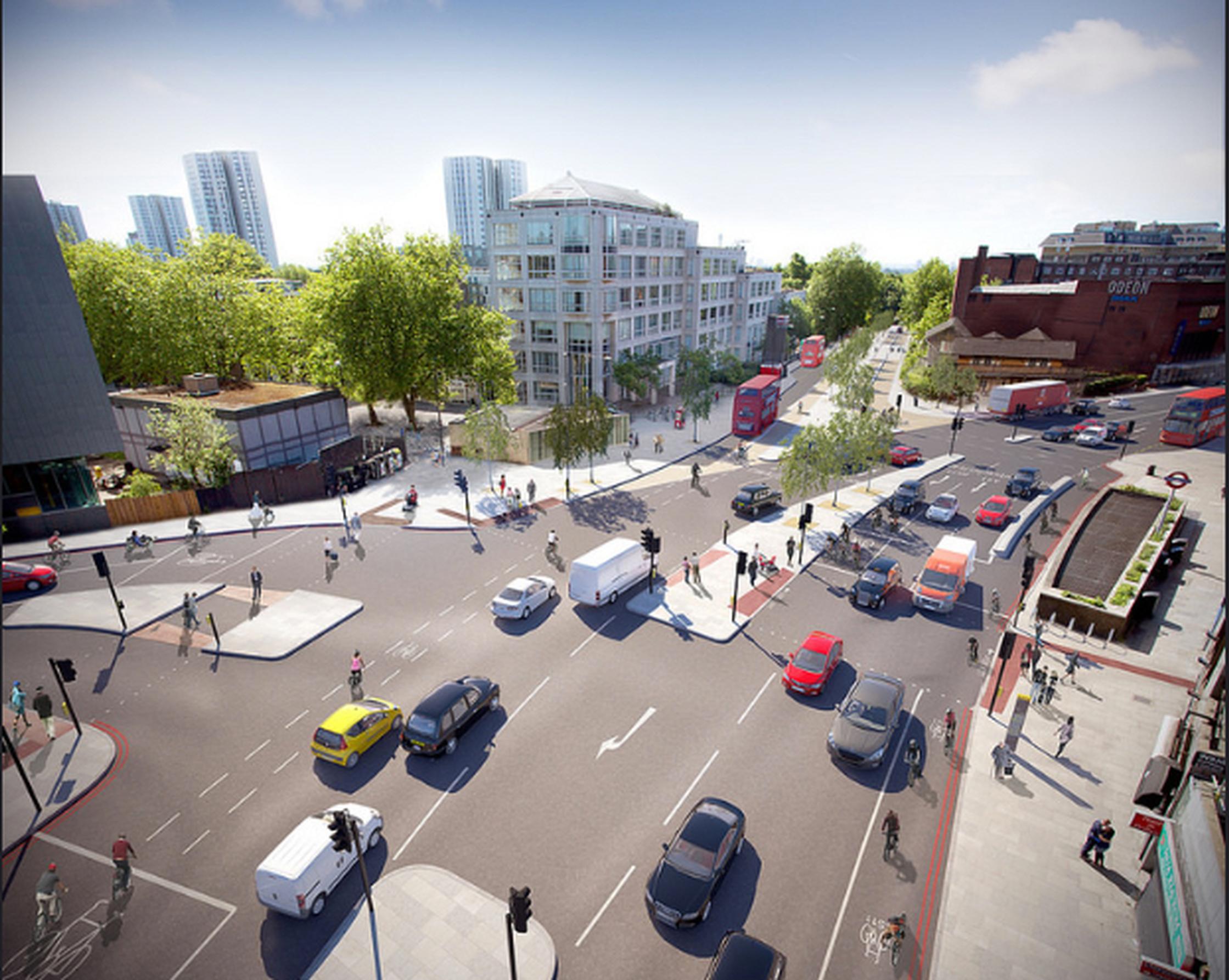 Work to build Cycle Superhighway 11 (CS11) at Swiss Cottage is to start in mid-July, Transport for London (TfL) has announced.
The current gyratory system will be removed and a two-way system introduced on Finchley Road and Adelaide Road. Avenue Road, which is between College Crescent and Adelaide Road, will become bus and cycle only, with a stepped cycle track, creating a new public space. Changes to Swiss Cottage are due to be finished in September.
The reconfigured route will improve safety for both cyclists and pedestrians in the area - encouraging non-polluting and more active travel for people living, working or passing through, says TfL.
Measures to reduce disruption will be in place, including adjusting traffic light timings and suspending parking and loading bays to increase traffic flow, as well as taking advantage of the quieter summer holiday period.
The consultation on CS11 received 60% support from more than 6,000 respondents, but TfL needed to carry out additional work to address concerns from the borough councils and local community, including fears among local residents that there would be an increase in motor traffic on some minor roads.
TfL will now allow motor traffic to make right turns from College Crescent into Finchley Road, and from Finchley Road southbound into Hilgrove Road. Traffic modelling indicates this will reduce the amount of traffic into nearby minor roads, and could also improve access for local people who want to reach destinations to the west of Swiss Cottage. Following consultation feedback, buses and cyclists will be allowed to turn left from Finchley Road into College Crescent.
Subject to agreement, CS11 will then run along Avenue Road, the Outer Circle of The Regent's Park, Park Crescent and Portland Place.
Mayor of London Sadiq Khan has committed £169m per year on average over the next five years to improving cycling conditions in the capital.
Will Norman, London's walking and cycling commissioner, said:
"High-quality segregated cycle routes play a crucial role in keeping cyclists safe, and also encourage more Londoners to cycle as part of their everyday routine. Our plans will improve the environment around Swiss Cottage and make this busy junction safer for everyone who lives and works in the area.
"We've been working very closely with the council to look at the consultation results to ensure the views of local residents are taken on board, and the amended plans will both mitigate any impact on traffic in surrounding roads, and provide substantial benefits for pedestrians too."