Cycling strategy must go further, London Assembly tells mayor
23 March 2018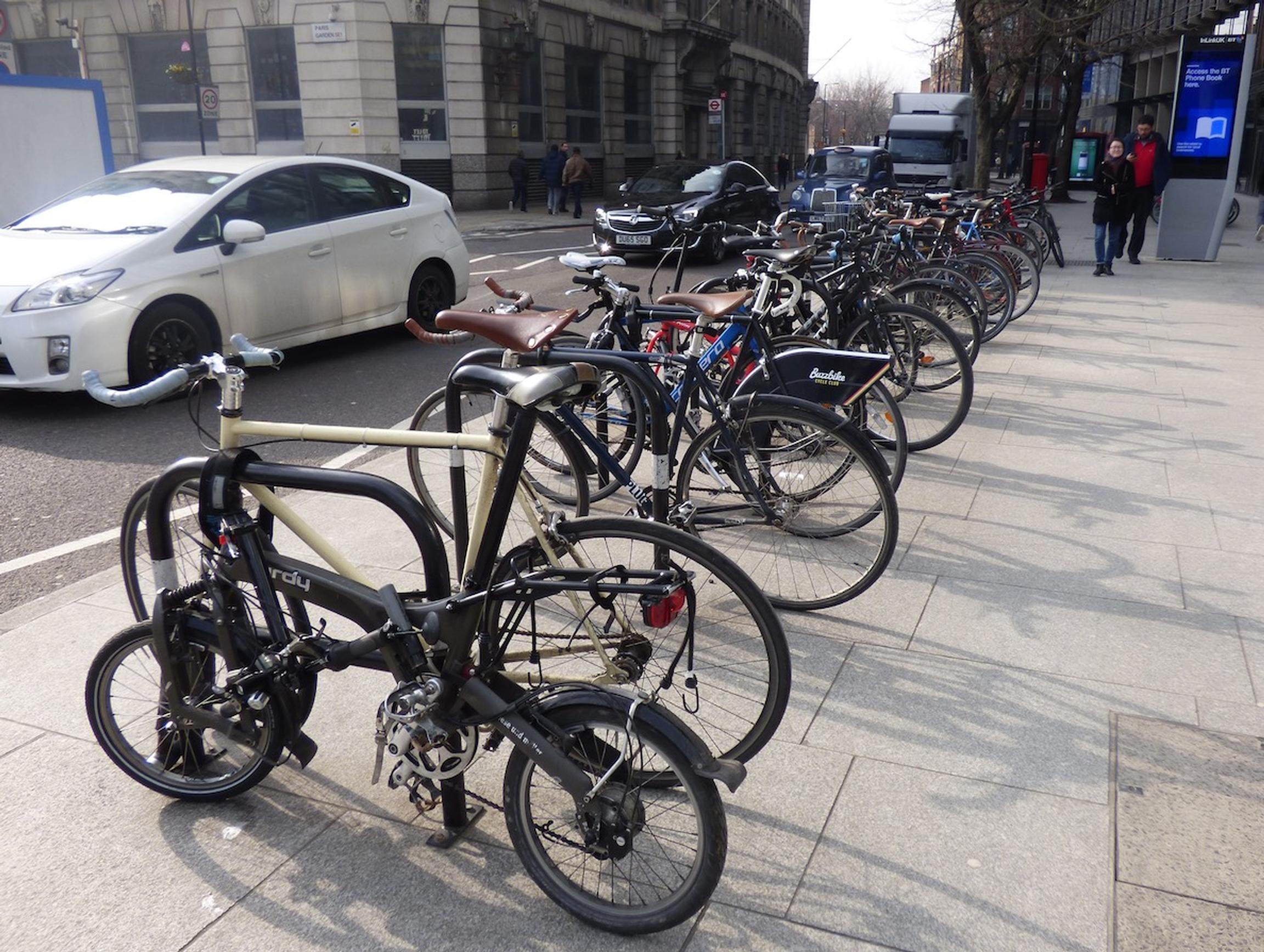 The rising demand for cycle parking across the capital is not being met, with Network Rail particularly culpable in its failure to provide enough cycle racks at train stations, says the London Assembly in a report published today.
Transport for London (TfL) should set out "clear steps" on how the rising demand for cycle parking will be met, which partners will be involved and how the infrastructure will be funded, says the assembly's transport committee.
Network Rail was singled out for not doing enough to meet cycle parking demand at stations. TfL's director of transport strategy Lilli Matson told the committee that it has been difficult to persuade Network Rail to allow more cycle parking. "For example, a new cycle parking 'superhub' at Waterloo station, with space for 5,000 cycles, was due to be opened in 2018," the report notes. But, according to London's former cycling czar Andrew Gilligan, Network Rail rejected the plans due to safety concerns.
The committee calls on Network Rail to explain why there is no mention of cycle parking in its Strategic Business Plan for its Control Period 6 investment (2019-2024). "It is frustrating London has not been able to follow other cities in delivering more cycling parking at transport hubs," states the report, referring to the facility at Cambridge train station, which provides 2,850 cycle parking spaces.
Dockless bike hire schemes have the potential to boost cycling levels in the capital, the report suggests. But TfL needs to oversee a co-ordinated approach, with a small number of operators being licensed to lend bikes across all boroughs. To support these schemes, the Mayor of London should require new developments to allocate parking spaces for dockless bikes, as well as providing space on the TfL Road network.
Superhighway delays
There have been unnecessary delays in implementing new Cycle Superhighways (CS), according to the report. "The promise of some new CS routes has been delayed by a protracted consultation process." According to Andrew Gilligan, several CS routes could have been built sooner. "He has identified nine TfL-led schemes (CS routes and cycling enhancements to junctions and roundabouts) which have been designed, traffic-modelled and formally consulted on, that were still not completed, and, in some cases, not started or cancelled almost two years into this Mayoralty."
It is "disappointing" that mayor Sadiq Khan has done little to "build on the momentum" of previous mayor Boris Johnson in getting the routes built, says the report.
TfL should publish a timeline for the six new cycling routes announced by Sadiq Khan in January, the report says. This should include milestones for key design, consultation and construction. A further 19 routes are due to be built by March 2023, within the timeframe of TfL's Business Plan. "We ask TfL to set a date by which the detailed schedule for delivery of the 19 remaining routes will be published," says the report.
The committee also urges Sadiq Khan to scrap the term 'Superhighway', arguing that it gives the wrong impression. "It appears to emphasise cycling long distances at high speed, which may not be the best way to attract a wider range of inexperienced people to cycle. The mayor should run a public engagement exercise to allow Londoners to choose a new name.
Meanwhile, minimum standards are needed for Quietways, as the performance of boroughs in delivering cycling improvements has been "patchy", the report suggests. Safeguards are needed to ensure that boroughs implement consistent quality on the new routes. Supplementary Planning Guidance for Cycling should be developed after the publication of the final version of the new London Plan. "Boroughs are currently encouraged to follow the London Cycling Design Standards, but by turning this into formal guidance the mayor can more effectively ensure that minimum standards are followed by boroughs and developers."
Moving beyond Mini-Holland
More must be done to fulfil the potential for cycling growth in outer London, the report says. It cites research by Rachel Aldred, reader in transport at the University of Westminster, who found that some outer London boroughs have injury odds per cyclist up to seven times higher than central and inner London boroughs.
There has been some progress through the £100m Mini-Holland programme in the outer London boroughs of Enfield, Kingston and Waltham Forest, initiated by the previous mayor, the report notes. TfL has not yet published an evaluation of the programmes, but the committee points to research by Waltham Forest, which revealed a 42% rise in the number of people cycling in the borough in 2016 compared with the previous year.
The Mayor has pledged more funding for outer London boroughs through the £114m Liveable Neighbourhoods programme, which replaces the Mini-Holland scheme. TfL should develop a framework to monitor and evaluate the programme, as well as encouraging boroughs to share data, says the report. Schemes are more likely to succeed if there is proper business engagement. "Businesses were generally resistant to the Mini-Hollands when they were first proposed but feedback on the changes has generally been positive," the report says. "A recent survey of Business Improvement Districts found over 85% agreed that a good environment for walking and cycling is important to business performance."