Work to start on people-friendly Tottenham Court Rd
02 March 2018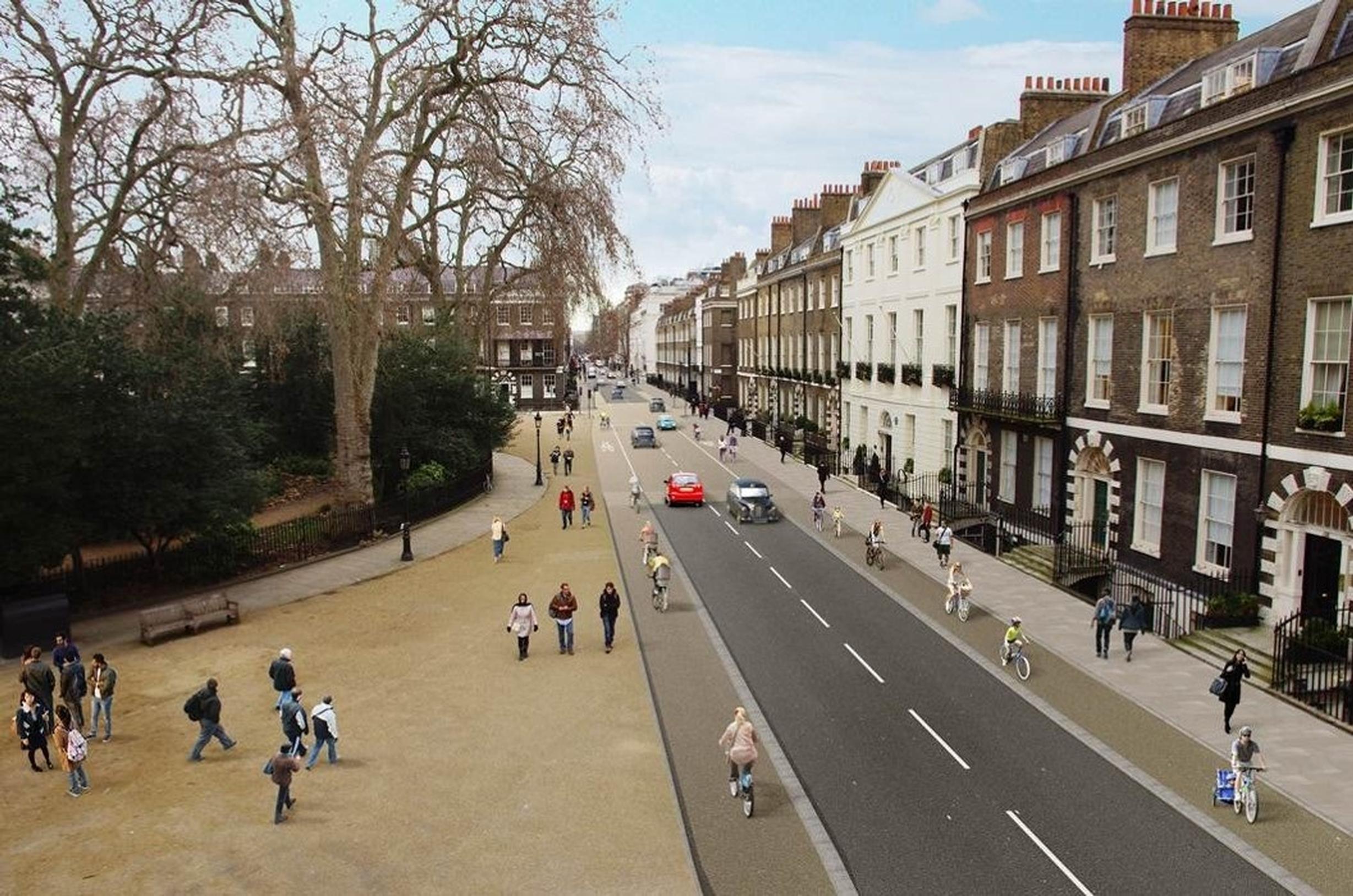 Tottenham Court Road is set to become more cyclist and pedestrian friendly, with all motor vehicles except buses banned from using the thoroughfare between 8am and 7pm, Monday to Saturday. The restrictions are due to be in place by early 2020, said the London Borough of Camden.
The first phase of the £35m scheme begins in March, with initial works to include: new granite paving on New Oxford Street by Centre Point; the removal of pedestrian barriers and traffic light poles from Tottenham Court Road; and trial holes being dug across the project area to understand the previous underlying road structure.
These works will prepare the way for major changes to road layouts, including scrapping the current one-way traffic system, as well as installing wider footways and segregated cycle lanes on Gower Street and Bloomsbury Street.
A Camden Council spokesman, said: "All buses are being moved from Gower Street to Tottenham Court Road, which will make bus journeys easier for passengers as they can get on and off on the same street. By continuing to allow buses on Tottenham Court Road, journey times for passengers are maintained.
"We are putting in wide two-way cycle lanes on Tottenham Court Road, making it safer for cyclists as well as safer junctions. This includes removing conflicts between cycling and vehicles on Tottenham Court Road at the junction with Euston Road.
"The footways are also being widened to accommodate increased pedestrian traffic as well as putting in cycle ways. Steps cycle tracks are not included due to the number of junctions, bus stops and loading bays.
"Gower Street will have a stepped cycle way. Bloomsbury Street is a continuation of the cycle segregation in Gower Street and runs through to the revised road layout at the junction of Shaftesbury Avenue and High Holborn."
The current one-way system on Tottenham Court Road and Gower Street increases the journey times and is hard to navigate for cyclists, said the spokesman.
"The transformation project is a £35m fully funded project. Alongside Camden Council, the project is being funded by Transport for London and private contributions. In addition to these funders, a number of local developers have made significant contributions as part of their planning permission conditions (section 106 contributions)."
Cabinet member for improving the environment at Camden Council, Adam Harrison said: "This year, 2018, will be one of the most important years in the history of Tottenham Court Road and Gower Street. I am very excited that the fruits of many years' preparation will soon be seen. In Gower Street, the project will create new segregated cycle lanes along the entire length of Gower Street and Bloomsbury Street.
"This part of the West End deserves the ambition that Camden and Transport for London are showing for it. With the opening of the new Elizabeth Line station, the West End Project will create new public spaces for residents, local workers and visitors, making the area safer, greener and good for business.
"This includes the first new park in many years, at Alfred Place – which is currently a road. We will finally be able to sweep away nasty street clutter like old railings and the many redundant phone boxes, which cause such a blight."
Ben Plowden, director of project and programme sponsorship, at Transport for London (TfL), said: "The transformation of the Tottenham Court Road area will support the launch of the Elizabeth line later this year and will help to redefine London. Safer roads for pedestrians and cyclists, new public spaces and improved public transport will hugely benefit those living, working and visiting the area. We will work closely with Camden Council to reduce the disruption of the work, but road users are advised to leave more time for their journeys."
The project was approved in 2015 and Camden Council has been working in partnership with TfL, Crossrail: The Elizabeth Line Project, City of Westminster Council, BeeMidtown, The Fitzrovia Partnership and London First.
The council received over 1,000 responses to the original consultation from residents, businesses and local interest groups.