West London Orbital Line features in mayor's transport strategy
28 February 2018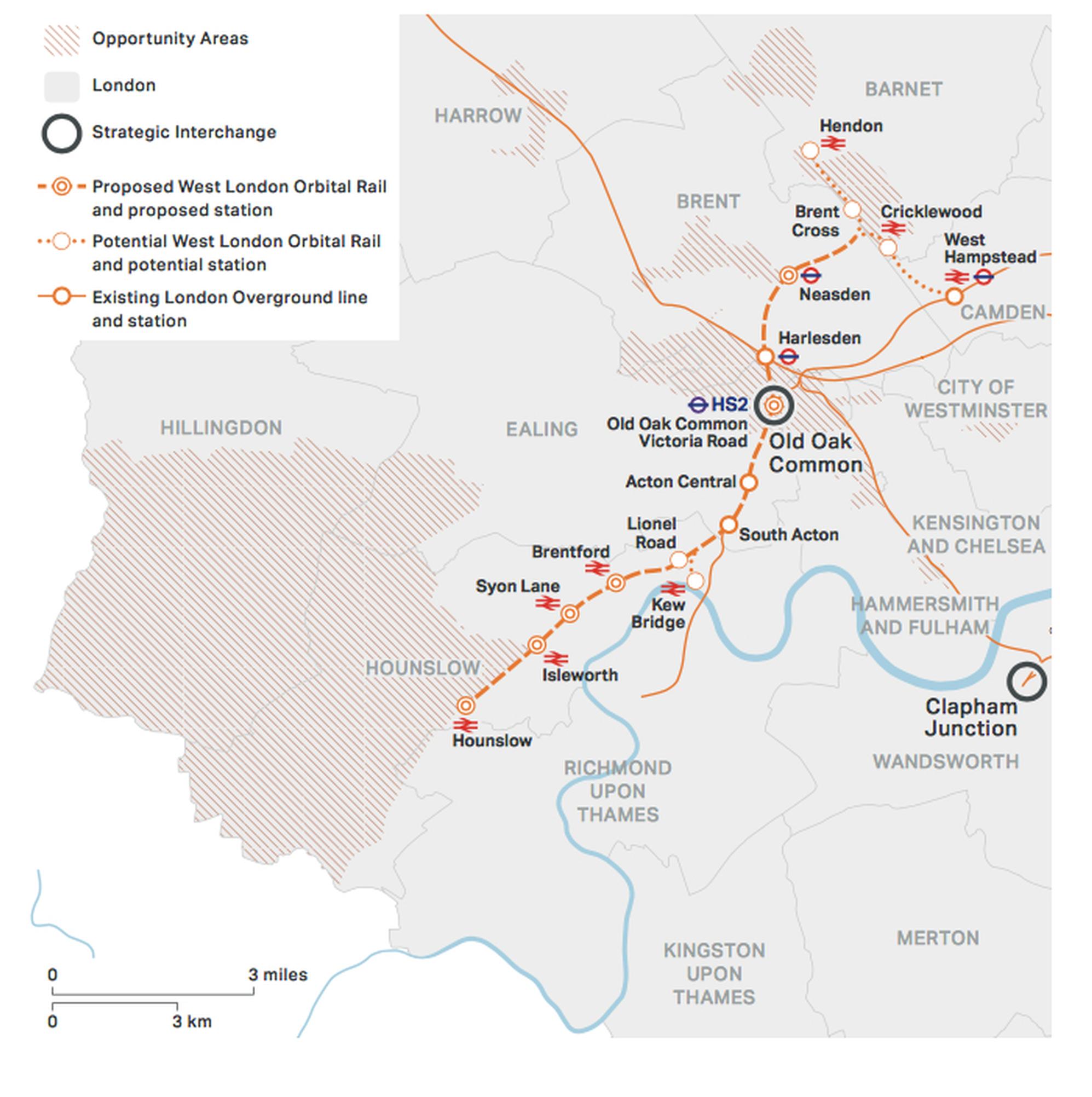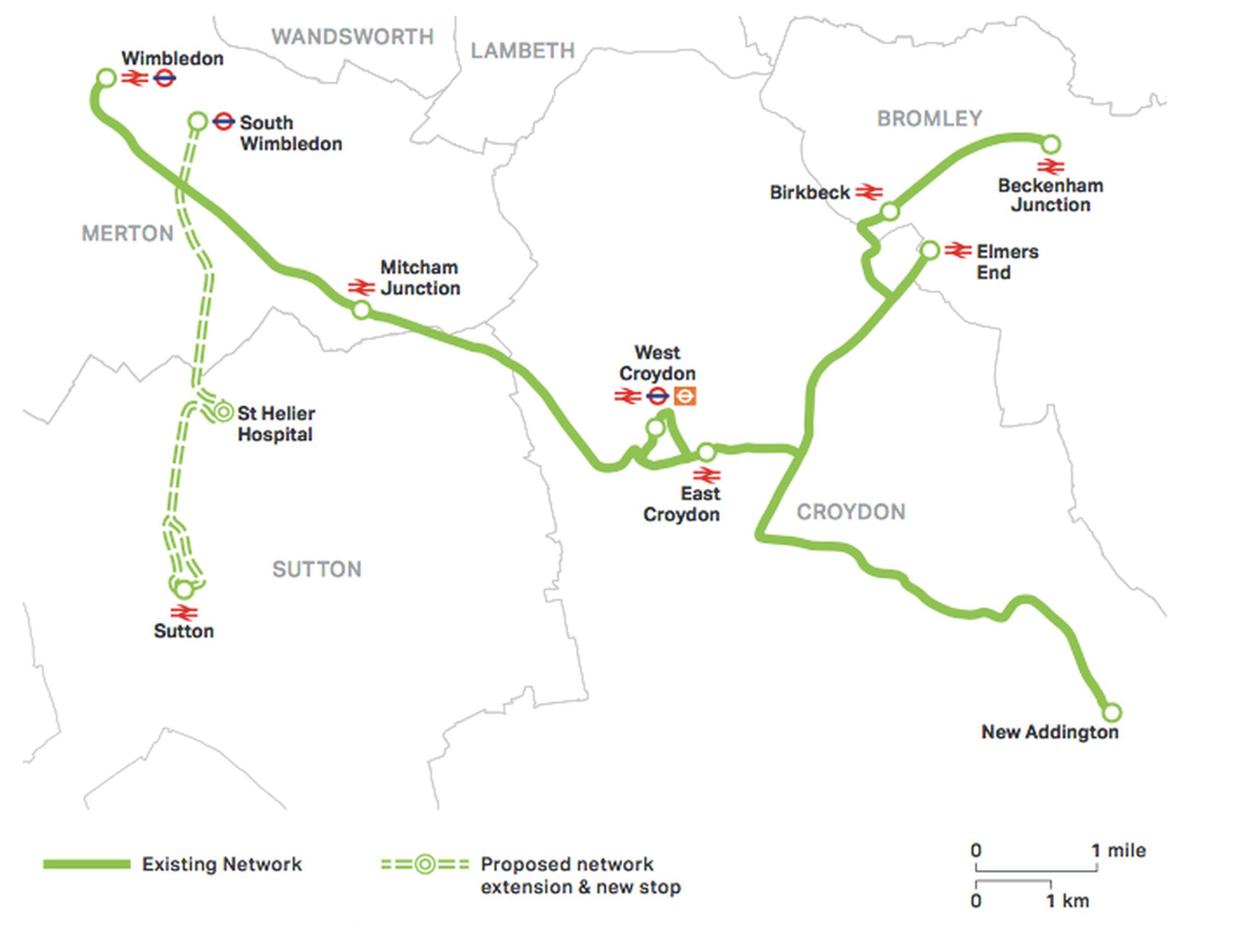 Plans for a West London Orbital rail line - connecting Hounslow, Hendon and Cricklewood - feature in the Mayor of London's Transport Strategy. Mayor Sadiq Khan's transport vision for the next 25 years was presented today to the London Assembly ahead of its final publication next month.
The proposed West London Orbital Line, linking up London Overground services, would run via Brent Cross, Old Oak Common, Neasden, Brentford and Isleworth (pictured top left). "Most Londoners want to move around London – rather than in and out of the centre – every day, and the London Overground supports this type of travel," states the strategy. "London Overground train service improvements are therefore needed to support new jobs and housing throughout inner London and parts." The new West London Orbital line has the potential to support the delivery of an additional 20,000 homes, as well as employment growth in west London, according to the strategy.
Also proposed is a new tramline from South Wimbledon to Sutton (pictured bottom left), currently being considered by TfL and the London Boroughs of Merton and Sutton. The extension would pave the way for 10,000 new homes as well as new jobs in the area. "Sutton town centre is a focus for many of these new homes. The tram extension would also increase the number of jobs accessible to local residents by providing faster, more frequent connections to centres of employment.
"In the longer term, a further extension beyond Sutton town centre to the planned London Cancer Hub at Belmont, which may accommodate up to 10,000 new jobs, will also be considered to support the full development of the site. Trams could also run direct from Sutton to Wimbledon, linking to Crossrail 2 and delivering a wider improvement in connectivity in south west London."
The strategy supports measures to discourage non-essential car and freight trips, especially shorter trips. For example, it calls on boroughs to consider local road user charges or workplace parking levies.
Parking policy changes, such as introducing or extending controlled parking zones, or incentives to residents to give up parking spaces could also help discourage car use, it suggests. "Higher parking charges for the most polluting cars could additionally help encourage the use of cleaner vehicles."
The mayor pledges investment for new crossings for people walking and cycling to connect communities and encourage healthier lifestyles. Plans have been drawn up for a new walking and cycling crossing between Rotherhithe and Canary Wharf, which "would give thousands of people a direct link between Canada Water and Canary Wharf, and support jobs and new homes in the area".
The Mayor's Transport Strategy sets out Sadiq Khan's aim for 80% of trips in London to be made on foot, by cycle or using public transport by 2041.
Khan said: "I've been clear that we need to be bold in how our city operates as London's population grows, and this means not only investing record amounts in new infrastructure like extensions to the tube, rail and Crossrail 2, but working with boroughs and local communities to reduce our reliance on car use across London.
"With our unprecedented focus on walking, cycling and clean public transport, our ambitious Transport Strategy can act as a crucial driver for new homes and jobs, but also improve quality of life for everyone living in London."
During last year's statutory consultation on the draft Mayor's Transport Strategy, more than 6,500 responses were received from members of the public and stakeholders from across the UK.
The Mayor's Transport Strategy will be discussed by the London Assembly on 8 March and can be accessed by visiting:
https://www.london.gov.uk/moderngov/ieListDocuments.aspx?CId=179&MId=6259
The 320-page strategy offers details of:
Major transport schemes including the Elizabeth line, Northern Line extension, Crossrail 2, Bakerloo line extension and the Rotherhithe and Canary Wharf crossing. These schemes will be delivered through partnerships between TfL, boroughs and landowners, which will "help create hundreds of thousands of new jobs and homes across London and the South East and support the principles of Good Growth".
Investment in the Healthy Streets Approach across all London boroughs. This will include the schemes at Oxford Street and Old Street as well as several walking and cycling schemes across inner and outer London.
Crossrail 2, which will "relieve pressure on the transport network across the south of England, enabling 270,000 more people to travel into and across central London every morning at peak time, and will drive the development of 200,000 homes and 200,000 new jobs across the south east".
Investing in the Tube network to run more trains more often and carry more passengers. This will see the completion of new signalling and more frequent services on the Metropolitan, District, Circle and Hammersmith & City lines. The modernisation of the Piccadilly, Central, Bakerloo and Waterloo & City lines will also begin by the mid-2020s and see new trains and more frequent services delivered to increase capacity and improve reliability, says the strategy.
Making the transport system zero-emission by 2050. This will be delivered through a phased approach, after the introduction of the Ultra Low Emission Zone, within the same area as the Congestion Charge zone, in April 2019. This will see zero emission areas in town centres from 2020 and in central London from 2025, larger zero emission zones in inner London by 2040 and London-wide by 2050, says the strategy. All taxis and PHVs will be zero emission capable by 2033 and buses will be zero emission by 2037.
Improving accessibility across London to enable all Londoners, including disabled and older people, to travel spontaneously and independently. This work will see more Tube and rail stations made fully accessible, while improvements to the DLR and London Tram, both of which are already 100%, will make it easier for people with a disability to "turn-up-and-go", says the strategy. The strategy has set the target of increasing the percentage of step-free Tube stations from 25% to 40% by 2022.
Measures to reduce the number of lorries and vans in central London during the morning peak by 10% by 2026. This includes identifying key freight routes across the capital which could be completed by rail and water as well as seeing how 'last mile' deliveries could be consolidated or retimed to help reduce congestion on a localised level.
Pressing ahead with the 'Zero Vision' approach so that no one is killed in or by a London bus by 2030, and all deaths and serious injuries from road collisions to be eliminated from London's streets by 2041. Later this year, TfL is publishing its strategy for achieving the mayor's 'Vision Zero' aim, with the focus on reducing road dangers caused by speeding, fast traffic and poor road design.
Working with government, local boroughs and developers across London to secure revenue to deliver vital transport infrastructure. TfL no longer receives an operating grant from government and in the coming years has to rely more on other income, says the strategy. TfL's Business Plan aims to turn the deficit caused by the removal of this grant into a surplus over the next five years, with savings to operating costs already £242m ahead of this year's target. "However, to protect transport investment in the long-term, the Government needs to allow greater use of Business Rate Retention, as well as approving additional powers, such as allowing Vehicle Excise Duty raised in London to be reinvested into the capitals roads, to create a fairer way of funding transport schemes."