New walking challenge for Portsmouth school children
18 January 2018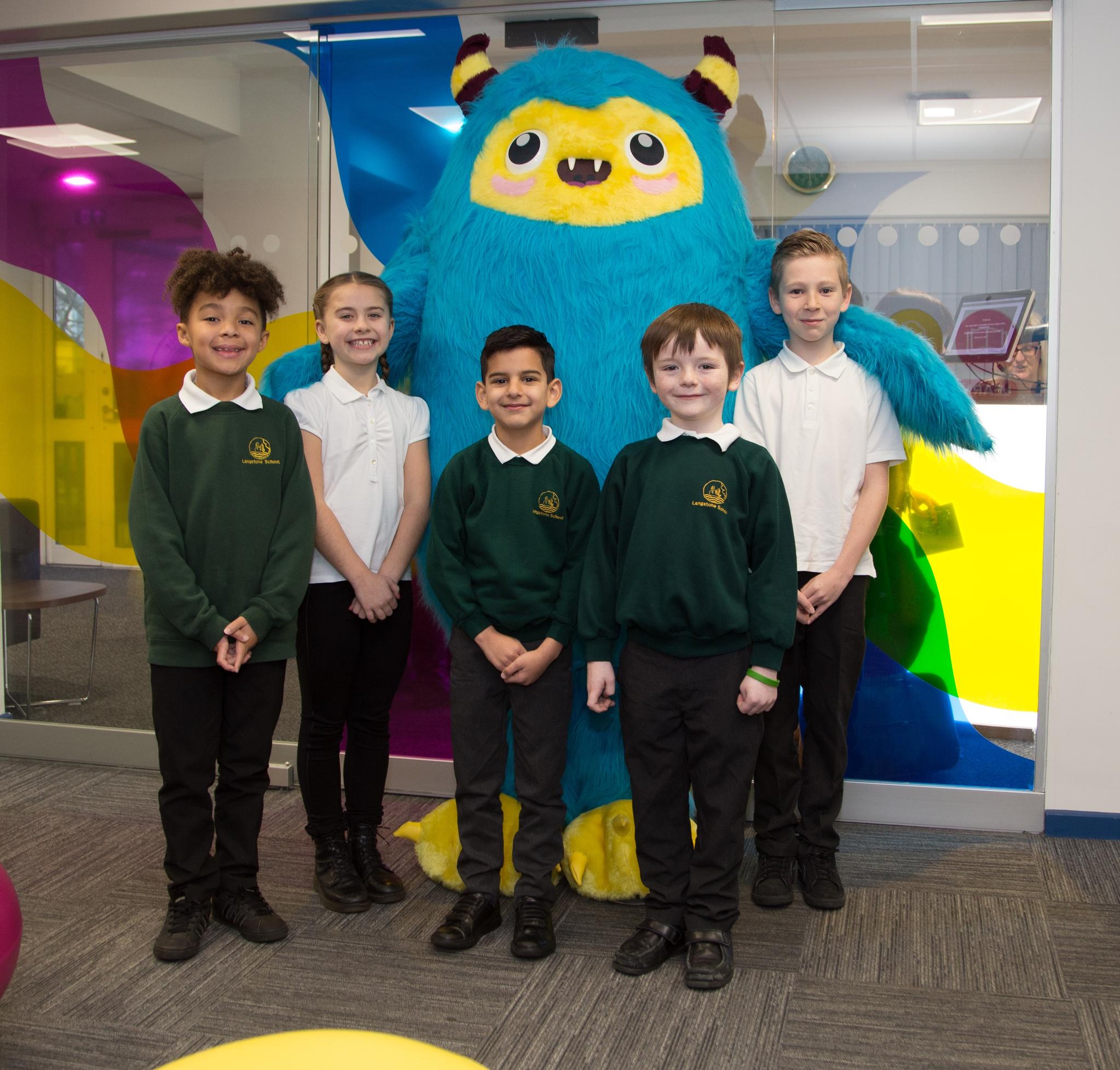 Pupils at Langstone Infant School and Langstone Junior School are the first to take part in this year's Portsmouth City Council Pompey Monster Walk to School Challenge. The seven week walk to school challenge starts next week and ends in March. In the launch assembly in January pupils heard about the scheme, and even met the Pompey Monster mascot - Stomper!
Pupils are required to walk to school at least three times a week to pass the weekly challenge. In return they will receive a special road safety-themed character key ring. There are seven key rings to collect, and they include a special-edition glow in the dark key ring - which promotes the importance of being seen in the dark. As well as the key rings, all participants will receive a pack and a 'stomp-ometer' to help them count and record their steps.
Mrs Jane Bush, Headteacher at Langstone Junior School, was keen for the children to take part and comments. "We are really excited to be involved in the Pompey Monster Walk to School Challenge. It is our priority to keep children safe and this project teaches children about road safety while encouraging everyone to walk to school - even if they have to park and walk the last part. The timing is great too - as it fits in with our new year resolutions!"
Miss Victoria Page is the Headteacher of the Infant School and said. "This project promotes walking, healthy lifestyle choices as well as helping to ease traffic congestion around the school at the beginning and end of the day. The launch assembly was fun and the children have already eagerly begun to sign up to the programme."
Councillor Hannah Hockaday, Cabinet Member for Education, said. "It is fantastic to see another school embracing this challenge. Within the first week of the launch nearly 200 children had signed up so there is certainly a lot of excitement surrounding the challenge."
Those who are unable to walk the whole way are encouraged to park a short distance away from the school and 'stomp' the rest of the way - helping to keep school gates clear of cars.
Portsmouth City Council's Pompey Monster Walk to School Challenge was initially piloted earlier in 2017 with Solent Junior School, Highbury Primary School and Flying Bull Academy. Later in the year Wimborne Infant and Junior Schools took part, with 60% of pupils signing up to the scheme.
The communications campaign for the Pompey Monster Walk to School challenge was a finalist in the UK Public Sector Communications Awards 2017.