Walthamstow Tube expansion to be part-funded by tower block developer
21 December 2017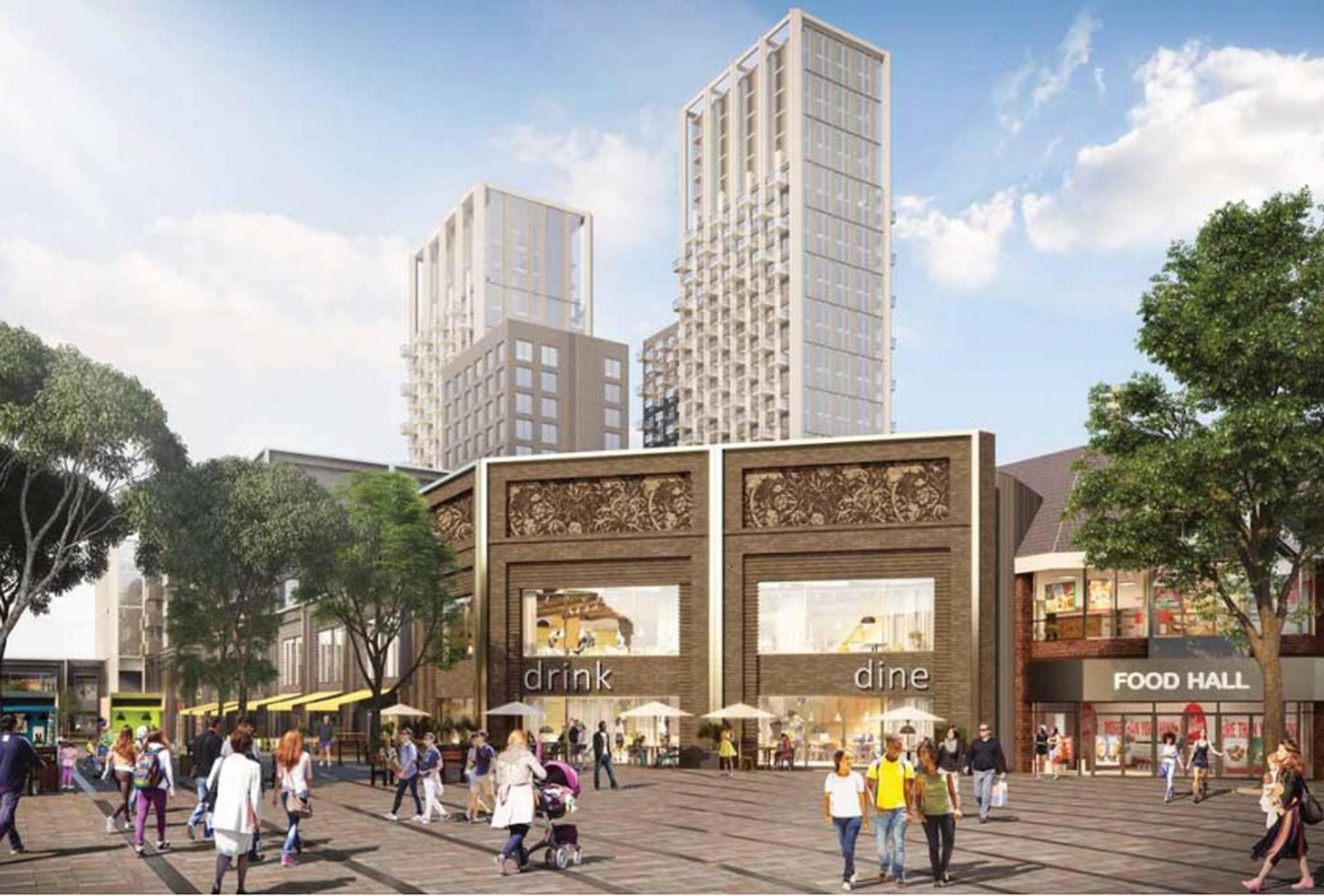 The developer behind plans for residential tower blocks and an expanded shopping centre in Walthamstow, north-east London, said it will pay £1.5m towards the extension of the Tube station.
Last week Waltham Forest's planning committee approved Capital & Regional's application for the shopping centre, which would extend onto a third of the existing town square. Outline permission was granted for up to 502 homes in four tower blocks of between 12 and 29 storeys.
Capital & Regional said it would contribute £1.5m towards the station expansion if the works take place at the same time as the new development. The station expansion would include an additional escalator and passenger lift and a second exit from the station beneath the new shopping centre extension.
"Based on the feasibility and engineering studies undertaken to date, the cost of delivering the necessary future-proofing works is estimated at £5m," said the council. "In this case a capped contribution of £1.5m, as agreed with Transport for London and the Greater London Authority, has been secured from the applicant to mitigate the impact that this scheme would have on TfL's ability to deliver the essential capacity upgrades required."
Waltham Forest also assessed the impact of the development on air quality. It predicted that after the construction work was completed the development would have "negligible impact" on NO2, PM10 and PM2.5 levels.
However, it conceded the new play area in the re-designed town square would be located near to "air pollution emissions sources" such as the bus station. However, the impact of this would be mitigated by the roll-out of greener buses, said the council.
The application states the site would be car-free except for 33 disabled resident bays, 20% of which would be provided with electric vehicle charging points.
Local people have raised concerns over the removal of a third of the town square, the loss of daylight and the creation of "wind tunnels" caused by the towers and the removal of mature trees. It also objected to the developer's commitment to make just 20% of the new homes "affordable".
The council recognised that this was well below the 50% minimum guideline set out by the Mayor Sadiq Khan's London Plan. But it added that building above an operational shopping centre and the Victoria Line tunnels would "incur much higher than normal development and construction costs".
During last week's planning meeting, the council said it had received 948 letters opposing the development and 79 supporting it.
Capital & Regional estimates that the extended shopping centre would create up to 350 new retail jobs.
The application will now go to Greater London Authority for final approval and will also depend on the successful completion of a Section 106 agreement.
Capital & Regional is currently in discussions with the developer Mount Anvil over the building of the tower blocks.
http://democracy.walthamforest.gov.uk/documents/s59363/The%20Mall%20-%20Final%20Report.pdf