Industrial Strategy gives central role innovative mobility solutions
Investment in connected, automated and electric vehicles will be complemented by more flexible legislative frameworks, says UK government
30 November 2017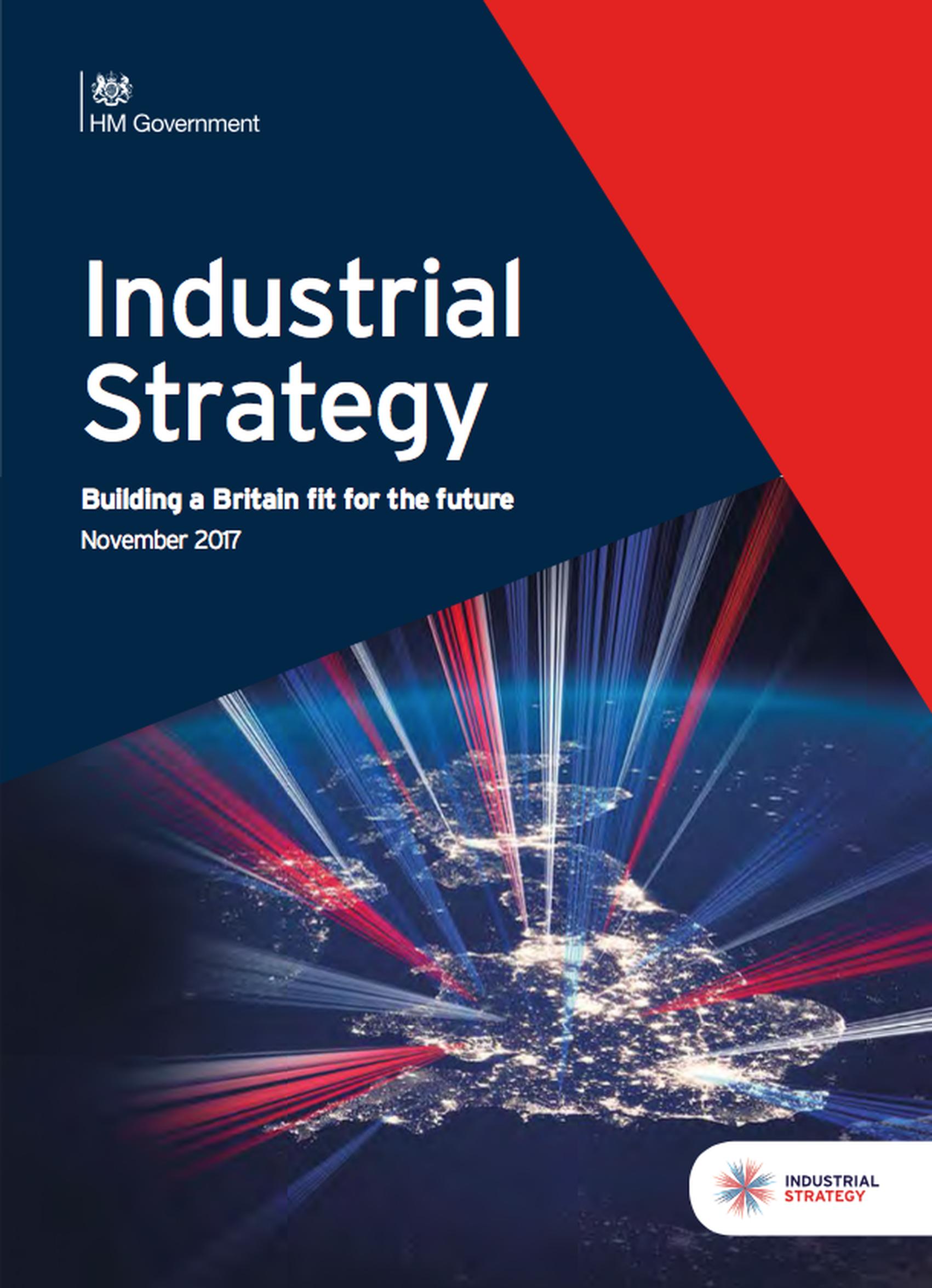 The government hopes that its Industrial Strategy will place the UK at the forefront of development of autonomous vehicles (AVs), artificial intelligence (AI) and innovative approaches to shared mobility services.
The draft Industrial Strategy, titled "Building a Britain Fit for the Future", outlines how the government intends to boost businesses and worker productivity through investment in the skills, industries and infrastructure of the future.
The White Paper confirms government will be pressing ahead with a series of "Sector Deals", with construction, life sciences, automotive and AI the first to benefit from these new strategic and long-term partnerships with government, backed by private sector co-investment.
The government says it wants the UK to become the world's most innovative nation by 2030. It has committed to investing £725m over the next three years via the Industrial Strategy Challenge Fund (ISCF). The government also wants to raise total R&D investment to 2.4% of GDP by 2027, which will be partly encouraged by increasing the rate of R&D tax credit to 12%.
The strategy was launched by business secretary Greg Clark in the wake of the Autumn Budget, which also stressed the importance of investing in AVs. Clark pointed out the government has previously committed £1bn to the first wave of Industrial Strategy Challenge Fund projects, including investing £246m in next generation battery technology and £86m in robotics hubs across the UK.
The government aims to see fully self-driving vehicles on Britain's roads by 2021. The strategy also outlines the establishment of a flexible regulatory framework for transportation that would boost ride-sharing, autonomous vehicles that would lead to a "blurring of the distinctions between private and public transport". The government predicts that the UK will become "a world leader in the way people, goods and services move".
The strategy states that the government will explore ways to use data to accelerate development of new mobility services and enable the more effective operation of our transport system. "We will continue to invest in R&D and testbed infrastructure for connected and autonomous vehicles," the document promises. "We will explore how simulated digital environments can support and accelerate development of self-driving technology through an R&D competition to be launched by the Centre for Connected and Autonomous Vehicles, the first R&D competition of its kind in Europe."
The future of mobility
Ministers will prepare a "Future of Urban Mobility" strategy within 12 months to position UK businesses in the marketplace as part of the new Industrial Strategy. The Industrial Strategy White Paper notes: "We are on the cusp of a profound change in how we move people, goods and services around our towns, cities and countryside. This is driven by extraordinary innovation in engineering, technology and business models. Significant investments are being made in the electrification and automation of road vehicles, in the modernisation of rail services to deliver higher capacity, speed and connectivity, and in the development of autonomous aerial and marine transport.
"New market entrants and new business models, such as ride-hailing services, ride sharing and 'mobility as a service', are challenging our assumptions about how we travel. These technologies can transform public transport. The UK's road and rail network could dramatically reduce carbon emissions and other pollutants, congestion could be reduced through higher-density use of road space enabled by automated vehicles, and mobility could be available when we want it, where we want it and how we want it."
Ministers have vowed to establish a flexible regulatory framework as part of plans to leave the European Union to encourage new modes of transport and new business models that allow new technologies and new business models to emerge, including the pledge outlined at the time of the Budget to bring about self-driving cars to UK roads by 2021.
The strategy states: "We?will therefore make world-leading changes to the regulatory framework, including updating our code of practice for testing automated vehicles to allow developers to apply to test their vehicles nationwide without a human safety operator and carrying out a project with the Law Commission to set out proposals for a long-term regulatory framework for self-driving vehicles."
The government says it will prepare for a future of new mobility services, increased autonomy, journey-sharing and a blurring of the distinctions between private and public transport. "The future mobility marketplace is likely to operate differently to?the transport system of today," the strategy document states. "We will consult with industry and others on the government's role to support this, and publish a Future of Urban Mobility strategy within the next 12 months.
The National Infrastructure Commission (NIC) will also launch an innovation prize to determine how future road-building should adapt to supporting self- driving cars, with the West Midlands, a UK centre of expertise on connected and autonomous vehicles, being a key testing location for the best entries. "We will also be investing £5m from the 5G Testbeds and Trials programme for an initial trial, starting in 2018, of 5G applications and deployment on roads, including helping to test how we can maximise future productivity benefits from self-driving cars," says the government.
Investing in AI and data
Investment in artificial intelligence and machine learning also looms large in the strategy, which cites predictions that AI could create 80,000 new jobs annually across the UK and add £232bn to the UK economy by 2030.
The strategy states: "The world is undergoing a technological revolution. Artificial intelligence (AI)?will transform the way we live and?work, from the way we diagnose and treat cancer to the security of online transactions. This fourth industrial revolution is of a scale, speed and complexity that is unprecedented. The first industrial revolution mechanised production using water and steam power; the second created mass production using electric power; the third automated production using electronics and information technology. This fourth revolution is characterised by a fusion of technologies that is blurring the lines between the physical, digital and biological worlds. It will disrupt nearly every sector in every country, creating new opportunities and challenges for people, places and businesses to which we must respond."
Investing in infrastructure
There will be support electric vehicles through £400m charging infrastructure investment and an extra £100m to extend the plug-in car grant. "We will seize the opportunities and address the challenges of moving from hydrocarbon to zero emission vehicles," says the strategy. "For zero emission vehicles to become universal the right framework is needed. Building on the work of the Faraday Battery Institute and the Office for Low Emission Vehicles (OLEV) programme, we have announced a package to support the transition to zero emission vehicles.
"This includes a new £400m Charging Infrastructure Investment Fund (£200m from the government to be matched by private investors); £100m new funding for the plug-in car grant; £40m R&D funding (matched by industry) for new charging technologies including on-street and wireless projects; and a commitment that the government will lead the way, making 25% of all cars in the central government department fleet ultra-low emission by 2022.
The strategy also promises to increase the National Productivity Investment Fund to £31bn to supporting investments in transport, housing and digital infrastructure.
The plan also promises creation of a new transforming cities fund will provide £1.7bn for intra-city transport.
Digital innovation
The UK's digital infrastructure will receive over £1bn of public investment, including £176m for 5G and £200m for local areas to encourage roll out of full-fibre networks.
The strategy seeks to establish digital innovation hubs to support the use of health and social care data in boosting the UK's position in areas such as life sciences, while working within strict parameters set by the National Data Guardian.
An Office for AI is also planned to help boost the technology's adoption. It will to work initially in the cybersecurity, life sciences, construction, manufacturing, energy and agriculture sectors. It is to work with the recently announced GovTech Catalyst for public sector adoption and with partners such as the Digital Catapult's "Machine Learning Garage", set to launch in January.
The government is also to invest £9m in the Centre for Data Ethics and Innovation, which was announced in the Budget. The centre will review the data governance landscape and advise on its future direction. Its remit will include working with industry to establish data trusts to facilitate the secure sharing of data, something mooted in a government-commissioned AI industry review published in October.
The 'Grand Challenges'
In the strategy, the government has identified four "Grand Challenges"; global trends it believes will shape the future:
Artificial intelligence – we will put the UK at the forefront of the artificial intelligence and data revolution

Clean growth – we will maximise the advantages for UK industry from the global shift to clean growth

Ageing society – we will harness the power of innovation to help meet the needs of an ageing society

Future of mobility – we will become a world leader in the way people, goods and services move.
Business secretary Greg Clark said: "The way we earn and live our lives as workers, citizens and consumers is being transformed by new technologies. The UK is well-placed to benefit from this new industrial revolution and we start from a position of significant strength. We have a thriving research and science base and are home to a wide range of innovative sectors, from advanced manufacturing and life sciences, to fintech and creative industries.
"The Industrial Strategy is an unashamedly ambitious vision for the future of our country, laying out how we tackle our productivity challenge, earn our way in the future, and improve living standards across the country. The White Paper follows extensive engagement by government with industry, academia and business bodies who submitted almost 2,000 responses to the Green Paper consultation earlier in 2017"
The 'Five Foundations'
The Industrial Strategy focuses on what the government identifies as "five foundations" areas essential to the country's economic success – ideas, people, infrastructure, business environment and places.
Under "ideas" the government proposes raising the total research and development investment to 2.4% of GDP by 2027.

Investment in "people" includes the establishment of a new technical education system.

"Infrastructure" investments include more than £1bn of public funds for digital infrastructure, such as £176m for 5G development and £200m to back the rollout of full-fibre data networks in local areas.

"Business environment" plans include partnerships between the public and private sector aiming to boost sector productivity

"Places" will to see the establishment of a Transforming Cities fund to help develop intra-city transport.
To ensure that the government is held to account on its progress in meeting the ambitions set out in the strategy, an Independent Industrial Strategy Council will be launched in 2018 to make recommendations to government on how it measures success.
Prime Minister Theresa May said: "Our modern Industrial Strategy will shape a stronger and fairer economy for decades to come. It will help create the conditions where successful businesses can emerge and grow, and support these businesses in seizing the big opportunities of our time, such as artificial intelligence and big data, whilst also making sure our young people have the skills to take on the high-paid, high-skilled jobs this creates.
"As we leave the European Union and forge a new path for ourselves, we need to focus on building a better future for our country and all the people who live in it. With the Budget last week, and our Industrial Strategy in the years ahead, we will build a Britain fit for the future."
Reaction to the Industrial Strategy
Juergen Maier, CEO Siemens UK: "By working in strong partnership with national and local government, we have created a very positive example of Industrial Strategy in action for the off-shore wind industry in the Humber which is creating a new and vibrant local economy. Through today's Industrial Strategy announcement we are optimistic that through greater investment in R&D, and especially through the application of advanced industrial digital technologies like AI and robotics, we can support many more new and existing manufacturing industries - raising productivity and creating thousands of new highly skilled and well paid jobs.
Lord Adonis, chairman of the National Infrastructure Commission: "A key part of securing long-term economic growth and increased productivity will be to invest in our infrastructure network – so I welcome that today's Industrial Strategy has this at its heart. It is significant that the strategy has a clear focus on developing new low-carbon technologies, but also that the first sector deals are in construction as we deliver major projects like HS2, and artificial intelligence technology which could transform how we operate and maintain our infrastructure. These will be key considerations as we work to deliver the country's first-ever National Infrastructure Assessment to tackle the 3 Cs of congestion, capacity and carbon for the country's long-term economic benefit."
Mike Cherry, national chairman of Federation of Small Businesses: "The UK's 5.5m small businesses have a huge role to play, if we are to increase productivity across the economy, and in every sector. This is the only way to achieve sustained wage growth and higher living standards. We particularly welcome the focus on improving technical skills, new physical and digital infrastructure and increased research and development. Local industrial strategies and local investment such as the new Strength in Places Fund are also very welcome steps.
Stephen Martin, director general of the Institute of Directors: "The Industrial Strategy identifies the key challenges that the UK economy will need to overcome if businesses are to remain competitive in an increasingly global race. It also takes some important steps in starting the flow of public investment to overcome these hurdles. We hope it will become the cornerstone of a long-term vision of post-Brexit Britain, one that promotes innovation and the free flow of ideas."
Cllr Martin Tett, Local Government Association environment, housing and transport spokesman: "Council leaders are committed to working with business leaders to boost productivity and growth, but if we are to play a full part, we quickly need to develop a national regional aid scheme to replace all existing EU regeneration funding and a devolved approach to skills and infrastructure that ensures that every local economy and individual has the potential to prosper. In particular, it is critical that all new skills initiatives – including the advisory panels and national retraining programme – join up across places, balancing national priorities with the varying needs of our local communities and businesses. Councils' efforts are essential in bringing this together. There needs to be greater recognition of councils' wide role in boosting productivity that ranges from civic leadership and plan-making to local infrastructure and public health."