'Green Block' concept could turn city streets into urban parks
Landscape architects WATG reimagine Fleet Street as a green space
23 October 2017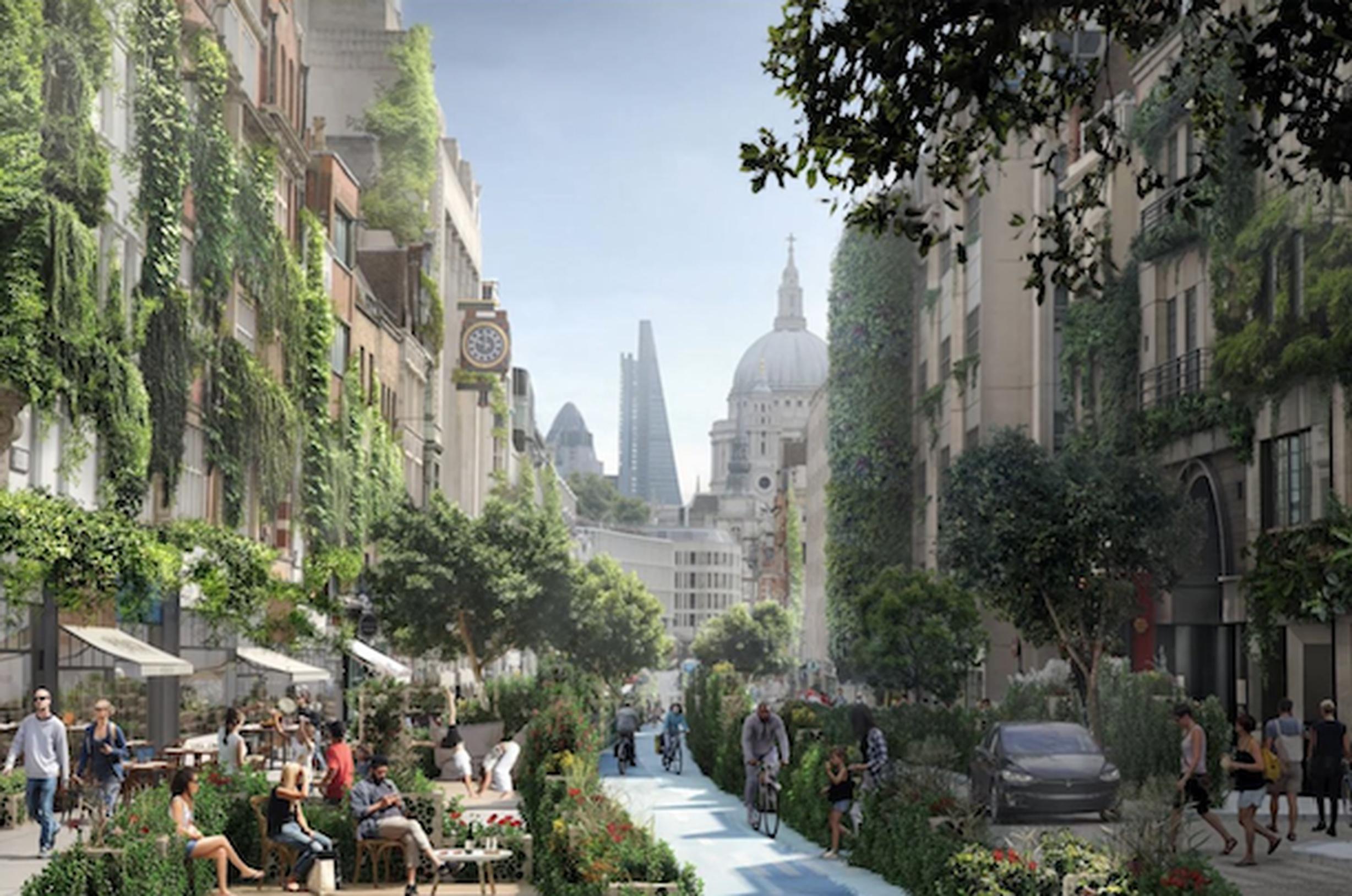 Urban streets could be converted into pedestrian and cyclist friendly green spaces by replacing roads for traffic with planting and adding greenery to building façades, a landscape architectural practice has suggested.
WATG has unveiled its 'Green Block' concept with a visualisation of how Fleet Street in central London could look if transformed into a traffic-free, planted environment. The design is a response to a public challenge by Mayor of London Sadiq Khan to designate London a National Park City.
The London-based WATG team, led by Demet Karaoglu, challenged itself to an internal innovation competition to explore how the firm can contribute to transform urban spaces for a greener future. WATG worked in collaboration with Daniel Raven-Ellison, a 'guerrilla geographer', who is leading the campaign to make London the world's first National Park City.
The 'Green Block' is envisaged as a maintenance-free, 100% recyclable, modular, living building material permeated with native wildflower seeds and containing its own irrigation reservoir. The planting in the London concept is specific to the UK climate, but WATG says the idea is adaptable for global use.
WATG suggests the 'Green Block' can be used in creative ways to enhance the natural biodiversity of London by:
Reclaiming expanses of tarmac and space made available by redundant roads and car parks, following the rise of autonomous and shared vehicle and bicycle schemes in the capital
Adding greenery to existing cafes and shopfronts whilst cleaning and filtering the city air and creating a more aesthetically-desirable city-scape
Cladding buildings and hoarding construction sites
Delineating and augmenting cycling routes
Connecting the city's existing parks
WATG says the Green Block is currently in prototype and testing is expected to be completed in early 2018.
"Allowing residents and property owners in the capital to create their own urban allotments, replacing concrete front gardens and providing ecological corridors for the city's native wildlife such as invertebrates, small mammals and raptors," said John Goldwyn, vice president of planning and landscape for WATG.
"Our inspiration was to think about London in the future when there are less cars on the road and fewer car lanes. This idea claws back space from the roads and returns it to the people of London. As landscape architects, we've been incredibly inspired by Mayor Khan's commitment to the environment in the capital. I've been extremely inspired by the innovative thinking and support from London-based companies such as WATG. To make a greener future a reality for all Londoners, we need to work together and leverage our collective creativity and resources."
Mayor Khan has given his support for London to become a National Park City and plans are in motion for the NPC to be declared in 2018 and launched in 2019.