'Smart benches' will be refuelling points for smartphones, says Ford
Connected street furniture could monitor noise, carbon dioxide, humidity and temperature
23 October 2017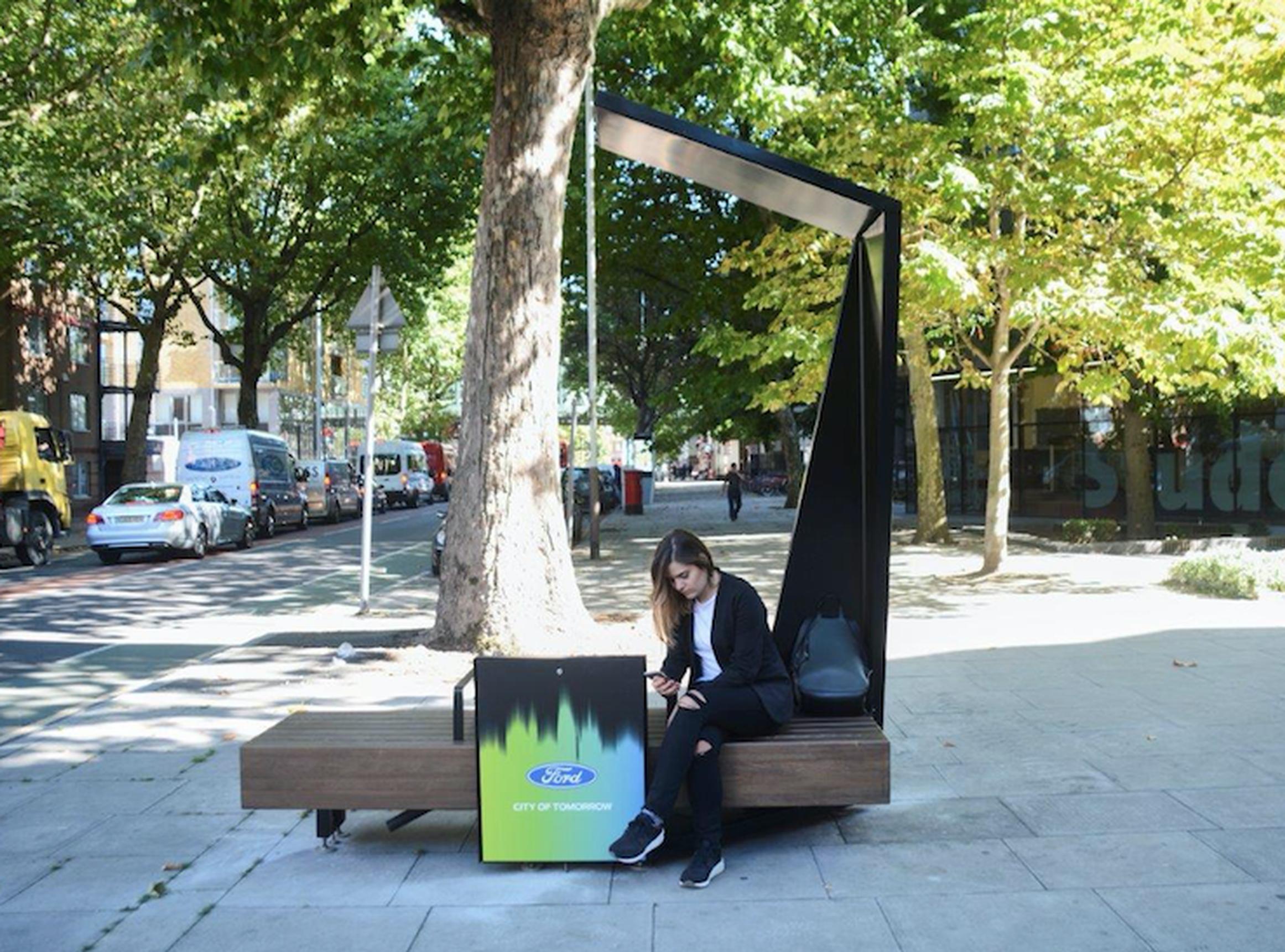 The way in which smartphones enable users to connect to information and services while on the move has made them an integral part of the way people engage with urban life. However, once a smartphone runs out of power that connectivity is lost.
One solution to the problem of low power is to enable people to power up their phones for free in public spaces. This is the thinking behind 'smart benches' created by Strawberry Energy, a smart cities start-up which is now working with the Ford Motor Company.
Strawberry Energy and Ford have announced plans roll out 'smart benches' that will offer pedestrians in London free solar-powered mobile charging and Wi-Fi access while they sit and rest across the city.
As well as enabling people to use their device to plan onward journeys, the connected street furniture could be used to monitor noise, carbon dioxide, humidity and temperature. The information will be available free-of-charge to both bench users and participating London boroughs, and could help inform future decisions.
The collaboration will initially provide 20 Ford Smart Benches, doubling the number of benches installed by Strawberry Energy in London earlier this year. The benches will be installed in Islington, Lewisham and Southwark.
"Ford believes the city of tomorrow should make people feel happy, safe and connected, so we're looking at how streets could be designed to serve a full range of activities: walking, biking, driving, connecting with others, and of course, business and services that support our economies," said Sarah-Jayne Williams, director, Ford Smart Mobility, Europe.
"Walking, along with driving and riding public transport, is part of how people get around in a city like London and Ford Smart Benches complement perfectly the increasingly connected lives we now lead. Access to Wi-Fi and charging, both wirelessly and via ports, will be free, not just for smartphones but also for tablets, cameras and wearables."
People using the urban pit stops will also be able make a donation to UK charities St Mungo's, Rethink Mental Illness and Macmillan Cancer Support. Ford Motor Company Fund, the company's philanthropic arm, will match donations received from bench users, up to £10,000 for each charity.
"Whether for fitness, convenience, or simply the pleasure of being outdoors, many people enjoy walking, but dread being unable to access maps, social media, and news sites while on the move," said Miloš Milisavljevic, founder and chief executive, of Strawberry Energy. "Ford Smart Benches in Islington, Lewisham and Southwark will increasingly help ensure that walking will continue to be a key part of how Londoners enjoy their city."