London Mayor unveils plans for two new Cycle Superhighways
05 October 2017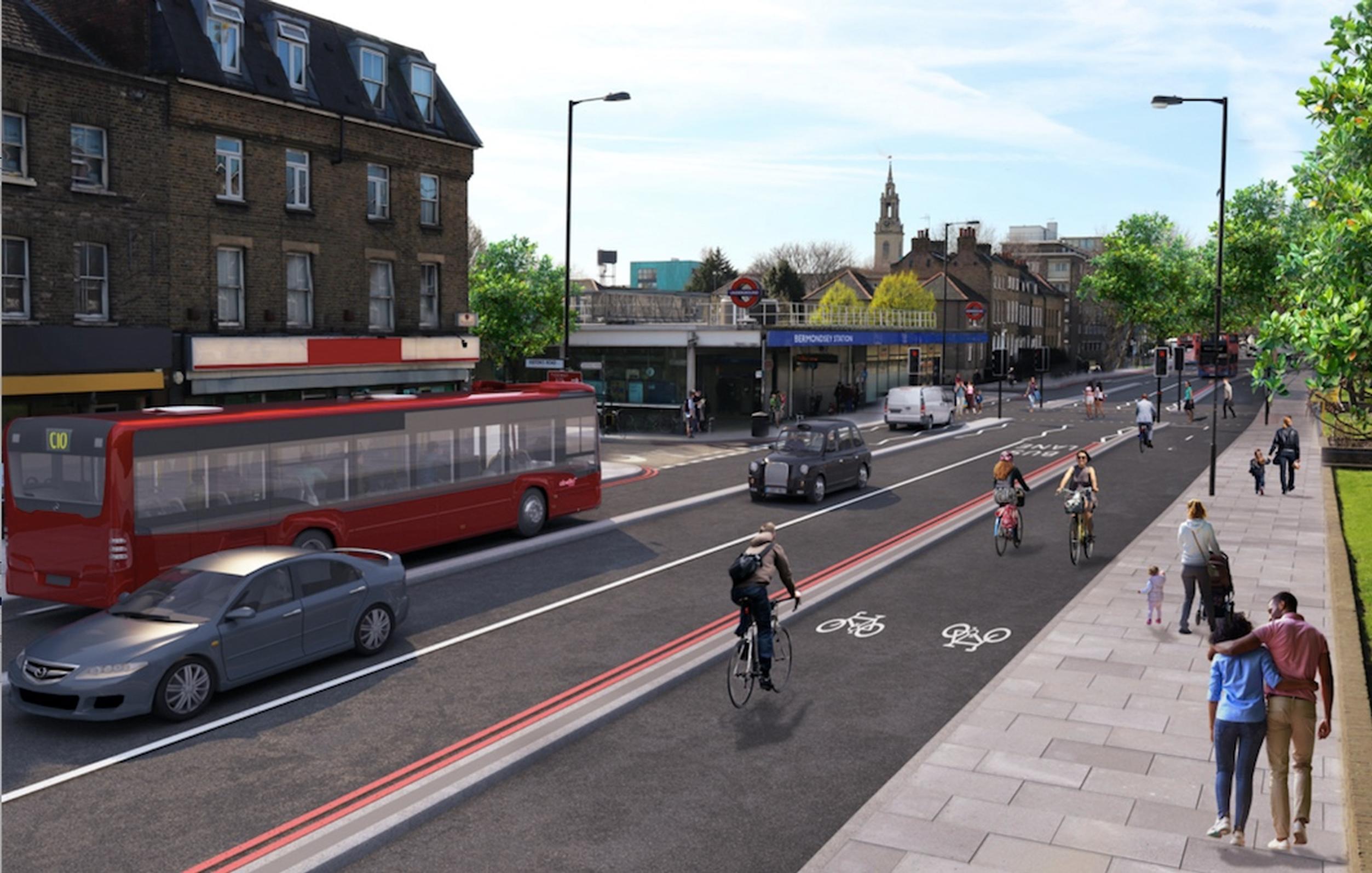 Detailed plans for two segregated Cycle Superhighways stretching out to the west and south-east of the capital have been unveiled by London Mayor Sadiq Khan. The 6km CS9 would link Kensington Olympia to Brentford while the 4km CS4 would run from Tower Bridge to Greenwich.
Transport for London (TfL) estimate that CS9 would cost around £70m, which would include extending the route to Hounslow, while CS4 would cost up to £55m and, subject to the results of consultations, construction on the routes would start next year.
The CS4 consultation was announced at Healthy Streets last week by London's walking & cycling commissioner Will Norman. Cycling levels on the A200 linking south-east London to the City are already high; nearly 3,500 trips are made daily by bike, Transport for London estimates. But safety is a major concern on the route, with 93 collisions involving cyclists along the route in three years.
The new route would include a two-way segregated cycle track on Tooley Street, Jamaica Road, Evelyn Street and Creek Road. There would be five new traffic light pedestrian crossings and upgrades to over 20 existing crossings. Other changes include re-designing Rotherhithe roundabout to improve safety and installing a new eastbound bus gate on the Jamaica Road approach to Rotherhithe roundabout.
New traffic restrictions including banned turns on some side roads would be installed along Jamaica Road and at Deptford High Street while bus stop layouts and locations would be changed, including new bus stop bypasses for cyclists.
The announcement of CS4 came a week after the Mayor unveiled a consultation on CS9. The route, linking Kensington Olympia and Brentford, would feature a two-way segregated cycle track on Hammersmith Road, King Street and Chiswick High Road. There would be five new signal-controlled pedestrian crossings and more than 20 upgraded pedestrian crossings. The scheme would also aim to reduce through-traffic and rat-running in residential roads by restricting access to the South Circular from Wellesley Road and Stile Hall Gardens for motor vehicles.
Other changes include Stepped cycle tracks, at a lower height than the footway, in each direction on Brentford High Street and an eastbound stepped track on Kew Bridge Road.
Again, bus stop locations and locations would change, including new bus stop bypasses for cyclists and there would be changes to parking and loading bays and hours of operation.
Will Norman, London's Walking and Cycling Commissioner, said: "I'm so pleased that we can share our plans for Cycle Superhighway 4 just one week after announcing Cycle Superhighway 9. These new routes are a key part of our work to make cycling more accessible across London and will add more than 10km of segregated lanes to the capital's roads.
"South-east London is an area of huge cycling potential so I know that CS4 will make a real difference to so many cyclists and budding riders by providing a safe segregated route that links straight into our growing cycling network."
Simon Munk, Infrastructure Campaigner, London Cycling Campaign (LCC), said: "CS4 will dramatically improve dangerous junctions in south-east London, including the Rotherhithe roundabout. It will make them far safer for the thousands who already cycle through them daily. And CS4, like CS9, won't just calm collision hotspots for those who already cycle – it will unlock the potential for far more people to cycle, for far more journeys.
"CS4 and CS9 take a big step towards fulfilling the Mayor's commitment to our members to triple the protected space for cycling on main roads, which is key to lots more everyday journeys happening by bike."
Sustrans' Acting London Director, Matt Winfield, said: "Cycle Superhighway 4 will be an important way to unlock cycling for more Londoners, helping to clean our air, keep people moving and improve our health.
"Segregated routes like these are an essential part of the mix to help more of us get on our bikes and will increase the record numbers that already are cycling. And the improvements between Tower Hill and Greenwich, particularly at the Rotherhithe Roundabout, are a real step forward to keep Londoners safer on our streets.
"Busy main roads and junctions prevent people from cycling or walking. This proposal will make London's streets healthier and safer."