Cycling UK calls for greater public awareness of 'car-dooring'
11 September 2017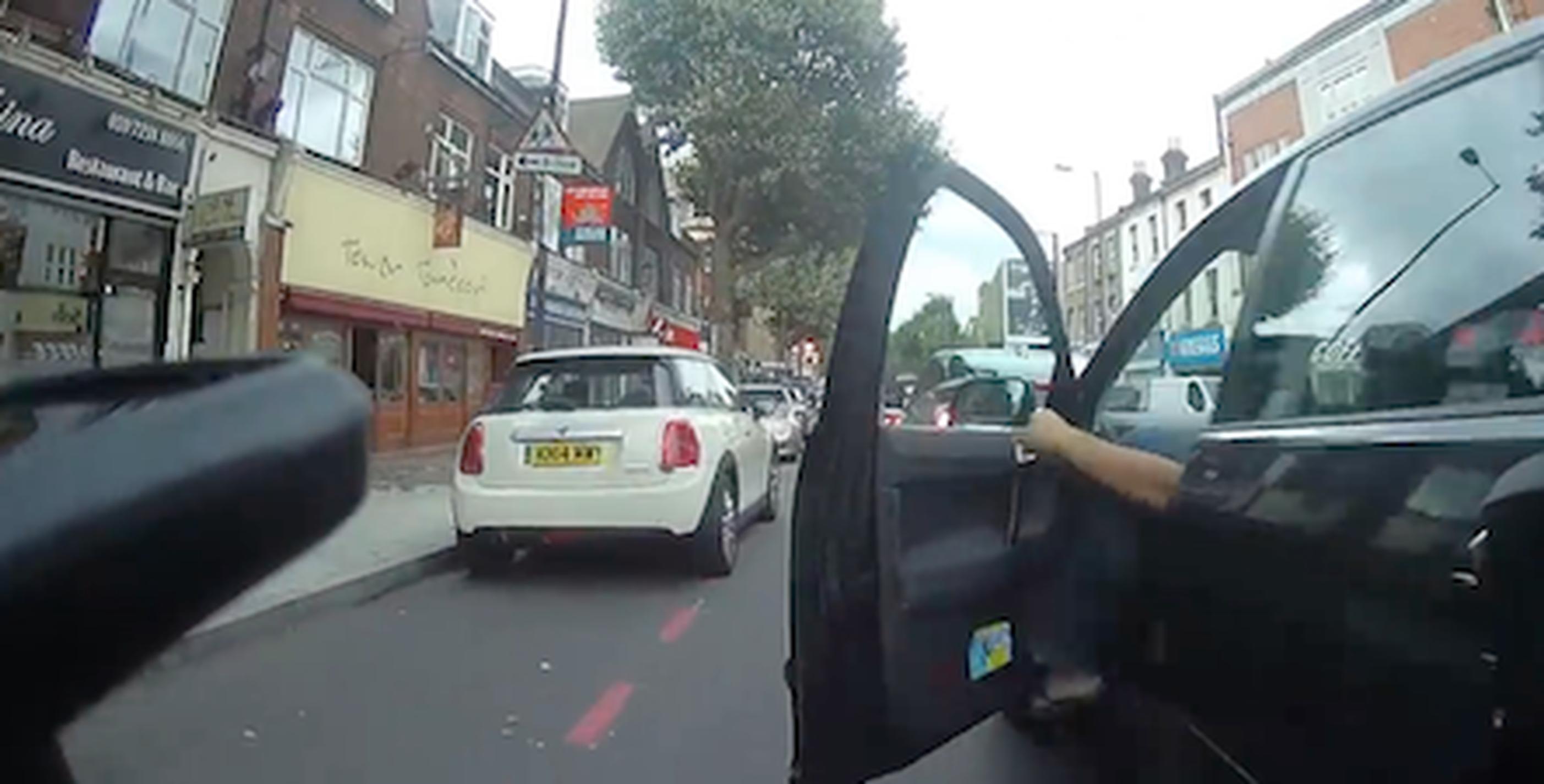 A cycling charity has called for wider awareness to be made about the dangers of 'car-dooring' and how to prevent it through a public awareness campaign. Car dooring incidents involve drivers or their passengers opening car doors without checking for the presence of cyclists.
Cycling UK is also advocating that people open car doors with their far hand, rather than the near as a way of preventing avoidable collisions. This method is sometimes called 'the Dutch Reach' as it is common practice in the Netherlands. The manoeuvre allows the person opening their car door to look behind while also limiting how far their door can open.
Figures released by the Department for Transport (DfT) to Cycling UK show that between 2011 and 2015 there were 3,108 people were injured, eight fatally, where "vehicle door opened or closed negligently" was a contributing factor in incidents attended by the police. Some 2,009 of the casualties were people cycling, with five resulting in fatalities. The breakdown was released following a FOI from Cycling UK to the Department for Transport requesting a breakdown of the Contributory factors for reported road accidents (RAS50).
However, Cycling UK believes that the DfT's figures are not fully representative of the scale of the problem, as the police will attend not all car-dooring incidents. In a letter sent to transport minister Jesse Norman MP, Cycling UK chief executive Paul Tuohy has called for a public awareness THINK! campaign aimed at all car occupants, not just drivers, to look before opening their door.
The cycling charity has suggested a public awareness campaign could include advice on safer road positioning for people cycling, so as to create understanding among all road users about the importance of avoiding the 'door zone'. The charity would also like to see methods like the 'Dutch Reach' promoted through driver training, and changes to the law that would include an offence of 'death or serious injury through negligently opening a car door'.
Car-dooring is a criminal offence under Regulation 105 of the Road Vehicles (Construction and Use) Regulations 1986. The offence currently carries a maximum £1,000 penalty, even if someone dies or is seriously injured as a result of the incident, and no penalty points can be imposed on the offender's licence.
Paul Tuohy, Cycling UK's chief executive said: "Some people seem to see car-dooring as a bit of a joke, but it's not and can have serious consequences. Cycling UK wants to see greater awareness made about the dangers of opening your car door negligently, and people to be encouraged to look before they open."
Promoting the Dutch Reach approach has been supported by Cambridgeshire Police and Crime Commissioner Jason Ablewhite, who said: "This simple step seems like a good way of checking that a cyclist is not approaching and reducing the risk of 'dooring', particularly in a congested city."
AA president Edmund King told BBC News he supported any campaign to improve safety between cars and bikes. "It's a good idea to get cyclists better educated too," he said. "It's much safer cycling some way into the road because if you cycle next to the kerb you've got car doors to worry about and you're much more likely to have to swerve to avoid a pothole or a dropped manhole cover."
King said driving instructors for BSM and the AA already typically taught the opposite hand door-opening method. He added the AA was still handing out wing mirror "Think Bike" stickers to jog drivers' attention.
A spokesman for the DfT told BBC News: "From 2012-2015, THINK! worked in partnership with Transport for London to extend their cycle safety 'tips' to cyclists and motorists in other cities. This included the advice to 'Always check for cyclists when you open your car door'. In 2016, THINK! launched a new cycle safety campaign targeting commuter cyclists and HGV drivers."
Anatomy of a car-dooring incident
Footage of a 'car dooring' incident was supplied to Cycling UK by Olukayode Ibrahim. On 4 September 2016 Ibrahim was cycling up Tower Bridge Road, London.
Ibraham was heading to work in Leicester Square on a Sunday afternoon. The cars on the road ahead stopped for a traffic light and he rode up beside them. "All of a sudden the passenger door of a VW Golf opened directly in front of me," said Ibrahim. "There was nothing I could do but to brace for the worst as my mind almost blanked. The impact came in seconds and resulted in me slamming into the inside of the car door while at the same time landing almost on top of the passenger who was exiting the car."
Ibrahim, who sustained a sprained wrist, said the owner of the car accepted liability for the incident. He added: "The worst part of the experience was the knowledge of what was about to happen when the car door opened and knowing that there is nothing I could do about it and the fact that I didn't know what would be on the other side."
Car-dooring deaths
Cyclist Robert Hamilton was killed in January 2014, when driver Joanne Jackson opened the driver's door of her car in front of Robert as he was cycling along Linaker Street in Southport. Jackson was prosecuted for a car dooring offence and fined £305.
Cyclist Sam Harding was killed in August 2012, when driver Kenan Aydogdu opened his car door in front of Harding on London's Holloway Road. Given that this was not a 'driving offence', and the maximum penalty for car dooring was £1,000. The Crown Prosecution Service brought a manslaughter prosecution against Aydogu, but he was acquitted despite his windows being coated with dark plastic film, reducing visibility in and out of the car to 17% of their normal level. He was fined £200 for the car-dooring offence.
Cyclist Sam Boulton was killed on 27 July 2016 outside of Leicester Train station, when passenger of a private hire vehicle, Mandy Chapple, opened her door, knocking Boulton off his bicycle and into the path of an oncoming Citroen van. Boulton sustained fatal injuries and died later that day, his 26th birthday. Chapple pleaded guilty to the crime of car dooring on 3 March and received a £150 fine, broken down as £80 for the offence, a £40 victim surcharge and £30 court costs. The driver, Farook Yusuf Bhikhu, had parked illegally on a double yellow line and was convicted of the offence of 'car-dooring' in Loughborough Magistrates Court on 05 June. He was handed a £955 fine, broken down as £300 for the offence, a £30 victim surcharge and £625 court costs. Bhikhu said he did not give permission for the door to be opened and is appealing the fine. The appeal will be heard at Leicester Crown Court on 23 September.
Source: Cycling UK