First two Masters of Modelling Awards presented at record-breaking Modelling World 2017
20 June 2017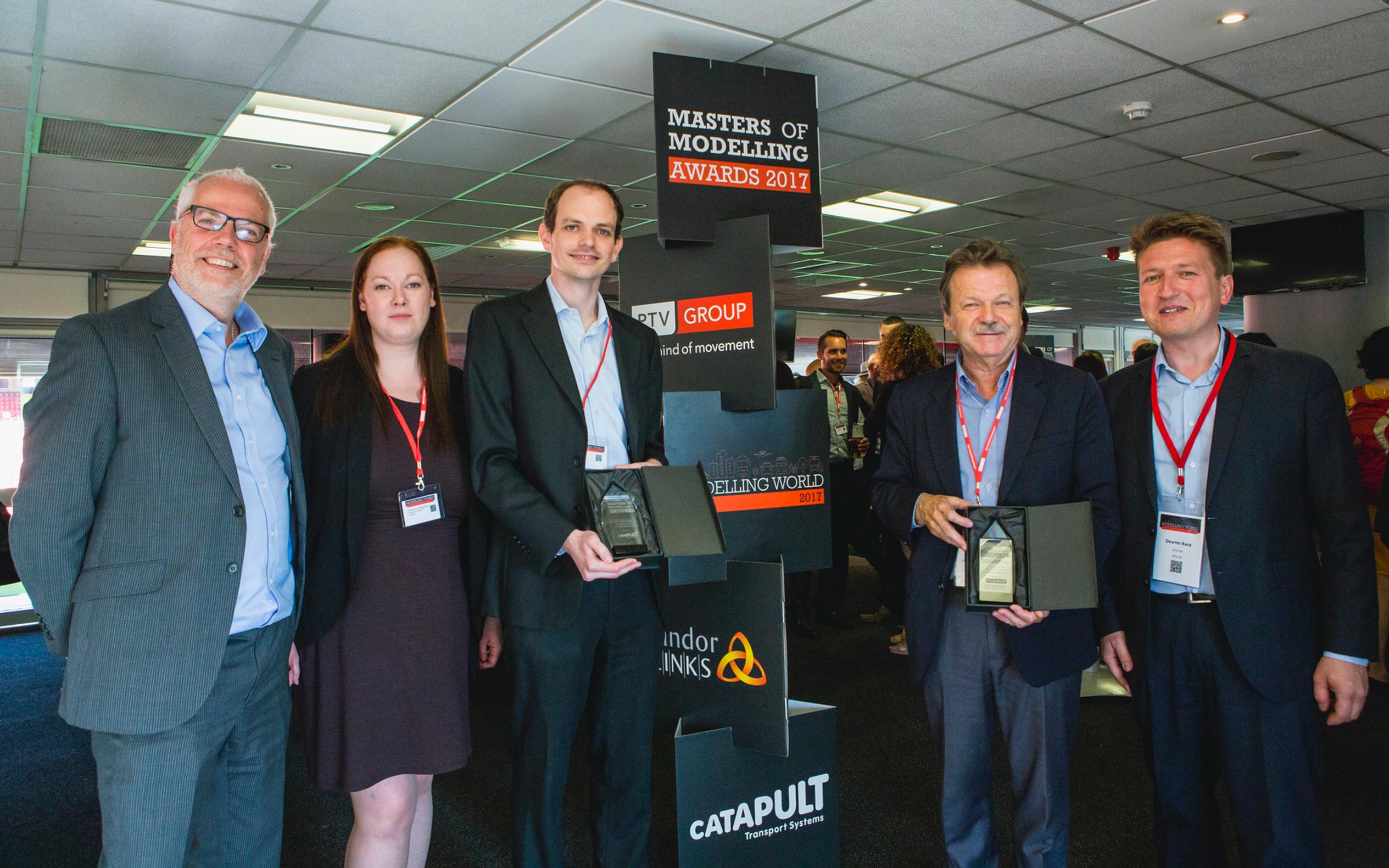 This year's Modelling World, held last week in London – the largest gathering of transport modellers to have taken place in the UK, with a record attendance of 261 – was topped off with the presentation of the first Masters of Modelling Awards during the very well-attended networking session that closed the one-day event. Modeller Luis Willumsen (Director, Willumsen Advisory Services & Kineo Mobility Analytics) was presented with the Lifetime Achievement Award, kindly sponsored by PTV Group, while the The New Master of Modelling Award: Moving Modelling On, sponsored by Transport Systems Catapult, went to young professional Chris Wroe from Telefonica UK.
Says Modelling World Chairman, Tom van Vuren: "Outsiders, even transport planning colleagues, often think that we are geeks, a homogeneous mass of introverts that rarely see the world outside, and that we are a necessary evil rather than a particularly valuable or helpful profession.
"I disagree; of course I disagree. That is why I am pleased that we awarded the Master of Modelling title to two professional peers; and over time we will build up a cadre of masters of modelling who can be trail-blazers for our profession. We need to surround this with positive publicity, build the reputation of modelling and modellers, shine a light on the excellent work that we, and particularly the winners, do."
Rhiannon Hedingham, Principal Technologist, Transport Systems Catapult commented: 'For our award, Chris can nominate a school of his choice to receive a contribution from the Transport Systems Catapult to run a transport-related science event. Given that this award is all about recognising an outstanding Young Professional, and understanding the challenges that our industry faces in meeting increasing demand for skills, TSC hope that this will help to inspire the next generation of transport modellers."
Joking that he has no intention of giving up modelling just yet, Lifetime Achiever Willumsen added: 'Disruptive technologies are just around the corner. Some of them we are certain will materialise, and will cause upset to long-held trends in transport supply and demand. Others are more speculative, and may founder on issues of cost or implementation. Nevertheless, we need to model and forecast their impacts so that we can decide both their value and how best to manage the disruption these new technologies will cause. This will call for new ways of dealing with the many unknowns about impacts of these disrupters, and the behavioural changes they may induce. Uncertainty is at the centre of these forecasts, and reducing this to manageable proportions requires faster models, with fewer errors and biases, and a fresh approach to decision-making support."
Chris Wroe also stated his intention to do his utmost to develop the new models and data analytics services that will be needed in an uncertain modelling future. "We take responsibility for making a positive difference to the world," he noted. "In acknowledgement of receiving of this Award, I will be working hard to keep the modelling profession moving forward."