Bank Junction becomes car-free during peak hours
22 May 2017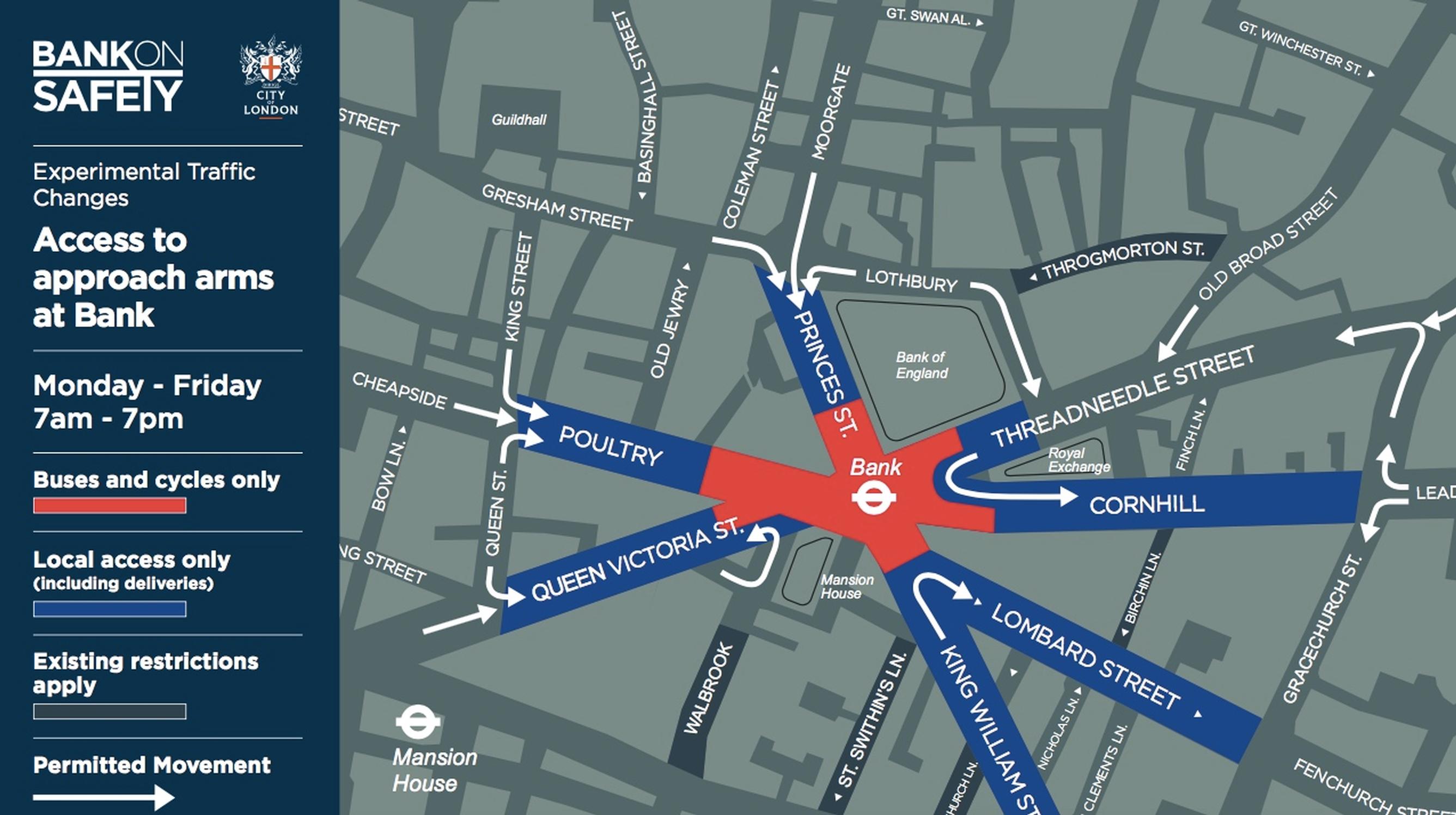 A traffic ban at Bank Junction in the City of London comes into force today. Only buses and cycles will be allowed to use the junction from 7am to 7pm Monday to Friday under the experimental traffic order imposed by the City of London Corporation.
This marks the first phase of plans to totally re-design the junction by 2021, which could result in the removal of all motorised traffic.
The 18-month trial will cut the number of casualties and improve air quality, without impacting on traffic flow on routes around the junction, says the Corporation. It will also improve bus journey times, predicts Iain Simmons, the council's assistant director of city transportation.
Extensive modelling has been carried for the council by consultants Norman Rourke Pryme to assess the impact of the new restrictions. "The average bus journey time through the junction is nearly 11 minutes and this scheme will cut that by nearly a minute," Simmons told LTT.
Modelling also estimates that the number of casualties will be cut by between 50% and 60%.
There were 105 collisions in and around the junction in a five-year period up to 2014, with 64% of the casualties pedestrians or cyclists. Calls for improved safety followed the death of female cyclist Ying Tao, who was hit by a left turning tipper truck at the junction in 2015. "This put pressure on us to make changes more quickly," says Simmons. "It has enabled us to buy safety early. It means that when the scheme works, and we believe it will, there can be more focus on what sort of place Bank Junction should be rather than people getting hung up about what will happen to the traffic."
Variable message signs have been installed along with ANPR cameras on all roads entering the junction. A grace period will run for the first two weeks of the scheme, with warnings being sent out instead of penalty charge notices (PCNs). "But if someone gets caught twice in that period we reserve the right to send them a PCN," says Simmons. The council's civil enforcement officers will be deployed at key locations on streets around the junction to help ensure traffic flow. "CEOs will advise drivers to move on, but if they need to issue a PCN they will. Really, it will be business as usual."
The restrictions and changes to signalling in the area will enable traffic to flow smoothly, believes Simmons. Steps have been taken to reduce the risk of conflict between buses and bikes, he adds. "Transport for London has been working with bus operators and drivers to make sure their driving is considerate. And the London Cycling Campaign has been talking to cyclists using the junction about ensuring they exhibit good behaviour on the basis if they don't they will lose the scheme."
Pedestrians will also benefit from reduced traffic levels at the junction, he says. "The footways aren't wide enough for people waiting to cross – the system is completely dysfunctional for pedestrians. Only one in 10 pedestrians cross in the right place on green man. This is not because they are naughty people, it's because the system does not support them doing anything else. The real winners in the long term will be pedestrians. Whilst it remains a traffic signals junction their gains will be limited. But a different Bank Junction, without traffic signals and maybe without traffic at all, suddenly provides a completely different environment, and that is what we are working towards."
Extensive monitoring of the scheme will take place over the next year, gathering a range of data on traffic and pedestrian movements as well as feedback from individuals, businesses and organisations. More than 2,500 letters about the scheme have been mailed to businesses and residents in the area, Simmons says.
One of the fiercest critics of the scheme has been the Licensed Taxi Drivers Association (LTDA), which wanted black cabs exempted from the traffic ban. Simmons says: "We found that half the taxis going through the junction weren't carrying passengers and very few people were being picked up or set down there. We actually believe these changes will make taxi journeys more efficient as they will be able to circulate more quickly."
Richard Massett, Chairman of the LTDA, says: "Restricting access to Bank Junction for taxis is an ill-conceived response to the issue of safety and will make the area significantly less accessible to thousands of our passengers, particularly those with limited mobility.
"The taxi is already one of the safest modes of transport using the junction. We have been in dialogue with the City and presented a number of alternative proposals that would deliver the required safety improvements without limiting access to taxis, all of which have been ignored.
"The taxi industry is also leading the way in terms of tackling air pollution, with all new taxis being zero emissions capable from 2018. Rolling out blanket bans to taxis, and restricting their custom, may dis-incentivises drivers from making the switch to zero emissions.
"As seen elsewhere in London, such as at Tottenham Court Road, these blanket measures tend to shift the problem of congestion, safety and air pollution from street to street often causing significant disruption for negligible overall impact."
Meanwhile, other organisations such as the London Cycling Campaign, Living Streets and London TravelWatch support the scheme.
Simon Munk, LCC's Infrastructure Campaigner, told LTT: "The trial changes at Bank are hugely welcome and should reduce the unacceptable numbers of pedestrians and cyclists being injured or killed here. But it's also a step in the right direction – with the City aiming to eventually deliver a far better, motor traffic-free setting, fitting for the iconic buildings the junction is ringed by."
Tompion Platt, Head of Policy and Communications, Living Streets, says: "The vast majority of people using Bank Junction are on foot – 18,000 in the morning peak. For everyone walking and cycling there, Bank Junction is an unpleasant and intimidating environment. It's hugely polluted, overcrowded and unsafe - as demonstrated by its shocking casualty record.
"Putting people first will improve Bank Junction for everyone who works, lives and visits the City by making it a safer and healthier place, which the experimental safety scheme will start to demonstrate."