Panel proposes new cycling landscapes for Waterloo & Manchester Piccadilly Gardens
22 March 2017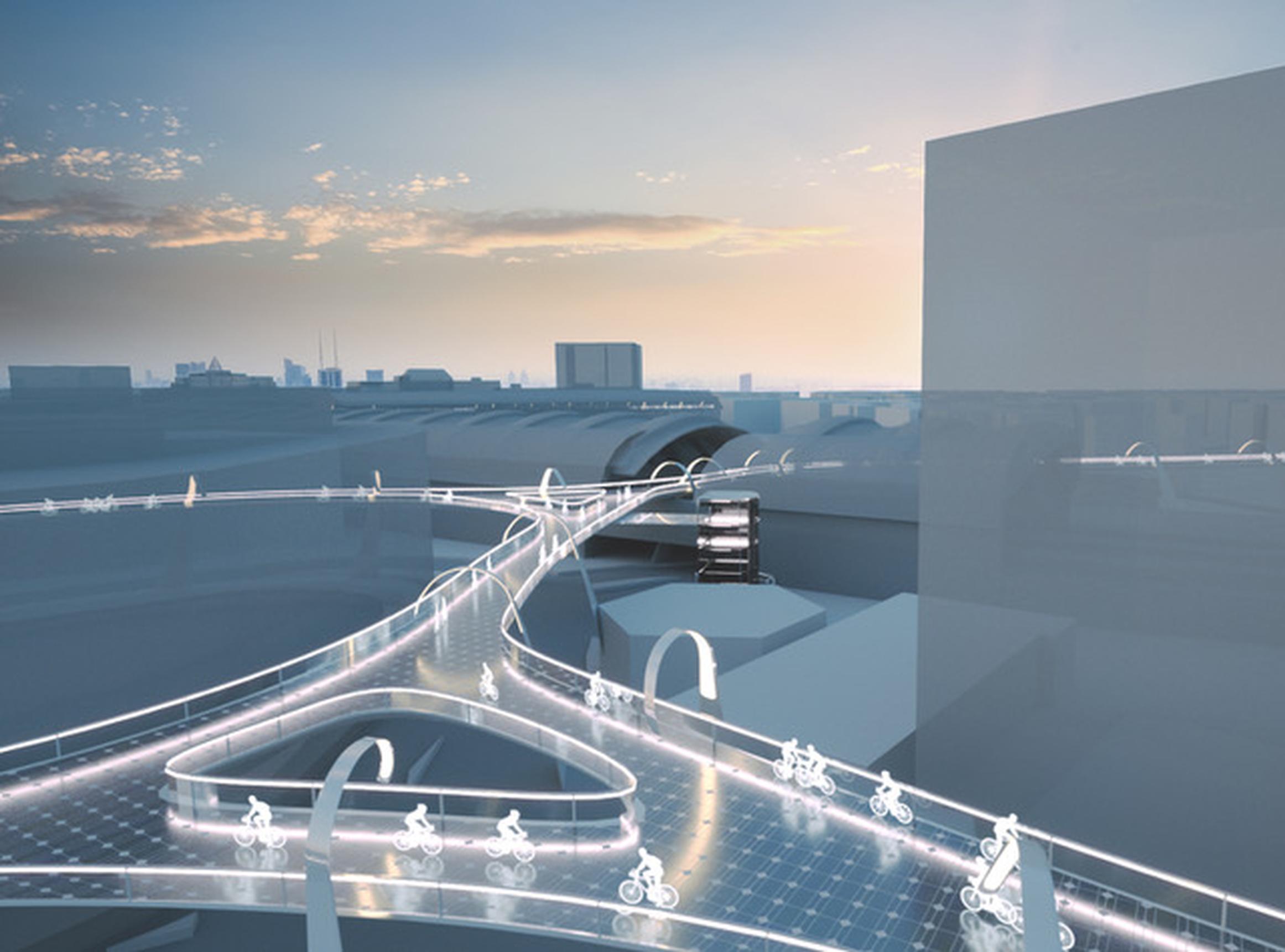 Elevated cycleways and automated underground bike storage feature in concept designs proposed for Waterloo in London and Manchester's Piccadilly Gardens. The designs have been created by cycle manufacturer Ribble Cycles and a panel of transport planning consultants, university lecturers and regional directors.
Based on existing examples from around the world, these future urban landscapes are designed to stimulate the debate surrounding urban cycling and inner city planning.
Ribble Cycles has created concept designs revealing how these two areas could adapt their infrastructure in the near future to improve urban cycling.
To improve both commuter transit speeds and inner city congestion issues, Ribble Cycles and its panel have suggested concepts such as elevated cycle lanes, solar roads, automated underground bike storage and suspended cycling paths.
The introduction of solar roads will help to reduce the UK's carbon footprint, whilst also saving money, says the panel. It cites the example of the SolaRoad in Holland, a 76m/250ft stretch that has the capacity to generate 3,000kWh of electricity in six months.
Ribble Cycles also predicts an elevated superhighway for the capital. This will run across Waterloo Bridge, allowing cyclists easy access across the River Thames to areas such as South Bank, Westminster and Covent Garden.
A further feature of the designs is automated bike storage, aimed at reducing the amount of congestion associated with traditional storage methods in both London and Manchester. This was suggested by transport planning consultant Adrian Lord, who argued that storage systems should have "minimal human involvement", similar to those already in place in Tokyo.
Panellist John Parkin, professor of transport engineering at the University of West England, says: "We need to create an environment that's pleasant and different using 'touch and feel' materials while encouraging public art to create an identity and culture."
The designs would transform the dimly lit walkways running through Piccadilly Gardens into a series of elevated, two-way cycle lanes with illuminated pathways, the panel says. Each path would be made using eco-friendly materials, including solar panels, which power the lights that give this area its iconic, futuristic feel.
Graham Titchener, regional director at York City Council argued that "direct routes" and "segregated cycle lanes" should take centre stage during any future discussions in relation to cycling infrastructure. This observation inspired the introduction of a solar panel super highway to cycling of the future in Piccadilly Gardens, Manchester. Not only will this shorten the length of time it takes cyclists to move from one end of Piccadilly Gardens to the other, it will also help to keep them safe away from tram lines, turning buses and other forms of heavy traffic.
Matthew Lawson, chief marketing officer at Ribble Cycles, says: "In our vision of the future we see cycling in city centres being made safer, easier and ultimately more appealing. These new concepts have taken into account any issues cyclists are currently facing in these popular areas and aim to improve their overall cycling experience on a daily basis.
"Although some of the designs may look far-fetched, the fact that a number of these features already exist throughout the world already helps to paint a more realistic picture of what could be.
"We hope these designs provide a thought-provoking glimpse into the future and will encourage more people to get on their bikes, creating a healthier future for people and the planet."
Cycle infrastructure designs for the future will be discussed at Cycle City Active City.