Segregated cycle lanes for Westminster Bridge
20 March 2017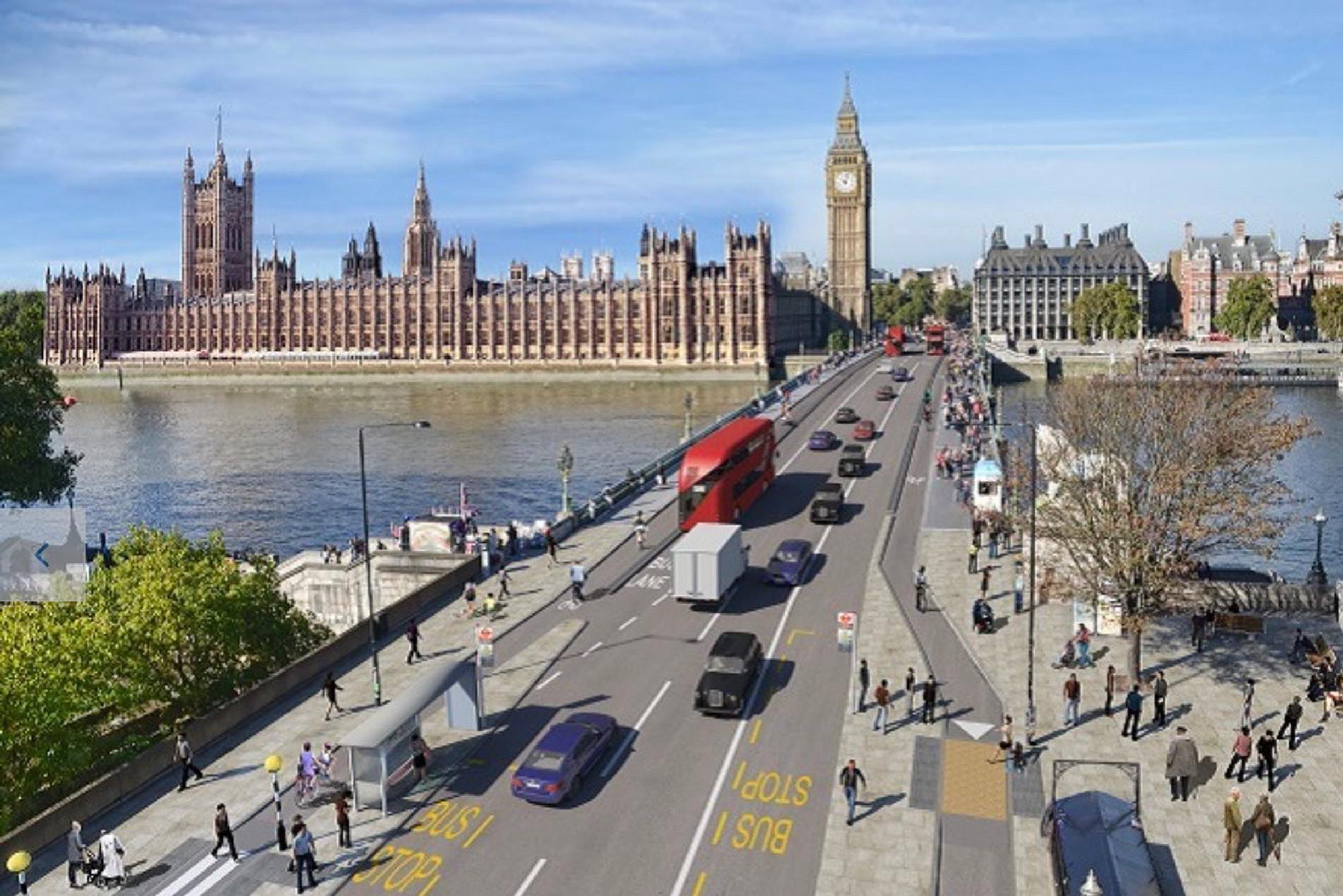 Work to make Westminster Bridge more pedestrian and cyclist-friendly is due to start at the end of March. The 155-year-old structure will become the fourth bridge in central London to have segregated cycle lanes, with the south-side junction re-modeled to make it easier to cross for pedestrians.
The re-worked layout will improve pedestrian access with three upgraded pedestrian crossings and new pedestrian countdown timers, says Transport for London (TfL). The improvements will further advance links into the wider cycling network such as the East-West Cycle Superhighway and the Central London Cycling Grid, and make the area more pleasant with new trees and benches, new footway material and a 20mph speed limit.
Following consultation with Guy's and St Thomas' NHS Foundation Trust, modifications have been made to the design of the bus stop bypasses in front of St Thomas' Hospital. This work means that these bus stop bypasses will now include a zebra crossing to assist pedestrians crossing the cycle track. The width of the pedestrian crossing point at these bus stop bypasses has been almost doubled to six metres, to reflect the special features of their location outside a busy hospital.
The improvement of the Westminster Bridge area will require various road restrictions until its completion in early 2018, so road users are advised to plan ahead and allow more time for journeys or, where possible, use alternative routes.
Will Norman, London's walking and cycling commissioner, said: "It's great news that work is about to start to transform walking and cycling facilities at Westminster Bridge. These improvements are going to make a real difference in the area, ensuring the iconic bridge is safer and more pleasant to use.
"We are determined to make physical activity a bigger part of Londoners' everyday lives for the good of everyone in our city, and this is exactly the type of scheme that will help to encourage this. We've also been looking carefully at the disruption caused by the construction of previous schemes and I can ensure all road users that we will be working hard to ensure that this is kept to an absolute minimum."
As with any road layout changes of this type, TfL will ensure that staff, and where possible police, are present for the first week of operation of the bus stop bypasses to assist members of the public. In addition, announcements will be made on buses approaching the stop to alert passengers they will be alighting at a bus stop bypass. TfL is conducting a wider trial of zebra crossings at bus stop bypasses and any relevant recommendations will be taken into account in the final design of the bus stop bypasses in front of St Thomas' Hospital.
Find out more about TfL's cycle infrastructure plans at Cycle City Active City.