Can 'drive safe' phone technology reduce danger of driver distraction?
DfT ministers and officials to meet mobile phone businesses and car-makers
10 January 2017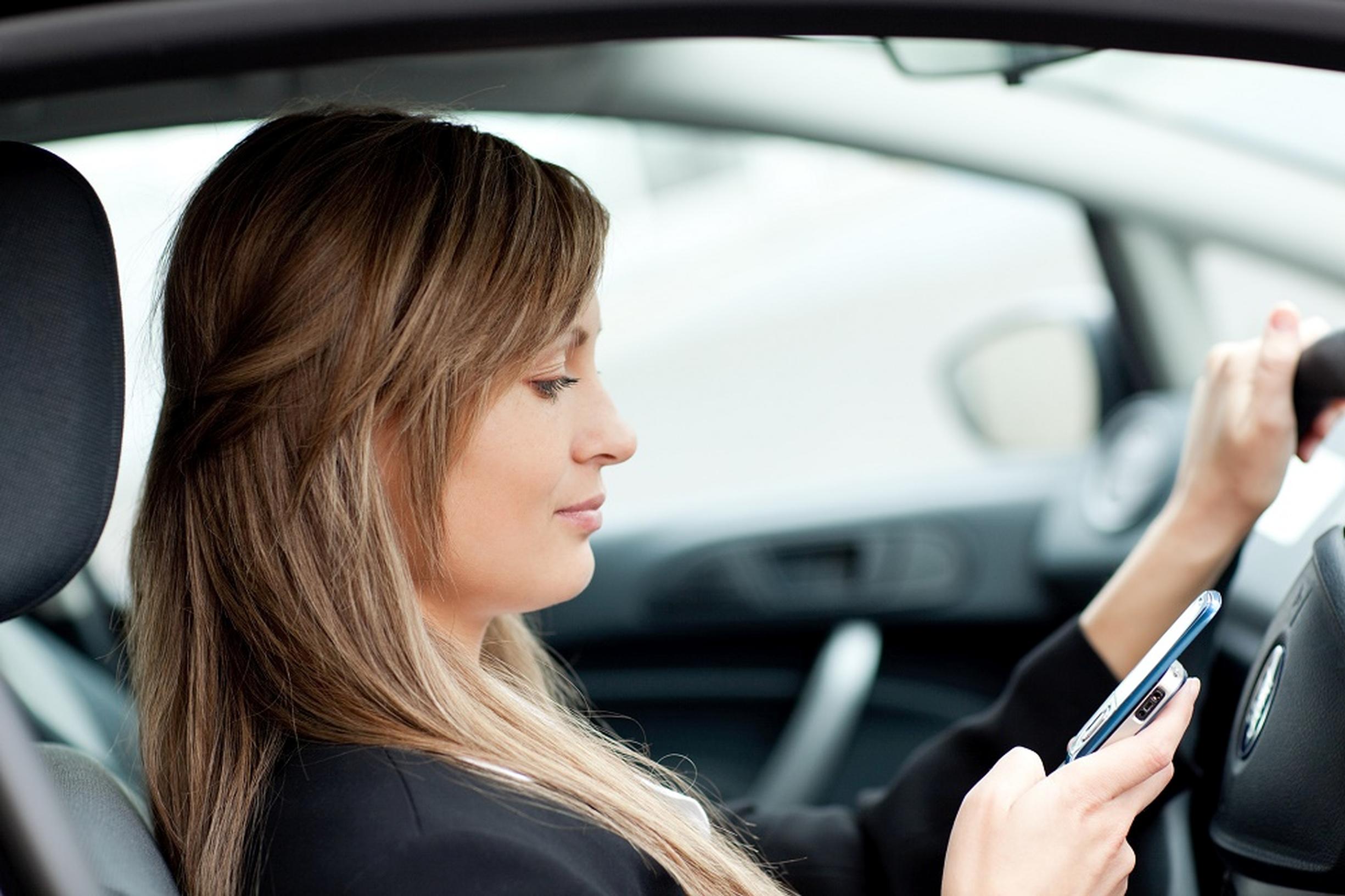 Car-makers and smartphone manufacturers will meet transport ministers to discuss technological solutions that could reduce the problem of people being distrated by handheld devices while driving.
It is anticipated that the meeting, which is due to take place in Whitehall, will see Department for Transport ministers and officials tell the mobile phone companies that "drive safe" modes, similar to the now common airline mode, must be included in basic phone software. Drive safe would differ from flight safe in that it could let drivers make emergency calls or accept calls from designated persons. There is also the potential for phone signals to be automatically blocked if certain speeds are reached.
New drive safe sofware would need to be in place ahead of a planned crackdown on illegal phone use on the roads. Last November the government announced anyone caught using a hand-held mobile phone while at the wheel of a car would be fined £200 and receive six points on their licence, a doubling of the existing penalty.
The issue of driver distraction was brought into focus with the jailing of Tomasz Kroker for 10 years in October 2016. Kroker killed a mother and three children in August when he was distracted by changing music on his smartphone and ploughed into a line of stationary traffic in his lorry.
Holding a mobile phone while driving has been illegal since 2003, but many drivers continue to make calls without using hands-free sets. The growing availability of apps and video options is also tempting drivers to use smartphones while at the wheel. The RAC's annual report for 2016 on motoring revealed that the number of drivers who admitted to using a handheld phone on the road has increased from 8% in 2014 to 31% in 2016. The number of drivers who thought it acceptable to make a "quick call" on a handheld device while driving has doubled to 14%. Nearly one-fifth admitted to sending a text or email, or posting on social media, while 14% has filed a video or taken a photo while driving.
Campaigners call for action
Road safety charity IAM RoadSmart has been calling for a technological solution to a problem caused by technology itself for several years. The issue of driver distraction was highlighted in IAM RoadSmart's report The Battle for Attention, published in February 2016.
The charity welcomed the government's decision to talk to the mobile phone industry. "The actual detail of the new technology will have to be worked out," said Neil Greig, IAM RoadSmart's director of policy and research. "But with accurate GPS and more sensitive movement sensors in most phones, it should be possible to target the driver's phone whilst still allowing the ever growing range of connected car services such as satnav and traffic/tourist information. Passengers should still have the ability to use phones as well.
"IAM RoadSmart also wants to see the wider issue of distracted driving by technology being taken on board by the industry. The modern dashboard contains a wealth of new services that may assist drivers but can also distract. A star rating system for in-car complexity would be a useful tool to alert drivers to the different ways they now need to interact with their car."
Greig also flagged up the need to use legislation and other tactics encourage drives to use systems that make it safer to drive. "It isn't enough for the providers of this technology to simply say 'it is up to the individual'," he said. "Every phone in use today already comes with a driving mode that can cut out calls, but they are very rarely used. This would suggest that 'carrots or sticks' may be needed to actually get people to use any new approach. Carrots could come in the form of incentives for companies to fit new apps or to ensure their employees switch off on the go. For example, no government contracts unless you have a 'no mobile phone use' policy in place. Sticks could come in the form of new penalties, but also links to insurance so your level of cover is reduced if you don't have the new app switched on when you have a crash."
A toughening of the punishments for such offences was welcomed by those surveyed by IAM RoadSmart. The charity found 94% of those asked felt that drivers checking or updating social media was a threat to their personal safety.
Texting and driving will become more commonplace
Texting while driving can put drivers at greater risk than if they were drunk, according to one the UK's leading transport researchers. Reaction times for text-drivers in emergencies often fall below those of drink drivers, says Professor Andrew Parkes, of Coventry University's Centre for Mobility and Transport.
Prof Parkes believes a cultural shift needs to happen around phone use. "Drivers are thinking about their chances of getting away with it rather than the potential catastrophic consequences of their actions," he says. "A driver who texts and drives is around 13 times more likely to be involved in a collision, and their reaction times in emergency events are often longer than drivers intoxicated by alcohol. It's critical to raise awareness of these issues to the point where – like drinking and driving – texting behind the wheel is seen as equally bad, risky and socially unacceptable.
"Nowadays, people even struggle to remember the detail of a TV show if they're on a call or checking social media at the same time. If they're driving, this lack of awareness can be fatal. Many drivers think talking on a smartphone is no more distracting than talking to a passenger, and many believe they are capable of multi-tasking. The accident statistics show otherwise, with some estimates indicating that as many as 28% of all accidents and fatalities are caused by drivers using phones."
Prof Parkes warns that, in the short term, the situation is likely to get worse. "Texting and driving is increasingly commonplace, as is the regular checking of social media," he says. "Although such actions are punishable offences, drivers feel the benefits of maintaining contact through their smartphones outweigh the risks of being caught. Simply put, they're thinking about their chances of getting away with it rather than the potential catastrophic consequences of their actions.
"Proposed technological solutions are currently making headlines, for example 'drive safe' modes in cars which would allow smartphone activity to be blocked at the wheel. Technically this is perfectly possible, but questions remain over how it would be implemented. Should it be voluntary or mandatory? Should it block whenever the vehicle is moving, or just above certain speeds? And what would happen if the driver needed to make an emergency call? All the while these proposals are being discussed, people are dying needlessly on our roads.
"Ultimately, using a smartphone when driving, whether for social or work purposes, can never be justified. It is a conscious choice by the driver to put themselves, their passengers and other road users at severe risk. Roads are hazardous places, but those using phones behind the wheel are making them much more dangerous for all of us."
Vehicle safety gains cancelled out by phone abuse
New research suggests the majority of drivers struggle to disconnect from mobile devices, so undermining safety advances achieved by car-makers. Continental Tyres undertook a study of 1,000 UK motorists as part of its Vision Zero road accident reduction project. A third of motorists told Continental that the greater illegal use of mobile phones has reduced road safety, and another 26% think that safety benefits delivered by improved automotive technology are cancelled out by people using smart phones illegally
Continental Tyres' safety expert Mark Griffiths says: "Our research has identified a real tension between the present and future technologies and our use of mobile devices. There is a concerning race between the technologies – we are creating solutions to make us safer, yet motorists are jeopardising road safety by struggling to be disconnected. When considering what automotive systems should be included in our vehicles to improve safety, the behaviour of motorists has to be taken into account. Though, it raises questions on whether motorists should be responsible for their own bad behaviour or the extent of which technology needs to save us from ourselves. We believe that motorists need to always think of safety, regardless of what fantastic technological solutions on the market there may be to help.
"Any safety device, feature or fitting should complement the safe and responsible behaviour of the driver, though the context of consumer behaviour is vital. The study also shows and we recognise a clear need for manufacturers to educate consumers on the benefits of automotive technology to help them to realise the potential for safety that evidently exists as well as help to build trust."