London to stop buying diesel buses, says Sadiq Khan
Mayor of London unveils new hydrogen-powered double-decker
02 December 2016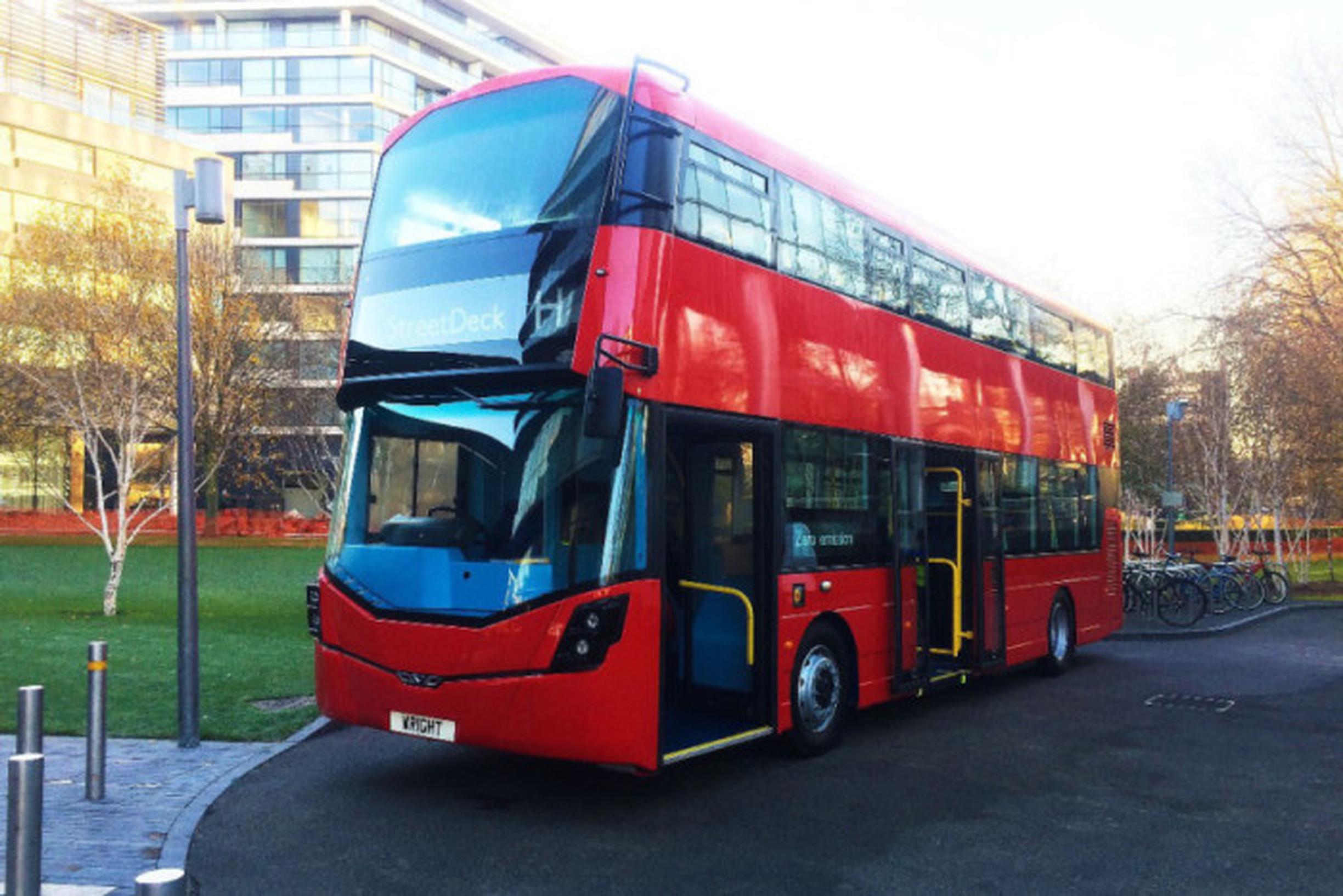 No more pure diesel double-deck buses will be added to London's fleet from 2018, that all new single-decks for central London will be zero-emission, Mayor of London Sadiq Khan has revealed.
A new hydrogen-powered double-decker will be trialled on London's roads next year. Sadiq Khan unveiled the vehicle, built by UK bus manufacturer Wrightbus, during an international zero-emission bus conference at City Hall.
The hydrogen double-decker forms part of the Mayor's plan to phase out the oldest and most polluting diesel buses, and making the entire fleet ultra-low or zero emission. At least 20 hydrogen buses will be delivered as part of a £10m part-EU funded project supporting hydrogen technology, with TfL providing at least £5m in funding.
The proposed London-wide Ultra-Low Emission Zone (ULEZ) standard for heavy diesel vehicles, including buses, is a minimum of Euro VI. The Mayor wants all London buses to meet the Ultra-Low Emission Zone standard during 2020.
London has committed to procuring roughly 300 zero emission buses by 2020, with 51 battery electric buses recently going into service on the 507/521 route, taking the number of completely electric bus routes to three, with 79 zero emission buses in total in the fleet.
The Mayor and his deputy mayor of transport, Val Shawcross, met with city officials, bus manufacturers, financiers and technology providers from around the world attending an International Zero-Emission Bus Conference and Summit at City Hall.
Khan called on other cities to follow London's lead and work together to challenge bus manufacturers to produce more zero-emission buses and make cleaner bus technology cheaper.
Eleven other cities are joining the Mayor in moving their fleets to zero emission technology, including Cape Town, Copenhagen, Hamburg, Los Angeles, New York, Oslo, Rugao (China), Amsterdam and San Francisco. Together these cities have committed to procuring 1,000 zero emission buses using either electric or hydrogen technology over the next five years. This is turning into reality the commitment made by the 26 cities who signed the C40 Clean Bus Declaration in June 2015.
In addition, Paris, Madrid and Mexico City have committed to removing diesel buses from their cities by 2025.
Khan, said: "I want London to become a world leader in hydrogen and electric bus technology. I'm implementing hard-hitting measures to clean-up London's toxic air and it's great that more cities are getting on board to phase out the procurement of pure diesel buses which sends a clear signal that only the cleanest technologies are wanted in our cities.
"Transforming London's bus fleet by accelerating the introduction of zero-emission buses is important and I plan to work with bus manufacturers, other cities, the European Commission and the C40 Climate Change Leadership Group of Cities to move this agenda forward."
Mike Brown, London's transport commissioner, said: "We're determined to make our public transport system one of the cleanest in the world and phasing out diesel buses lies at the heart of this. Zero emission buses are the future, and my staff are working hard with manufacturers and bus companies to make them a reality in the Capital as quickly as possible."
Greener buses often have higher up-front capital and infrastructure costs than polluting diesel buses. To help address this issue, the C40 Climate Change Leadership Group of Cities has announced it will host a Finance Academy in April to help cities unlock funding for more zero emission buses and the supporting infrastructure required. There will also be a new European platform to align funding opportunities and coordinate planning/procurement by EU cities.
The EU transport commissioner Violeta Bulc highlighted the European Commission's efforts to support and encourage the uptake of zero emission buses across Europe. "I congratulate the cities of London and Paris on their far-reaching plans to deploy clean buses," she said. "European cities are global frontrunners, and I encourage all cities to make use of European funding opportunities to support this transition. Better co-operation of public authorities, operators, manufactures and finance is needed now. Therefore, we are developing a deployment initiative for clean buses at European level, including a platform to better align planning and investment. I invite all relevant partners to come on board."
Lan Marie Nguyen Berg, vice mayor for environment and transport, City of Oslo, was among those attending the conference. "Zero emission buses are vital for the climate and better for our cities," she said. "We endorse this bold step towards a zero emission society."
The Lord Mayor of Copenhagen, Frank Jensen, said: "In Copenhagen, all new buses will be based on zero emission and low noise technologies from 2019. I am pleased that London and Copenhagen are joining forces in the important task of reducing air pollution, noise and climate change by committing to deploy zero emission buses in our cities."
The deputy mayor for environment and energy, Shirley Rodrigues, is attending this week's C40 Climate Change Summit in Mexico to work with other cities to accelerate action on cleaning up emissions.
Mark Watts, executive director, C40 Cities Climate Leadership Group said: "Transport is a major source of emissions for cities around the world, and tackling emissions from diesel buses is one of the most important steps a city can take. London was a key champion and signatory of C40's Clean Bus Declaration last year and now with leadership from Mayor Khan, the city is ramping up ambition even further by stopping the procurement of pure diesel buses from 2018. Strong mayoral leadership and a committed administration are helping deliver this transformation."
Mark Nodder, group chairman and chief executive of Wrights Group, said: "Buses like this have the potential to make a massive contribution to improving the air quality of London and our major cities."