Active travel measures push down car use at Newcastle business park
21 September 2016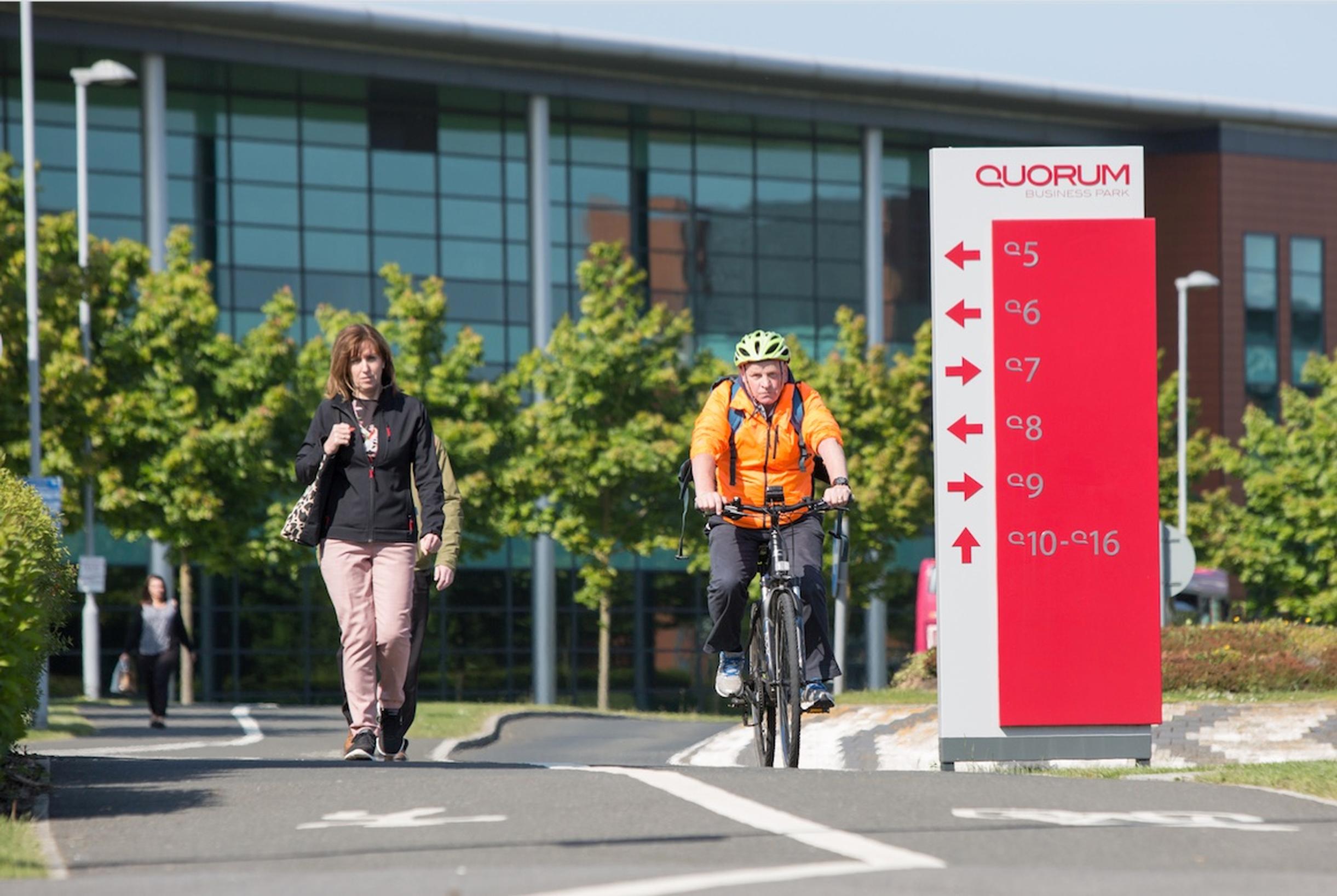 Measures designed to encourage active travel at a business park on the outskirts of Newcastle have resulted in a 20% drop in car use since 2008, a travel survey of businesses has revealed.
Quorum Business Park said that the number of employees using bus services has risen by 33% since 2008 when active travel incentives were introduced. In addition, regular cycle use to and from the site has increased from 2% to 6% since 2012, Quorum's commuter centre manager Laura McVittie told Local Transport Today.
More than 6,000 employees work at Quorum, with 23 businesses including major employers such as Balfour Beatty, Greggs, Tesco Bank, Sitel and Fabricom.
Quorum has parking for 3,000 vehicles and sheltered parking for 650 bikes across the site.
The business park carries out an annual travel survey conducted by sustainable travel promoter Go Smarter. "This shows the percentage of people bringing a car to work has dropped from 75% to 55% since 2008," said McVittie.
The business park offers a range of incentives to encourage employees to travel by sustainable modes. By using the Q Card, employees can travel half price on the shuttle bus between Quorum and Four Lane Ends metro and they can get discounts at local bike shops.
Quorum is involved in partnerships with bus operators including Stagecoach and Arriva. "Since 2008, when there was no bus service to the business park, there are now some 10 buses an hour that operate to Newcastle City Centre from Quorum, with an average journey time of 15 minutes," said McVittie.
She added: "Quorum is an 'edge of town' business park, rather than out of town, so it's been relatively easy for bus companies to divert their services into the park that previously ran down roads parallel to us.
"We have also worked with our partners to brand buses. For example, the Quorum Express and Quorum Shuttle Bus are painted in our livery so that they would stand out as services that operate to the park."
Quorum has installed electric vehicle charging points and is about to launch a car club scheme, said McVittie.
Each building on the business park has cycle racks, 90% of which is covered. All buildings also have shower and changing facilities.
"There is also public covered cycle parking at the retail area," said McVittie. "In addition, we have 11 pool bikes, which are stored in a covered container in the centre of the park along with tool and repair accessories."
Quorum has forged partnerships with sustainable transport charity Sustrans and Go Smarter, which has been surveying staff and helping with free active travel initiatives such as Cycle Confidence courses, 'Fix it Yourself' bike rides, and a Bike Train project, which offers employees the opportunity to join a guided ride from their home to work.
The latest Go Smarter survey was carried out in Aug 2016, with 1,250 people taking part. "We promote sustainable travel and healthier lifestyles to the tenants and their employees. This is a key part of the park's ethos and the activities we have organised for the Green Transport Showcase forms part of the 300 on-site events we plan throughout the year," said McVittie.
"Quorum has won numerous awards, including a National Business in the Community Award, in the Ways to Work Category. We have also won commuter friendly workplace of the year at the ACT Travelwise Awards."