Boost for threatened Maylands bus route as Arriva takes over
08 March 2016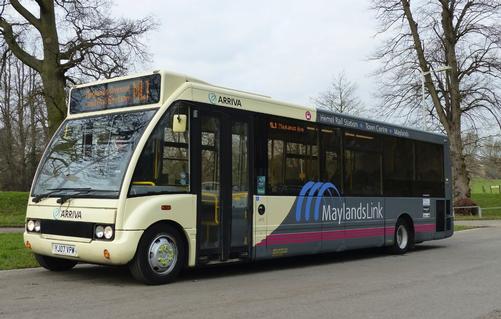 A bus route serving one of the biggest business parks in the south-east, which was under risk after the end of the Local Sustainable Transport Fund (LSTF), is to continue as a commercial service run by Arriva.
The ML1 serves the Maylands Business Park in Hemel Hempstead, Hertfordshire. Since February 2013 Arriva had run the service on a subsidised basis, backed by an LSTF grant. But the funding stopped in March 2015 and patronage was not strong enough for operators to run the ML1 as a commercial service, said a Hertfordshire County Council spokeswoman. The authority and Dacorum Borough Council used Section 106 funds to keep the service running at a reduced frequency for a further 12 months, "predicated on patronage increasing significantly", said the spokeswoman.
"The service was therefore at significant risk of ceasing in March 2016 unless it became an attractive commercial proposition to operators."
Arriva won the contract to run the service from 29 March after a commercial bid process with Hertfordshire County Council in December 2015.
The total LSTF allocation for the ML1 Maylands Link was £260,000 in revenue funding plus £90,000 in capital funding. "A campaign ran in May and June 2015 following the reduction from 18 services a day to 12," said the spokeswoman.
"This included promotional activity at the station, strategically placed billboards for car commuters and local residents, a local digital media campaign and business engagement with the large employers at Maylands Business Park.
"We believe this campaign has contributed to an impressive turnaround in patronage, with average passengers per journey close to doubling year-on-year and very strong growth in season ticket usage, which confirms passenger commitment to the route. The campaign budget was £16k, funded from remaining LSTF monies and a local county councillor's Highways Locality Budget."
The rise in patronage convinced Arriva of the route's medium to long term commercial viability, said the spokeswoman, "especially when set alongside the large residential developments, such as Spencers Park, coming in Maylands in the next three to five years, plus other business expansion".
Maylands Business Park has more than 650 businesses in a range of sectors, employing 18,000 people. Residents include Amazon, Royal Mail Northern Home Counties Distribution Centre and Buncefield Oil Terminal. Other sectors include high tech imaging, such as FFEI and Kodak, data centres and corporate function sites.
Derrick Ashley, cabinet member for environment, planning and transport, said: "At a time when public money is limited, we are pleased that this important bus route has been taken over as a commercial service. This route is important in Hemel Hempstead, giving the business community of Maylands a regular, accessible and easy to use service.
"Not only is this link important for the local business community, helping to attract and retain employees, but it will also help to reduce emissions and congestion levels as more people can use the bus rather than their cars."