DfT announces stopgap funding for active travel projects
16 February 2016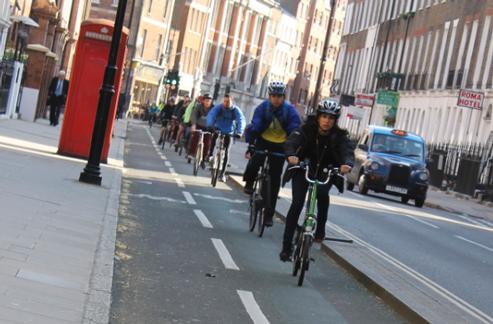 Funding of £20m for active travel projects is to be made available in 2016/17, the Department for Transport (DfT) has announced.

The government says it will "look favourably" on bids that support its manifesto commitments to double cycling and reduce the numbers of cyclists killed or seriously injured. It is also seeking schemes that support access to work, skills, education or training, for example, by improving cycle-rail links.

Transport authorities in England, excluding London, have until 29 March to submit applications. Bids from a single transport authority should express a minimum interest of £350,000 and a maximum interest of £500,000, while consortiums of two or more transport authorities and other delivery partners can submit a joint bid of up to £2.5m.

Those most likely to win funding will be 'ready to go' schemes, says the DfT.
It points out that bids must include evidence of building on previously successful sustainable transport initiatives.

The £20m funding represents a stopgap before the government's 'Access Fund' becomes available from 2017/18. In total, the government has pledged £580m up to 2020, comprising £80m revenue and £500m capital.

Details of how to apply for the remaining £60m of revenue will be revealed later this year. This, says the DfT, will follow the publication of the Cycling and Walking Investment Strategy (CWIS) and in the wake of talks with the Department of Communities and Local Government (DCLG) to assess the future approach for the Local Growth Fund.

The DfT says it is hoping to identify the highest value for money approach to supporting investment in sustainable travel.
"The government recognises the important role of smarter travel in building the kinds of places people want to work and live," says the DfT, adding that it is committed to backing schemes that support the local economy, boost economic growth and cut carbon emissions.

Several local transport authorities and organisations were involved in the consultation process for the new funding including Living Streets, Sustrans, ADEPT (the representative body for local authorities across the UK), Urban Transport Group (formerly PTEG), Campaign for Better Transport and the Bicycle Association.

The Access Fund is a continuation of the £600m Local Sustainable Transport Fund (LSTF), which was launched in 2011 to support delivery of the Local Transport white paper Creating Growth, Cutting Carbon. A DfT spokeswoman pointed out that the £20m tranche is for revenue only. "But we welcome local authorities contributing their own capital funding where appropriate," she said. "We recognise that capital can often be easier to secure than revenue, so this allows bidders broader scope in terms of what type of funding the local contribution consists of.

"If bidders are seeking to bid for a project that only requires revenue, they need to confirm a minimum 10% local match of revenue funding. If bidders wish to put forward a bid that is reliant on capital in order for DfT's revenue contribution to deliver benefit, then the minimum contribution is 30% - this can be made up of either revenue and capital or just capital."

Stephen Joseph, chief executive of Campaign for Better Transport, welcomed the announcement of £20m funding for active travel schemes, but argued that more is needed. He said: "Projects like these offer good value for money, tackling local traffic by giving people good alternatives in how they travel.

"We are glad that the government is introducing this fund, which we suggested, and is seeking to keep good projects going in the short term. However, £20m is tiny compared with the billions going on road building and we would like the DfT to consider upgrading it and rebalancing transport spending so that these kinds of projects get the funding they deserve."
The DfT will provide more details about the Access Fund at Smarter Trave LIVE!
Sustainable Travel Transition Year 2016/17 Guidance on Bidding