Will Reading's new Green Park station have trains when it opens?
16 December 2015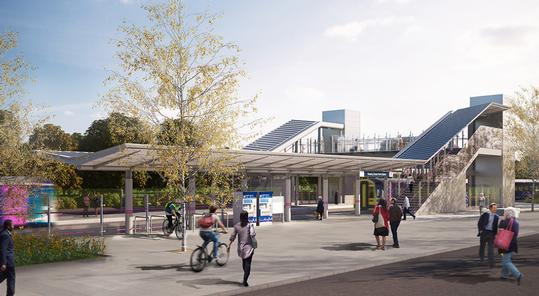 A question mark hangs over whether any trains will actually stop at Reading's new Green Park station when it opens in 2018.
The £6.4m interchange features a bus interchange, park & ride and a 200-space multi-storey car park.
Network Rail has admitted that its plans to electrify the line are running behind schedule. This has prompted Reading Borough Council's deputy leader Tony Page to write to Network Rail chairman Sir Peter Hendy and transport secretary Patrick McGloughlin asking if trains will stop at Green Park on its opening day.
A review by Hendy of the rail electrification programme stated electrification of the line serving the station would not be carried out until after it is due to open in December 2018. Page's letter expressed 'extreme disappointment' at the news and has sought confirmation that trains will be available to serve the south Reading station, whether they are electric or diesel.
Electrification of the line had been due to be completed in time for the opening of the new station, which serves the Green Park business park and Madejski Stadium, as well as potential new residential and commercial developments in the area.
The Hendy Review, published in late November, proposed delaying electrification of the railway from Southcote Junction to Basingstoke until sometime between 2019 and 2024.
The station has been designed architects Peter Brett Associates. It is being fully funded through the Thames Valley Berkshire Growth Deal and Section 106 private sector developer contributions and planning consent has been granted.
Network Rail has previously said that, without electrification in place, an additional diesel service would have to run on the line to maintain the current timetable.
Page's letter to Sir Peter states: "We have invested substantial resource in developing the scheme to date and the local community and businesses are fully expecting the station to open in December 2018.
"The council, Thames Valley Berkshire LEP and the Berkshire Local Transport Body have agreed the station remains a priority for investment through the Local Growth Fund and that we should continue to progress the scheme in line with the agreed programme.
"Therefore, as previously requested, could you please confirm that the Department for Transport and Network Rail will ensure that the necessary rolling stock resource is both made available and fully funded to allow the station to open in December 2018 with a diesel operation until electrification on the line.
"Reading Green Park Station is a key piece of regional and local infrastructure, which will achieve central government's objectives of promoting economic growth, delivering much needed housing provision, unlocking significant private sector investment and enabling access to the area by sustainable transport.
"I hope you and ministers would agree it is essential to deliver a solution that enables trains to serve the station from the first day it opens in December 2018."
Construction on the station is due to begin in 2017.