Transport model offers a vision of future cycling routes
A modelling tool will allow councils to identify commuter routes with greatest potential for attracting cyclists. The Propensity to Cycle Tool (PCT), developed by a team of eminent academics, will be unveiled at Cycle City Active City. Here the team explains how it works
20 April 2016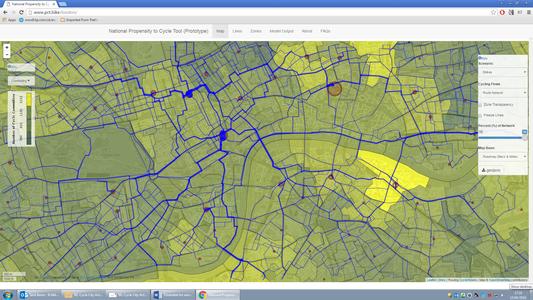 This year government will lay out a process to be followed by councils in planning walking and cycling networks through Cycling and Walking Infrastructure Plans. But what evidence can they use in planning routes and other policies? A new tool, being presented at Cycle City Active City and Modelling World ahead of a July launch, will help planners identify routes and areas with the greatest commuter cycling potential.
Tools for planning walking and cycling have lagged behind tools for planning car and public transport systems. This means often planners don't know where there is greatest unmet demand for non-motorised modes. The Propensity to Cycle Tool (PCT) was funded by DfT to address this. It uses origin-destination data, initially Census 2011 commuting data. Using route-allocated distance and hilliness, the model estimates where trips are most likely to switch main mode to cycling under specified scenarios. It allocates trips to the route network to identify potential demand along specific roads.
Shane Snow, Head of Seamless Travel at the Department for Transport, says: "The PCT is a brilliant example of using Big Data to better plan infrastructure investment. It will allow us to have more confidence that new schemes are built in places and along travel corridors where there is high latent demand."
Unlike previous tools, the PCT is open source and freely available over a browser. Dr Robin Lovelace, Lead Developer, from Leeds Institute for Data Analytics and (from September) Leeds Institute for Transport Studies, says this is central. "Most transport models are propriety and many are black boxes, hindering access to the best available evidence for most people. The PCT has an AGP licence and is developed in the open on GitHub, meaning the method is transparent and reproducible." The approach could be deployed around the world."
The PCT team comprises subject and technical experts, with backgrounds in geography, computer science, public health, and sociology. It is headed up by Dr James Woodcock, who leads the Public Health Modelling Group, at the Centre for Diet and Activity Research (CEDAR), University of Cambridge. Dr Woodcock sees the project as using the best evidence in exciting new ways, to meet multiple policy objectives. "Mass cycling is a great way to make physical activity part of everyday life. It can help reduce greenhouse gas emissions and blight caused by motor traffic heavy environments." The PCT will aid policy-makers in quantifying benefits of growing cycling locally.
Dr Anna Goodman, Data Analysis Lead, re-analysed Dutch and English travel survey data for the tool's calculation of cycling potential. This has revealed England's substantial unrealised cycling potential amongst women and older people. Cycling in England is skewed towards younger, male cyclists but in the Netherlands it is much higher for all groups and remains common into older age, with women slightly more likely to cycle than men.
In modelling cycling potential, the PCT uses scenarios, some more ambitious and some shorter-term. The Go Dutch scenario asks 'what would happen to cycling if English people were as likely as Dutch people to cycle a commute trip'? Here likelihood of cycling is based on trip distance and hilliness – even in the Netherlands few regularly cycle a 20-mile round trip. The e-bikes scenario is even more ambitious, exploring the potential of e-bikes to allow cycling for longer or hillier trips, in line with Swiss and Dutch trends. There are two other scenarios; one doubling cycling in line with the government target, and one where women become as likely to cycle a given trip as men.
All scenarios allow 'what-if' questions – if cycling increased in this way, where would we see it? Dr Rachel Aldred, Evidence Review Lead, explains how crucial this is: 'It's about visualising a step-change, allowing people to 'see' cyclists that don't currently exist. It will help users plan not just for existing cyclists, but for currently suppressed demand. Where would those extra cyclists live? Where would they want to go?'
Knowing where cyclists would live helps plan residential cycling services, such as cycle parking and hire bikes - particularly where there's lots of flats and limited storage. It can help in prioritising area-wide measures, such as reducing motor traffic on residential streets. Perhaps even more importantly, the tool can estimate and visualise cycling potential at route-level. Increasingly, transport authorities are planning cycle tracks along main roads, and the PCT can help them estimate how many cyclists might use these, with implications for space needed.
The DfT's Shane Snow comments: "Particularly exciting is that the PCT allows us to see potential for cycling uptake on specific parts of the transport network. This will help local and highway authorities to better engage with local communities to prioritise places and routes to improve local cycle networks. This will help create joined-up networks and fix the current numerous discontinuities."
The PCT uses the Cyclestreets routing algorithm to estimate and visualise where cyclists might go. Because distance is so important for cycling, the team decided to prioritise the 'fastest' routes according to Cyclestreets. These may not be the currently used routes, because of lack of provision. But to substantially grow cycling, our data analysis shows we need direct routes: increasing distance means drop-off in cycling, particularly acute for women and older people.
Ultimately, the PCT will help local stakeholders prioritise planning for cycling, at route and area level, where it can be most effective and transformational.
Find out more about the PCT at Cycle City Active City